Korean Chaplain finds inner peace as a priest of 10 years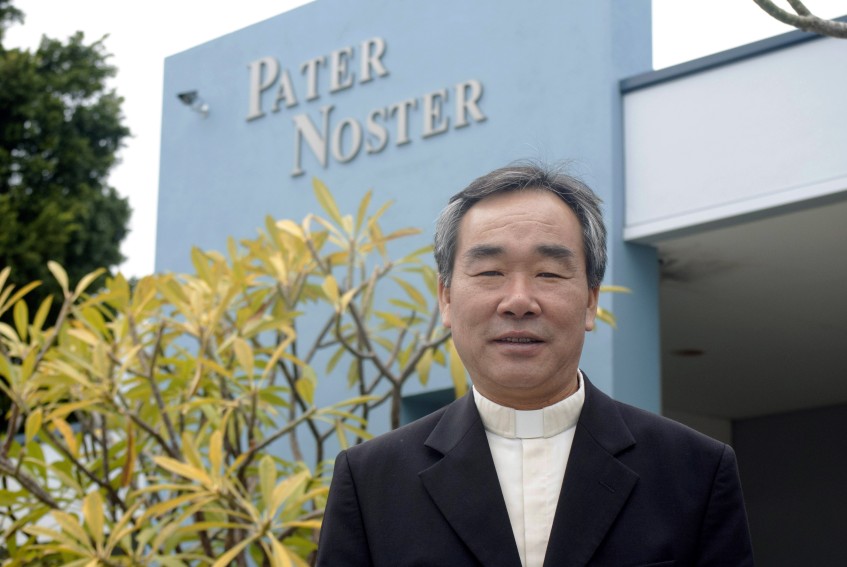 Myaree Parish Priest and Chaplain to the Perth Korean Catholic Community, Father Joseph Lee, has reflected on his ministry after celebrating a decade since his ordination. Photo: Rachel Curry
By Rachel Curry
Myaree parishioners can thank the Discalced Carmelite Nuns in Korea for sending them Father Joseph Lee.
Fr Lee, who recently celebrated the 10th anniversary of his ordination, was on a very different path in life when he met the Carmelites as a 25-year-old.
Having completed his military service, he was operating a successful restaurant at the time, but could not find spiritual fulfilment.
"The point of operating a restaurant was to earn money, but I was not happy with that. I was searching deep within myself for the meaning of life," he said.
A Carmelite nun, whom Fr Lee knew through his mother, invited him to come and work in their monastery.
At first he was put off by their simple way of life, which afforded only the most basic necessities, but with the encouragement of the nuns, he grew to cherish his time there.
"The life was very simple. Everything was inconvenient, but I had peace of mind always," he said.
"When the Carmelite nuns used to pray, I heard their prayers and it sounded like beautiful music from heaven."
Fr Lee spent three years with the Carmelites, during which he was discerning his vocation.
He recalled that when the nuns initially suggested he should become a priest, he felt unworthy.
"They used to tell me I was a good man, but looking into my conscience, I didn't think I was a good person, so I tried very hard to be one," he said.
Fr Lee joined the St Vincent Seminary in the Philippines in 1989, after being inspired by a film on St Vincent de Paul, the French saint known as the 'Apostle of Charity'.
He studied philosophy for four years, but after suffering ill health, was forced to return to Korea to recover.
It was a significant setback for Fr Lee, who worked for his family's business until another Carmelite nun, who recognised his English skills, invited him to come to Australia.
He arrived in Perth in 1997 and continued his studies at St Charles' Seminary, Guildford, eventually being ordained by then Archbishop Barry James Hickey on 9 December 2005.
Fr Lee recalled that it was an emotional day.
"I was nervous, because it was pretty exciting to become a priest. It took a long time to prepare to serve the people," he said.
During the first two years of his ministry, Fr Lee served as the Chaplain of Royal Perth Hospital and an Assistant Priest at St Mary's Cathedral.
He has since been appointed Parish Priest of Myaree, a culturally diverse parish that is also home to the Perth Korean and Indonesian Catholic Communities.
Feeling very fulfilled in this role, he said he loved sharing the journey of faith with his parishioners.
"I enjoy my ministry with the people. Whatever little thing I can help with or give them, I'm happy. Just being here as a parish priest are the happiest moments for me," he said.
However, being a priest doesn't come without its difficulties.
Fr Lee said the worst part of the role was the grief he felt when a parishioner passed away, particularly if it was someone with whom he had a close relationship.
"Sometimes I feel down…but I must go through those emotions," he said.
As Chaplain to the Perth Korean Catholic Community, Fr Lee also celebrates Mass in Korean each week at Myaree's Pater Noster Church.
He said it was an important service for Korean Australians who still felt a strong connection to their homeland.
"Some people love to come here to listen to the Korean language. They feel more comfortable here," he said.
Fr Lee admitted that he still missed Korea, but with only one brother still living there, he added that he did not feel the need to visit as often as in previous years.
Instead, he is focusing on serving God and His people, as he has for the past decade, and hopefully many more to come.
"Reflecting on my ministry, it has been a blessing," he said.
"Time goes very quickly in 10 years. I try my best day-by-day, that's all I can do."