Identitywa fulfils Pope's wish for a down to earth Church: Archbishop Costelloe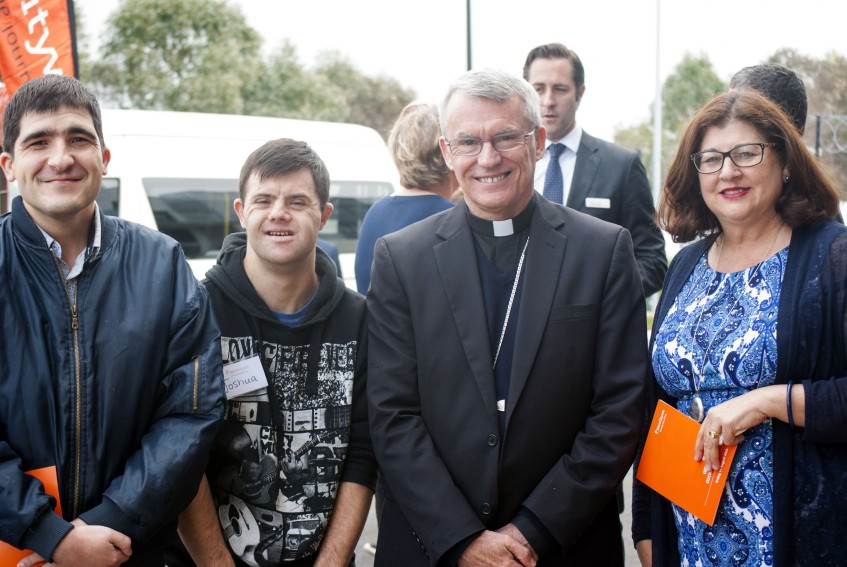 Simon and Joshua, who are supported by Identitywa, with Perth Archbishop Timothy Costelloe SDB and Identitywa CEO Marina Re, celebrate the opening of the new Cockburn office. Photo: Rachel Curry
By Rachel Curry
Archbishop Timothy Costelloe has last week drawn on the words of Pope Francis to praise Identitywa for its commitment to improving the lives of people with a disability at the opening of the Archdiocesan LifeLink agency's new office in Cockburn.
Identitywa will use its new office on Tamara Drive to manage four shared living homes and support more than 200 individuals and families living in the areas of Fremantle, Melville, Canning, Cockburn, Kwinana, Rockingham, Serpentine-Jarradale, Armadale and Gosnells.
Speaking at the blessing and official opening ceremony on Friday, 19 August, Archbishop Costelloe recalled the Pope's call for the Catholic Church to be "a healer of wounds" and a "warmer of hearts".
"I really want to acknowledge the fact that Identitywa, since its inception as Catholic Care in 1977, has been doing precisely this, not just in some kind of abstract way, but in a really hands on, down to earth, concrete, day-by-day way," he said.
"So I think that the decision now to locate a branch, if I can call it that, of Identitywa here in this part of Perth, to serve the suburbs of the southern part of our diocese and of our city and State, is really very important.
"It is not just symbolic, but a practical expression of this desire to be down to earth, on the ground, reaching out to people where they live."
Representatives from Lotterywest, the Disability Services Commission, Fremantle Family Support Network and other WA disability agencies joined families supported by Identitywa, Identitywa board members and staff for the ceremony.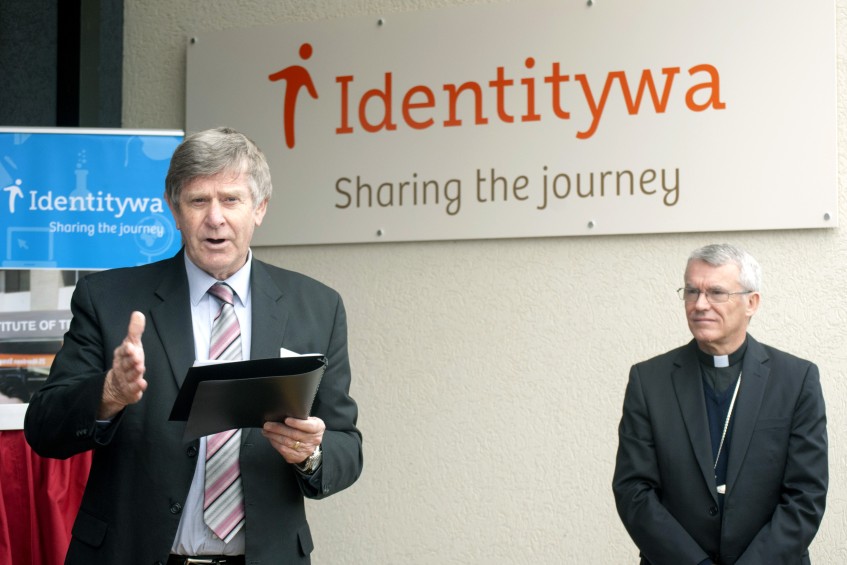 Identitywa Board Chair Graeme Mander addresses attendees at the Blessing and Official Opening ceremony of Identitywa's new office in Cockburn, as Perth Archbishop Timothy Costelloe SDB looks on. Photo: Rachel Curry
Speaking before the Archbishop's blessing, Identitywa Board Chair Graeme Mander said the new Cockburn office would allow the agency to continue to carry out its mission.
"The new dedicated Cockburn office and the impending move to our new corporate base in Northbridge at the beginning of 2017 will ensure we are well placed to continue to provide the individualised service, which the people we support and their families want," he said.
"Our board has committed to locating our staff within the community to enable us to deliver our services more effectively and efficiently.
"We believe this strategy gives us greater understanding of the community, its people and its resources, which is integral to providing outreach to those in need."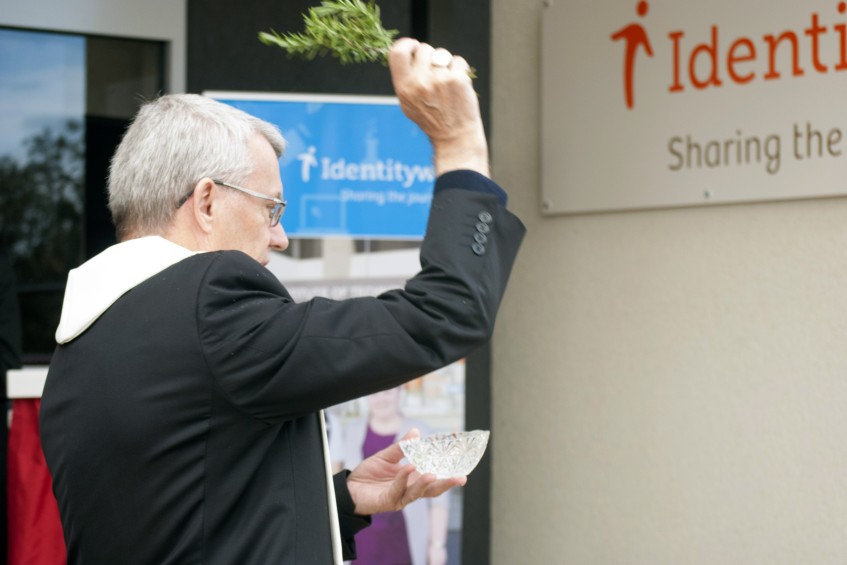 Perth Archbishop Timothy Costelloe SDB sprinkles holy water on Identitywa's new Cockburn Office as part of the Blessing and Official Opening ceremony on Friday, August 19. Photo: Rachel Curry
Mr Mander thanked Lotterywest and the Archdiocese's overarching funding organisation, Lifelink, for their help in bringing the project to fruition.
He also acknowledged the generous bequest of a parishioner from Spearwood Parish.
"We truly believe that we will be able to achieve the donor's wish to support local people in need," he said.
The ceremony also included the unveiling of a commemorative plaque by Archbishop Costelloe, a Welcome to Country by Nyungar Elder Marie Taylor, and closing remarks by Identitywa CEO Marina Re.
For more information about Identitywa, visit www.identitywa.com.au.