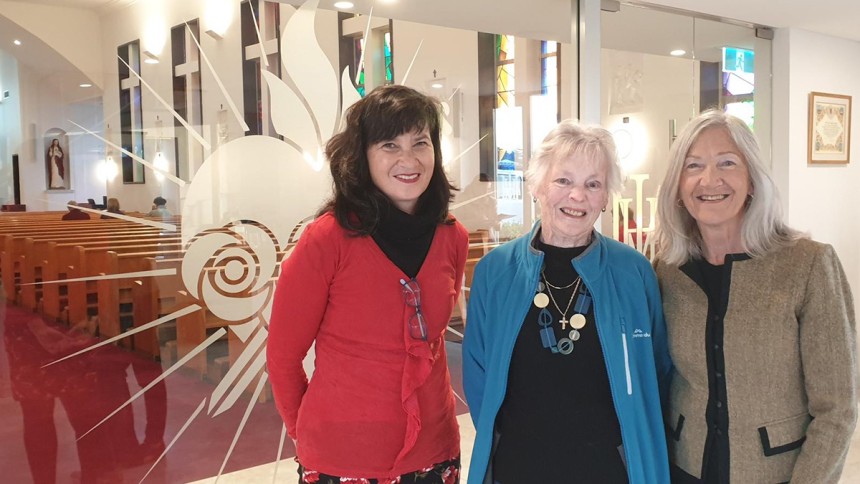 Immaculate Heart Care Coordinators Frances (left) and Mary (right) with Bernise (centre). Photo: Supplied/Marietta Russo.
Catholic Outreach has last week recognised the efforts of Coordinators and Volunteers in Parish Pastoral Care Programs as part of National Volunteer Week.
Catholic Outreach Director Marietta Russo told The Record that the Immaculate Heart Care program at Scarborough Parish is the perfect example of those who offer their time, energy and talents to help those in the community in need of assistance.
"Immaculate Heart Care coordinators work together with a wider group of volunteers to ensure local people have somewhere to turn when practical short-term help is required. One such Coordinator is Mary," Ms Russo explained.
Immaculate Heart Care representative Mary highlighted that helping any person in a small way is always something she is ready to do.
"It's about having a strong social justice philosophy, being Christ-like, following the example of Jesus. Caring for others is at the heart of my interest in volunteering," Mary said.
"Just being able to bring a little bit of joy to someone's life; a little bit of support and help that's momentary, like taking someone to an appointment or taking someone to the shops.
"It doesn't take a lot out of your life but it's giving them some much needed help when you know that they don't have that group of people they can call upon.
"It makes them feel less stressed. You know that you're just doing them a little favour," she said.
Mary added that the volunteers benefit from being a support too.
"I find myself reaching out a little more than I used to within the parish, making more connections.
"One of the activities offered is visiting people who are lonely. Relationships are growing, bonding and the volunteers are enjoying what they bring to the person who benefits from the visit."
Mary pointed out that having a Care Program in a parish is an advantage to the priest as it saves him time and worry when a parishioner requires help.
"There are coordinators in place who the parish priest can actually contact directly and let them do the job of making contact with volunteers from the list.
When Scarborough parishioner, Bernise, needed assistance to get her husband, John, to his daily treatment at Hollywood Hospital, she didn't hesitate to contact Immaculate Heart Care.
"It was going to be 30 treatments for six or seven weeks going to the hospital from Karrinyup. We don't have much family in Perth, and I realised I cannot do this alone, so I prayed about it a lot.
"I had picked up one of Immaculate Heart Care's brochures some time back. I kept it in the back of my mind thinking one day we'll need this.
"With Amana Village taking care of two weekdays, I thought I'd keep Mondays for me and any trouble shooting, and I decided to ring Mary because her name was on the top of the list on the brochure."
Mary and the Immaculate Heart Care Coordinators were onto the task immediately and a transport roster was organised for the remaining days of the week - despite the unpredictable schedule.
"The whole thing ran like clockwork," Bernise said.
"I think it should be compulsory for all parishes to have a support group like Immaculate Heart Care.
"What I'm really saying: isn't this what it's all about? It's a wonderful service - heaven sent," Bernise concluded.
---
For more information about Catholic Outreach, go to the website, outreach.perthcatholic.org.au
Other Archdiocesan agencies also engage volunteers e.g., PAS, The Shopfront and The Emmanuel Centre.