Archbishop William Foley: Celebrating a visionary who dared to dream big
By Amanda Murthy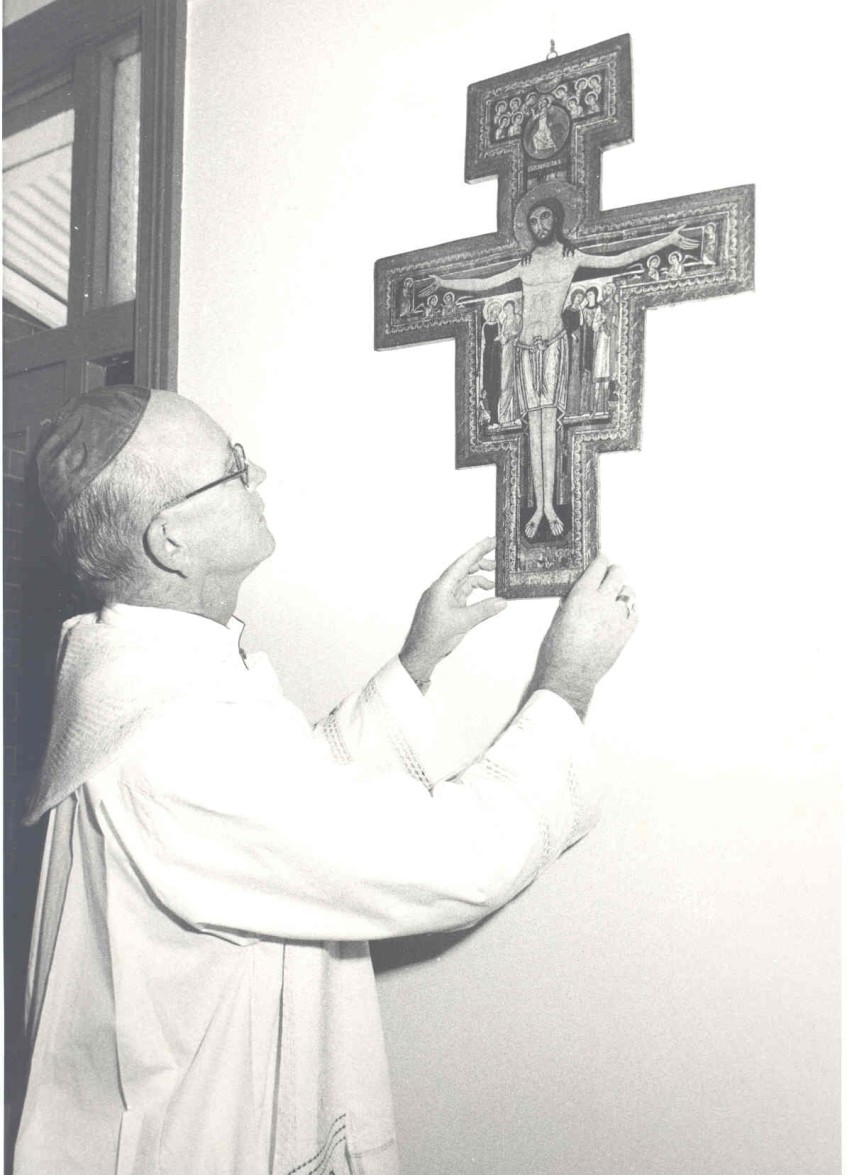 Former Perth Archbishop William Foley hangs a cross of St Francis during the blessing and opening the new Catholic Migrant Centre in 1991. Wednesday 10 February marks 30 years since Archbishop Foley passed away on 10 February 1991. Photo: Archdiocese of Perth.
Even 30 years after his passing, Perth's fourth Archbishop, William Joseph Foley, is celebrated for his many contributions as senior leader of the local Catholic Church (1983 to 1991).
Known for recognising and embracing the realities of Modern Church, while having the courage to dream big, Archbishop Foley was born in Nedlands, Western Australia in 1931.
In his youth, William Foley was educated by the Loreto Sisters at Nedland's St Theresa School, later attending Christian Brothers College in Perth.
Upon accepting his calling to the priesthood, he enrolled into St Charles Seminary in its' fourth year of operation.
As a seminarian, William Foley also studied in Genoa, Italy, alongside more than 50 Chinese men, who were some of the last to escape before the communist regime took over. This would expose William to the hardships faced by the Asian community and develop a deep sense of compassion for the Asian migrants in WA.
In 1954, the newly ordained Father Foley served at Shenton Park parish, then St Mary's Cathedral as Assistant Priest.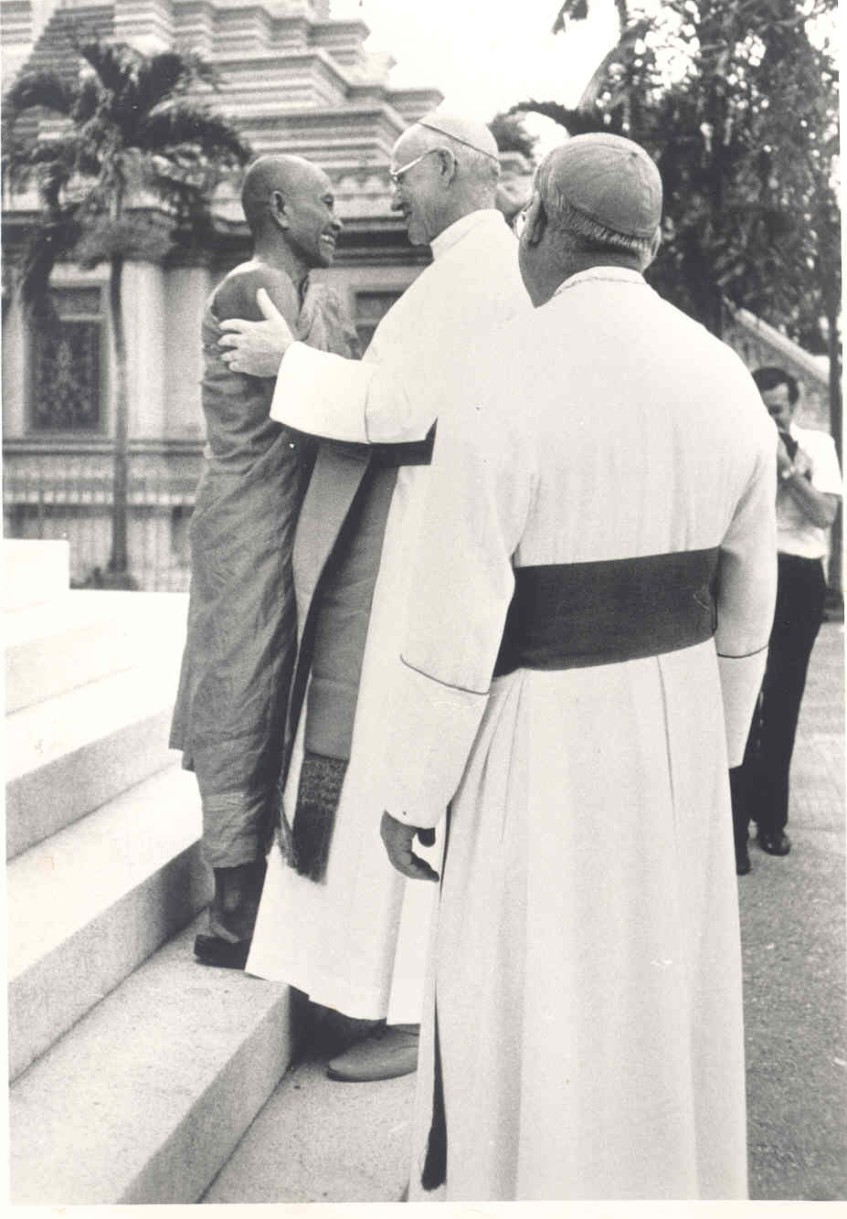 Former Perth Archbishop William Foley embraces a religious leader in this undated photo. Wednesday 10 February marks 30 years since Archbishop Foley passed away on 10 February 1991. Photo: Archdiocese of Perth.
His services extended to those at home, and in the hospitals of Shenton Park and Royal Perth Hospital's crisis ward. Subsequently, taking on the responsibilities of three roles at once – as Director of Missions, Migration and Welfare for the next seven years.
Archbishop Foley would witness first-hand, the qualities needed in future parish priests of the Archdiocese of Perth when he took on the responsibility of diocesan Vocations Director in 1969.
Two years later, it is narrated how then Fr Foley, in his first role as Parish Priest, was presented a challenge to 'build from the ground up' a new Church for the then Langford Parish which began as a bush cabin, with a curtained annex for a bedroom.
At Maddington and Lynwood parishes, Archbishop Foley would shoulder the typical burden of developing a new parish, with many parishioners from migrant communities, including the UK, Ireland and several Asian countries.
There were many of these whom he had personally welcomed into WA, aware that these families did not have much to begin with.
This was a challenge he took on for seven years until he received a call in September 1976 from then Archbishop Sir Launcelot Goody to return to St Mary's Cathedral, this time as Dean.
With so much to offer, it was in July 1981 at age 50 that Fr Foley would humbly accept a new scenery and challenge, being appointed as the sixth Bishop of Geraldton.
Archbishop Foley was just 52 years of age when he was appointed Archbishop of Perth, following his installation on 15 December 1983 at St Mary's Cathedral.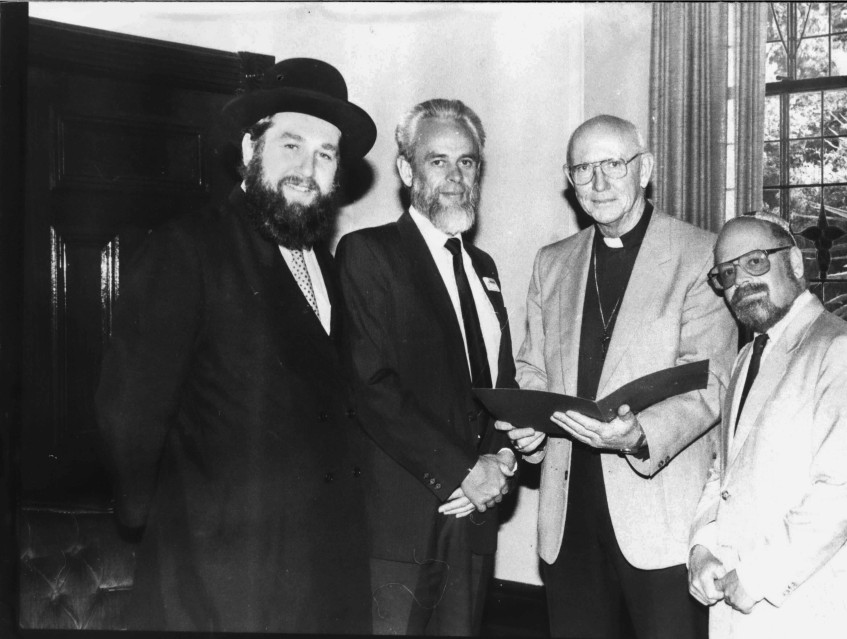 Former Perth Archbishop William Foley with now Emeritus Rabbi Dovid Freilich, Sheik Ibrahim Abdullah and Rabbi Charles Wellach during a Heads of Churches meeting, January 1991. Wednesday 10 February marks 30 years since Archbishop Foley passed away on 10 February 1991. Photo: Archdiocese of Perth.
Expressing his vision and mission for the Church in Perth, the new Archbishop said he wanted "to provide the climate in which, the skill of all members of the Church could be fostered and developed.
"For the church to be relevant, its' leaders must hear people in real life and help them find ways of hearing Christ speaking to them," Archbishop Foley said.
"An opportunity had to be given in the life of the Church to hear and involve the laity. There was a richness that had not been tapped sufficiently. The challenge is to make God real in the lives of the people."
He was a big advocate on inclusiveness and quickly focused his attention on building relationships with the wider community, including as Chairman of the Association of Churches in WA.
Former Director of Catholic Education Western Australia and Vice-Chancellor of the University of Notre Dame Australia, Dr Peter Tannock AM summed up the contribution of Archbishop Foley in Education, in a tribute article published in The Record Newspaper in 1991.
"I worked very closely with Archbishop Foley during my appointment. He was a simple, humble man with genuine vision, generosity of spirit and much courage. He was always accessible, willing to hear a case and able to decide 'yes' or 'no' in a way that was very affirming.
"Archbishop Foley's short time as Archbishop was marked by many significant developments in Catholic Education WA.
"He presided over the implementation of the Religious Education Guidelines, which have far-reaching implications for the nature and direction of CEWA.
"He supported the development and diversification of the role of Catholic Education Commission and its' office in WA.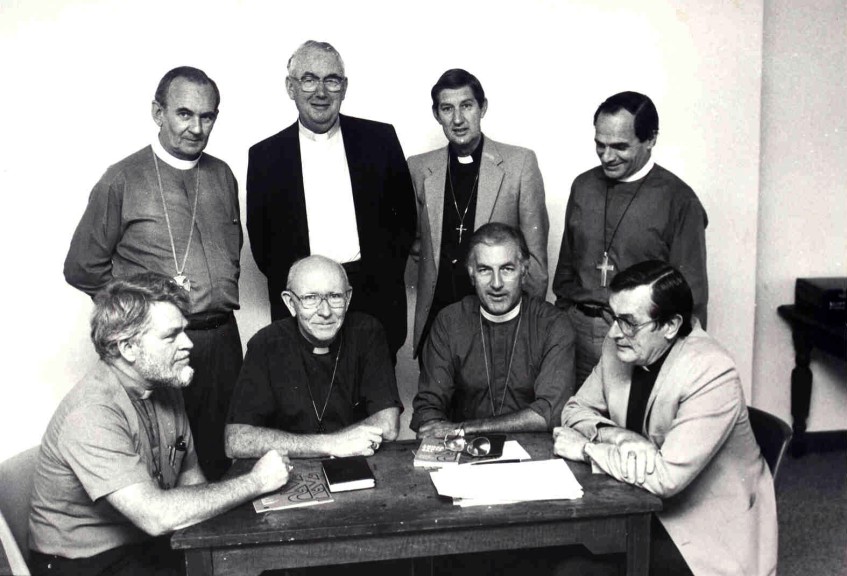 Former Perth Archbishop William Foley, front row, second from left, with other senior Catholic and Christian leaders, including back row from left, Perth Anglican Bishop Brian Kyme, Perth Catholic (then) Auxiliary Bishop Robert Healy, then Geraldton Bishop Barry Hickey, and Anglican Bishop Michael Challen,. Front Row; Anglican Bishop Hamish Jamieson, then Perth Catholic Archbishop William Foley, Perth Anglican Archbishop Peter Carnley AC and then Bunbury Catholic Bishop Peter Quinn. Photo: Archdiocese of Perth.
"He strongly supported the establishment of the University of Notre Dame Australia and initiated the establishment of the Catholic Education Office in Leederville."
Archbishop Foley passed away in his sleep on 10 February 1991 at the age of 59.
He was last seen in public, at the Aboriginal cultural festival called 'Kyana' at the Esplanade the day before.