PALM SUNDAY '21: Perth Archbishop challenges faithful to walk with Christ through this week of suffering
By Matthew Lau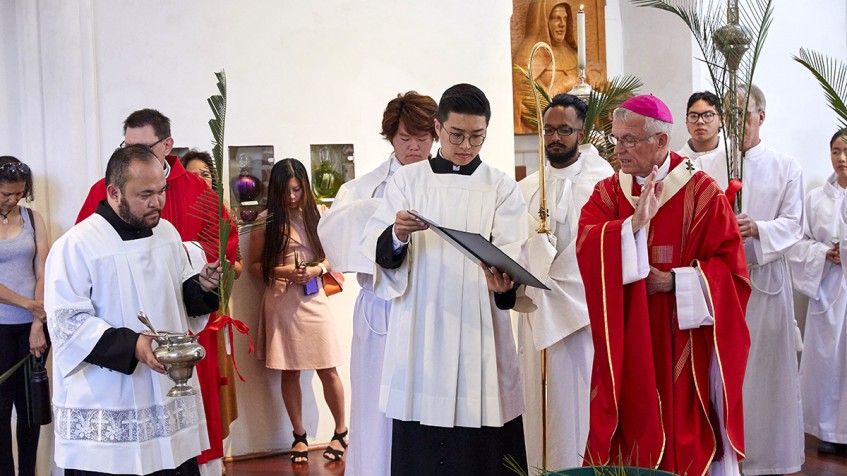 Archbishop Timothy Costelloe SDB blessed the palms on Passion Sunday, 28 March at St Mary's Cathedral. Photo: Ron Tan.
Palm Sunday 2021 has kick-started a multitude of Holy Week and Easter live-streamed services provided by the Catholic Archdiocese of Perth from St Mary's Cathedral.
Archbishop Timothy Costelloe SDB was the main celebrant of the 11am Mass on 28 March with Auxiliary Bishop Donald Sproxton, Vicar General Father Peter Whitely, Cathedral Dean Rev Dr Sean Fernandez, and Cathedral Assistant Priest Fr Richard Rutkauskas as his concelebrants, and Permanent Deacon Paul Russell assisting.
After recounting the Passion of the Lord from Mark 14:1-15:47, Archbishop Costelloe used his homily to speak about how Jesus is often "relegated to the edge of people's lives", despite being nailed to a cross to save humanity, "if not excluded from so many people's lives altogether".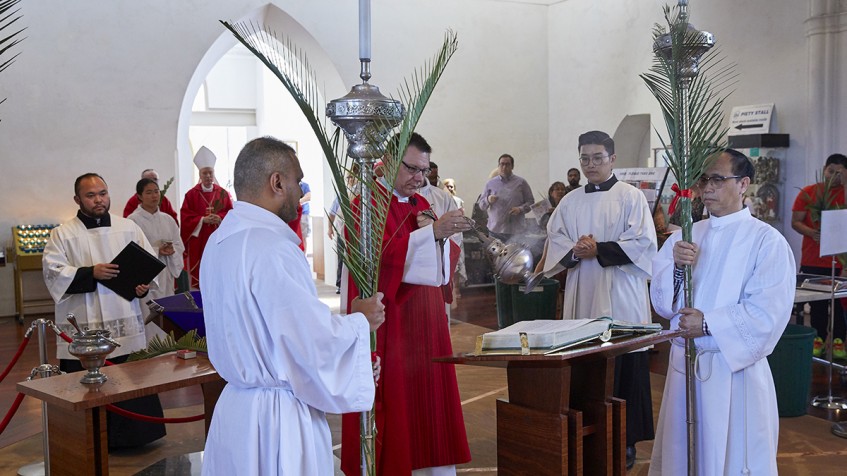 Permanent Deacon Paul Russell incenses the Gospel during Palm Sunday Mass on 28 March 2021. Photo: Ron Tan.
"We can, I believe, say with great confidence that ultimately what made people so determined to destroy Jesus was that He revealed to them, and everyone around them, the hardness of their hearts and the stubbornness of their thinking," he began.
"As we celebrate Palm Sunday and begin our journey with Jesus through this final week of His life, it seems to me that we are being invited, even challenged, to consider whether we too suffer from hardness of heart and stubbornness in our thinking.
"As we reflect, not so much on the place God should have in our lives, but more realistically on the place which God has in our lives each day, perhaps we might ask ourselves if we too have become too comfortable in relationship to our faith; if we too would rather not think too deeply about who God really is and what God is asking of us; if we too are going to continue to build walls around us which protect us from sensing the Spirit of God calling us to something more, to something greater."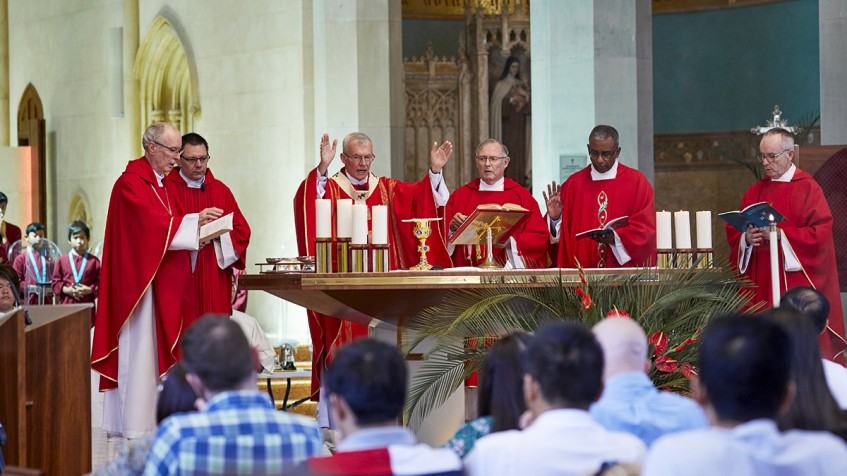 From left: Auxiliary Bishop Donald Sproxton, Deacon Paul Russell, Archbishop Timothy Costelloe SDB, Fr Peter Whitely VG, Cathedral Dean Fr Sean Fernandez, and Cathedral Assistant Priest Fr Richard Rutkauskas during the Eucharistic consecration. Photo: Ron Tan.
It was in His trust in the Lord, Archbishop Costelloe added, where Jesus shows Christians the way.
"Jesus Himself did not have a hard heart. Jesus Himself did not for a moment deliberately close Himself off from His relationship with the Father in Heaven, even though He knew that this relationship, and His fidelity to it, would bring Him great suffering and even death.
"Let us, then, walk with Him each day of this Holy Week, painful and challenging though this journey will be. In the end, it is the only way to the fullness of life that Jesus has won for us through His fidelity, His courage, and His obedience to God's will," the Perth Archbishop encouraged.
"Walk with Him through this week of suffering so that you can rise with Him to the fullness of life and joy."