CFL thanks Helen Medina for her 40-year dedication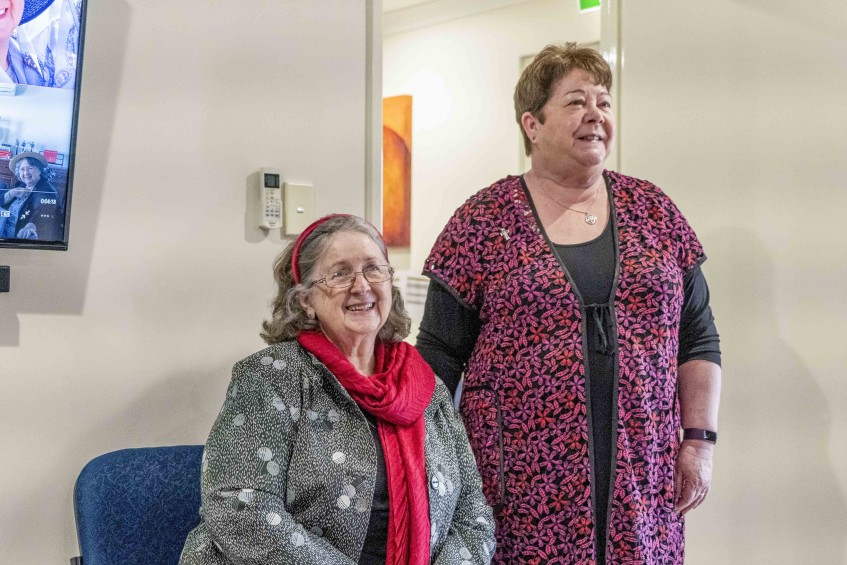 CFL Director Sister Kerry Willison RSM (right) delivers an address at the retirement event of Helen Medina on 1 September. Photo: Amanda Murthy.
By Amanda Murthy
The Centre for Liturgy (CFL) has last week paid tribute to its staff member Helen Medina for 40 years of service in supporting parish liturgical practices and 10 years as a Field Officer.
The celebration organised by the CFL at its centre on Tuesday 1 September gathered Catholic leaders and agency staff, including Perth Auxiliary Bishop Donald Sproxton, Emeritus Archbishop Barry Hickey, Archdiocesan Vicar for Social Outreach Dr Terry Wilson, friends and Mrs Medina's husband Eddie.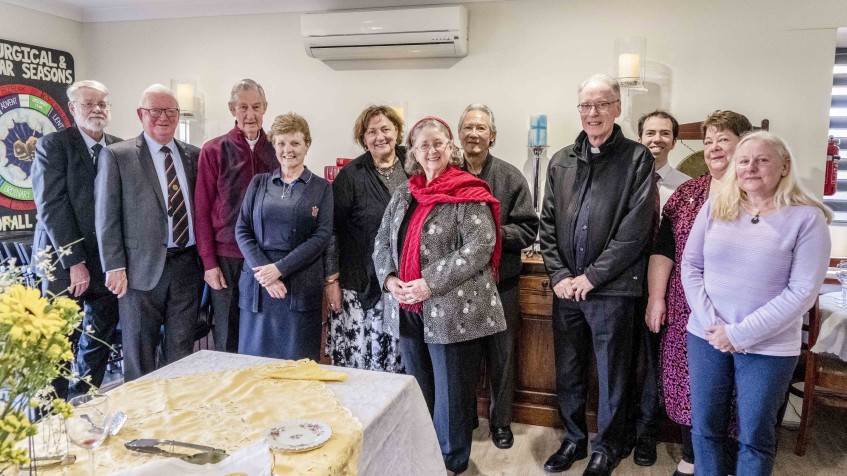 Centre for Liturgy Field Officer Helen Medina has retired after 40 years of service to the Archdiocese of Perth. Photo: Amanda Murthy.
Bishop Sproxton gave some words of appreciation at the event, speaking on behalf of the Archdiocese for all the support shown by Mrs Medina in the development of the place of liturgy in the diocese and the contribution CFL has made throughout the years.
"There have been many areas that [Helen] has supported us, including through the training of acolytes, and recently setting up the prayer spaces for the ACYF which was a huge task, also your involvement in developing the children's liturgy of the Word, proclamation of the Word in many parishes and working with altar servers, among other projects you have supported and led," Bishop Sproxton explained.
"We have met countless times at your parish in Greenwood, and every time I am there for a visit, you have always been so involved in the many areas, always making sure everything is right – I thank you for always making sure that on a parish level, the liturgy is prayerful, well-organised and a place where people can experience Jesus at work in your community of worship on so many levels.
"The amount of work that goes into a preparation of liturgy, and its importance – I acknowledge what you have done in supporting us, and it is nice to know that you will still be contributing your skills and talents wherever possible, thank you Helen," he added.
Mrs Medina, overwhelmed with gratitude, thanked all her colleagues for their support, love and encouragement throughout her journey at CFL.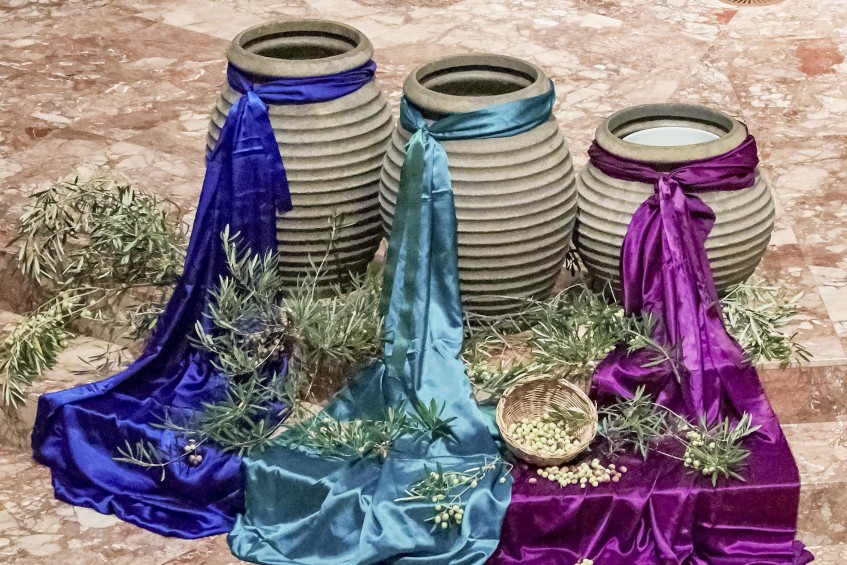 Some of the art for liturgy curated by former Centre for Liturgy Field Officer Helen Medina. Photo: Amanda Murthy.
"First and foremost, I have learnt so much more fun from this place, and then I was able to give from that knowledge and I am so grateful for every one of you for your support and prayers," she said with gratitude.
"We have laughed hard as a team and we have worked hard as a team and I am blessed to have had all these wonderful experiences and memories to cherish – thank you again."
CFL Director Sister Kerry Willison RSM commended Mrs Medina for never failing to share her artistic talents in the many areas of liturgy.
"Helen's smile can light up any room and her sense of humour always made the days at the Centre for Liturgy interesting," Sr Willison expressed.
"The Australian Catholic Youth Festival (ACYF) last year was an example of how we worked well together as a team and Helen's creativity was really essential to helping the young pray better, so thank you Helen for sharing your talents with us.
"This gathering is to thank Helen for all the wonderful work she has done – she will continue to work in her parish, and from time to time she will be back at CFL to support us in the various events, so this is not goodbye," Sr Willison added.
CFL Administrator Geraldine Schivardi, who has known Mrs Medina personally since she [Geraldine] was four years old, said she will miss working with her "bubbly, talented colleague".
"What a pleasure it has been over the past years to work alongside Helen, who has many creative gifts and gives so generously of her time and talents," Ms Schivardi cited.
"The CFL family will miss her presence, sense of humour and especially her ability to make everyone around her feel welcomed."