Archbishop Costelloe blesses Emmanuel Centre memorial garden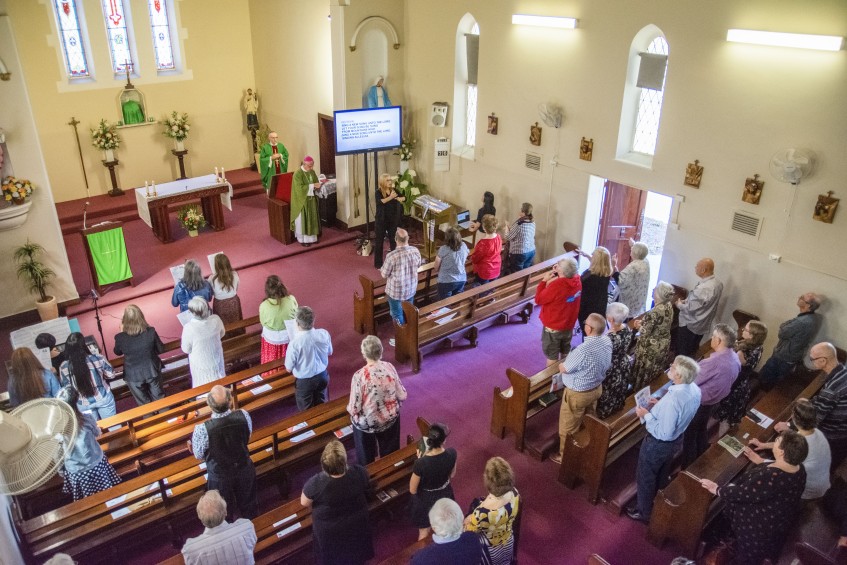 Friends and family of the Emmanuel Centre attend St Francis Xavier Church, East Perth, on Sunday 18 October, for Mass and the dedication and blessing of the new garden of remembrance. Photo: Eric Martin.
By Eric Martin
Spring sunshine warmed the grounds at St Francis Xavier Church in East Perth on 18 October as the Emmanuel Centre community gathered to celebrate Mass and a ceremony to bless the centre's new memorial garden, as a place of remembrance for the dearly departed members of the Emmanuel community – a self-help centre for people with a disability, their families and carers.
Archbishop Timothy Costelloe SDB blessed the garden of remembrance after celebrating Sunday morning Mass with concelebrant Fr Richard Rutkauskas. The entire service was AUSLAN interpreted by Diana Prior for the many parishioners who are deaf or hard of hearing.
Reflecting on Matthew 22:21 in his homily, the Perth Archbishop highlighted that "every single one of us, no matter who we are, no matter where we come from … are made in God's image and for that reason alone, every single one of us is deserving of the most profound respect".
"This is the basis of the Church's unshakeable belief in the dignity, the equality and the supreme value of every human person, of every human life," he added.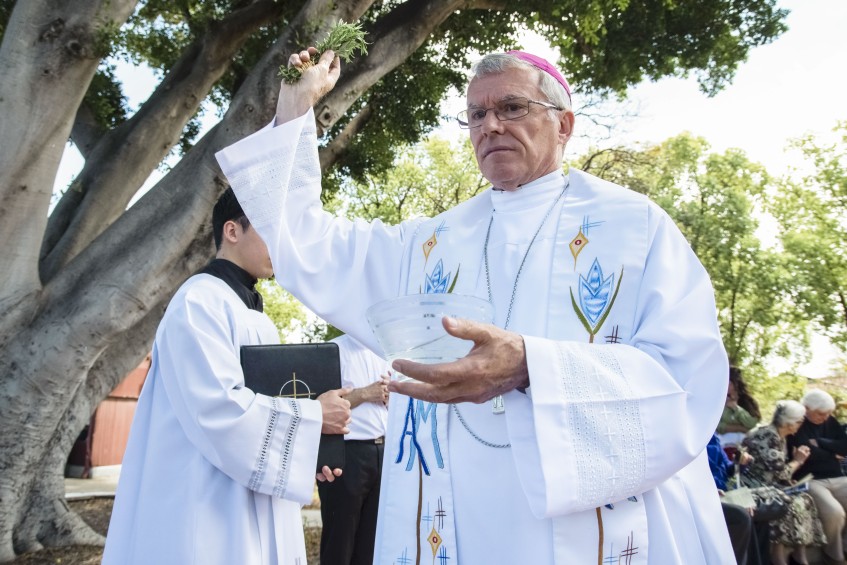 Archbishop Timothy Costelloe SDB performed the blessing, sprinkling holy water with a garland of rosemary grown from the original garlands used to honour the late Fr Paul Pitzen, Chaplain for the Catholic Ministry for the Deaf and Hard of Hearing, at his funeral some two years ago, on 5 November 2018. Photo: Eric Martin.
The congregation gathered in the memorial garden next to the church after the Mass, sitting on curved brick benches under the dappled light cast by the fig trees, serenaded by a four-piece choir performing hymns.
Archbishop Costelloe sprinkled holy water from a garland of rosemary grown from one of the original garlands used by some 600 guests at Fr Paul Pitzen's funeral at St Mary's Cathedral on 5 November 2018. Mrs Harris' brother, Stephen Bowman, had collected and grown the rosemary especially for the occasion.
The late Fr Pitzen, former Chaplain for the Catholic Ministry for the Deaf and Hard of Hearing, and current coordinator, Mrs Barbara Harris, opened the Emmanuel Centre in 1981, the International Year of Disabled Persons.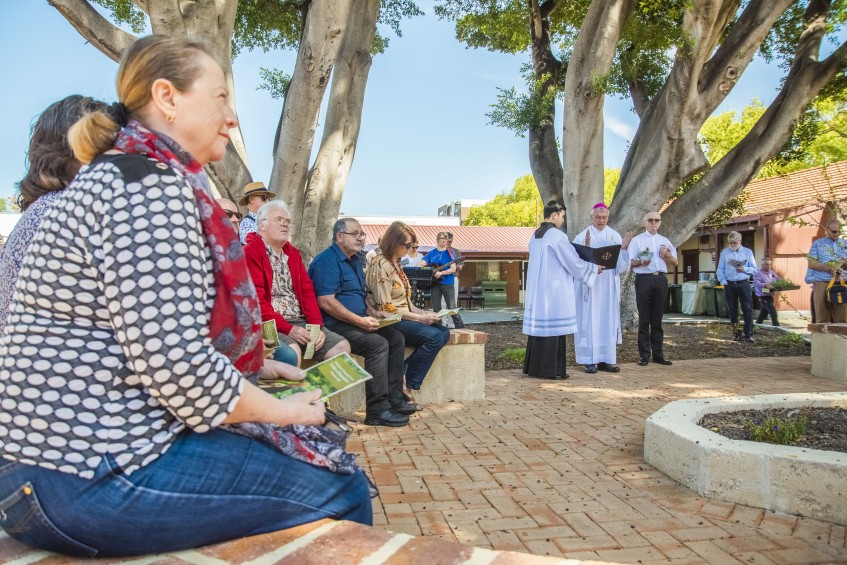 After Mass, guests gathered in the memorial garden, nestled between St Francis and the Emmanuel Centre. Fr Paul was a tireless crusader who fought for the inclusion and spiritual wellbeing of people with different disabilities within the Church. Photo: Eric Martin.
Both Archbishop Costelloe and Emmanuel Centre Coordinator Barbara Harris paid heartfelt tributes to the work that Fr Pitzen performed in service to WA's deaf community as well as others who found a safe place at Emmanuel.
"It is almost two years to the day that Fr Paul died, and his loss is still felt deeply by many people," Archbishop Costelloe said.
"We pray for his eternal rest today, as we do for all our loved ones, and we once again entrust Fr Paul to the Lord. May he rest in peace.
"You were always there to love, guide, challenge and support me, to lean on, to pray with," Mrs Harris shared.
"You taught me patience, acceptance and the value of just sharing time with people. Words cannot express how much you are missed, but there is some small consolation in witnessing the legacy of your love for others and for God."
Though the garden was inspired by Fr Pitzen in particular, it serves as a place of memorial for all the other dearly departed members of the Emmanuel community.
According to a 2015 study by Bristol University (the largest of its kind), deaf people have poorer health than the general population, with the study revealing "shocking inequality in treatment, which means that some deaf people are at risk of reduced life expectancy".
Causes of this inequality include "a lack of interpreters at consultations, inadequate booking procedures and almost non-existent health information in sign language, with poor communication leading to missed diagnoses and ineffective treatment".