Indonesian Catholic community celebrates God-given gifts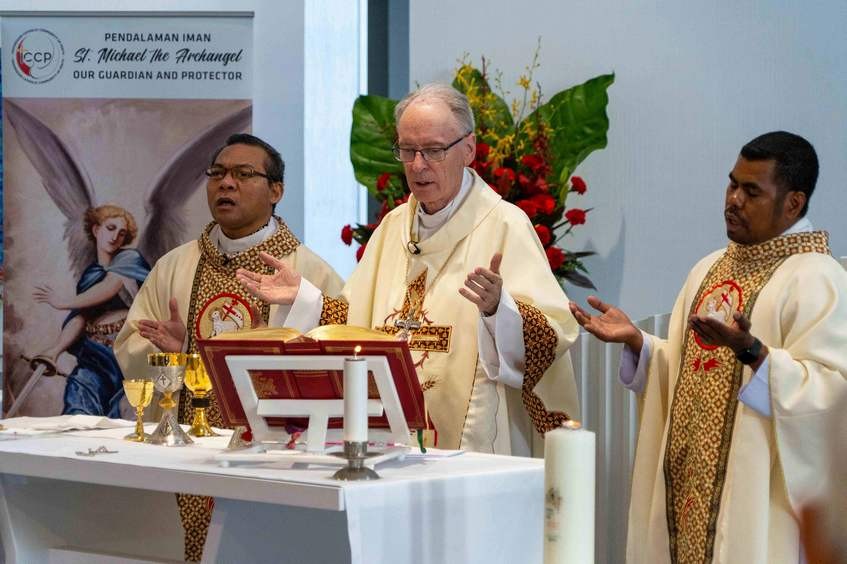 Bishop Donald Sproxton celebrated Mass with the ICCP to mark its 28th anniversary. ICCP Chaplain Fr Yosep Remi Asnabun (left) and Redemptorist Monastery priest Fr Timothy Tapoona CSsR (right) were the concelebrants. Photo: Matthew Lau.
By Theresia Titus
A Catholic community is one that looks beyond its own needs and wants, said Auxiliary Bishop Donald Sproxton at the Indonesian Catholic Community of Perth (ICCP) 28th anniversary Mass on Sunday 15 November.
Held at Pater Noster Catholic Church, Myaree Parish, ICCP Chaplain Father Yosep Remi Asnabun and Redemptorist Monastery priest Father Timothy Tapoona CSsR concelebrated the thanksgiving Mass.
Speaking with The Record, Fr Asnabun hopes the ICCP grows stronger in the years to come and loved by its members as it is their second home in Perth.
"The anniversary Mass is a way to thank God for all of His blessings and graces for the community. By celebrating together, wearing Batik, which is one of our national heritages, [I believe] our bond of love for each other will be strengthened and nourished.
"ICCP is a home for all Indonesian Catholics in Perth, without exception. As ICCP chaplain, I am here for all Indonesian Catholics in Perth. We need to love and support each other, and together we support the Archdiocese to which our community belongs," he continued.
Bishop Sproxton began his homily by highlighting the message of the Gospel taken from Matthew 25:14-30, reminding the gifts God has entrusted to the community, and how to use those gifts to build the Kingdom of God.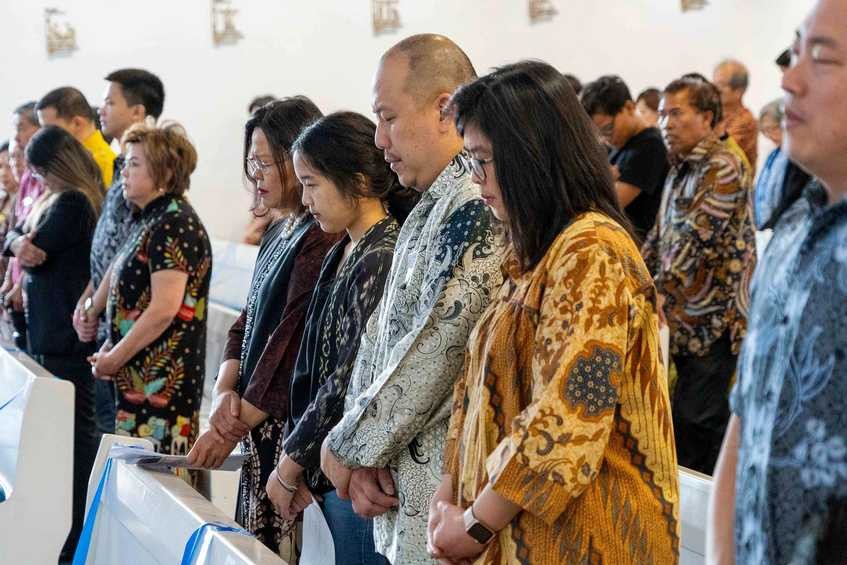 Members of the community attended the Mass wearing Indonesian national clothing called Batik. Photos: Matthew Lau.
"The Kingdom of God is greater than the Church, [which is the instrument that God uses to build his kingdom], little by little, throughout the world," he said.
Acknowledging the good works and faith development of the ICCP, Bishop Sproxton explained the importance of being outward-looking for ICCP to grow as a community.
"Pope Francis reminds us, many times, the Church cannot be inward-looking. We cannot allow ourselves to only look at our own needs and wants."
To find Christ, Bishop Sproxton believes we must go to the outskirts of society, "where people have great needs" and discover that Christ's Spirit dwells within us, to strengthen and give us the courage and insight to know how to help.
"We received the gift of faith on our baptism day, and with that faith, God has given us the capacity to trust in Him.
"We need to be those servants who trust that where the Lord leaves us, it's because there is a plan. And he will lead us with the strength that we need to do the good to bring about a change in the world," he explained.
"We can't just receive the gift of faith for ourselves, but we need to receive this gift and see that by nurturing this gift with our contemplation and prayerful mediation on these words."
At the end of his homily, Bishop Sproxton invited the congregation to be hopeful of the gifts God will entrust in the future.
"We reflect on how this community has grown in many ways as it has faced challenges, engaged in caring for people beyond this community, and this is what it means to be a Catholic community. We are part of a more significant thing," the Auxiliary Bishop added.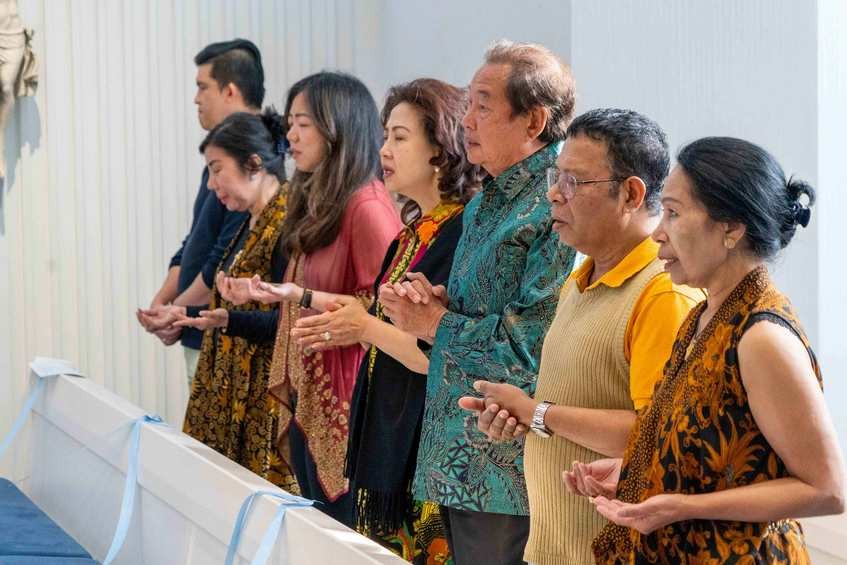 Members of the community attended the Mass wearing Indonesian national clothing called Batik. Photos: Matthew Lau.
"We thank God for all of these things that have helped us grow, and we pray that the Lord will continue to give us that trust in Him, and with the gifts that he's given us, particularly the gift of the Spirit, we'll be able to do extraordinary things."
ICCP President Irwan Budiarto addressed the congregation towards the end of Mass, expressing his gratitude to the Archdiocese in supporting and guiding the community.
"I invite Indonesian Catholics in Perth to be a part of our community through different activities conducted by the various groups within ICCP," Mr Budiarto said.
"It is an honour for me to be able to serve all Indonesian Catholics in Perth. [It is] only by the grace of God that our community can grow and thrive with its many different varieties of the groups, which can cater to what Indonesian Catholics in Perth need to come, participate, grow, and serve in faith.
"This community needs all of us to participate and evangelise to bring the good news to all here in WA, and thus we can grow and be closer to Jesus Christ," he concluded.
The ICCP celebrates Mass in Indonesian language every Sunday at 4pm at Pater Noster Catholic Church, Myaree.