Con-celebration – the Soulful Swansong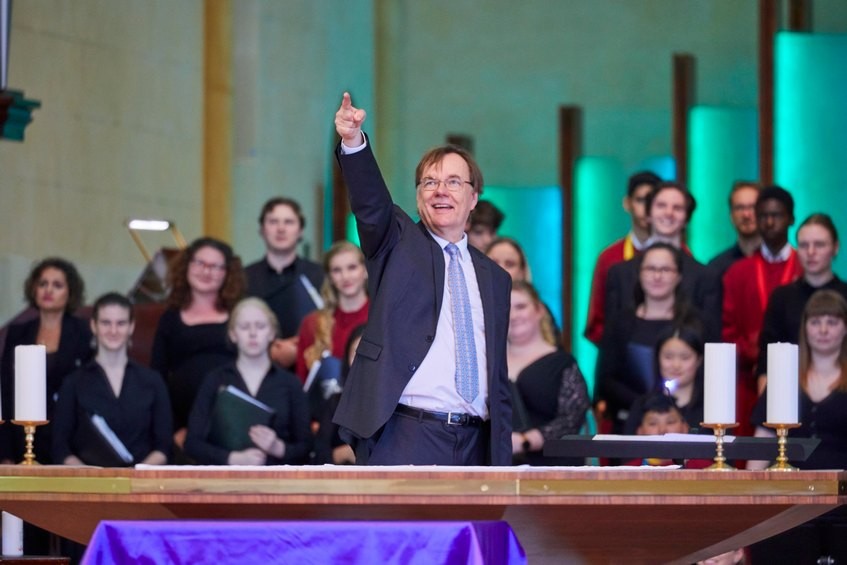 Dr Bannan, who recently retired as Associate Professor at the UWA Conservatorium of Music, is an accomplished international composer, conductor and musical researcher – he will be sorely missed at St Mary's Cathedral. Photo: Ron Tan.
By Eric Martin
A special concert event was held last Sunday, 15 November, at St Mary's Cathedral, dubbed Con-Celebration – for the retirement of Dr Nicholas Bannan, Associate Conductor and internationally renowned composer, a man who has made a large and very special contribution to the musical life of the Cathedral and the wider community of Perth.
The audience was treated to choral favourites such as Handel's Zadok the Priest and Parry's I was glad, performed by St Mary's Cathedral Choir and the Winthrop Singers (and friends), with the programme personally selected (and conducted) by Dr Bannan to include some of his favourite pieces.
"He specifically asked me to play Dieu parmi nous of Messiaen because it was that piece that he and his wife, when they got married in England, walked down the aisle to at the end of their wedding," said Jacinta Jakovcevic, Director of Music at St Mary's Cathedral.
"It's a wonderful piece of music – one that I also played it at the opening service of St Mary's Cathedral on 8 December 2009. It's performance on the night ties together three different parts of his life."
Dr Bannan, who co-founded the Winthrop Singers in 2007, conducted the orchestra at the very first service during the re-opening of St Mary's in 2009 and has been involved in the Cathedral's music since then, conducting the Orchestral services and regularly working with St Mary's tenors and bass players at Wednesday night rehearsals.
Ms Jakovcevic and the choir were thrilled to be able to honour him with this final performance.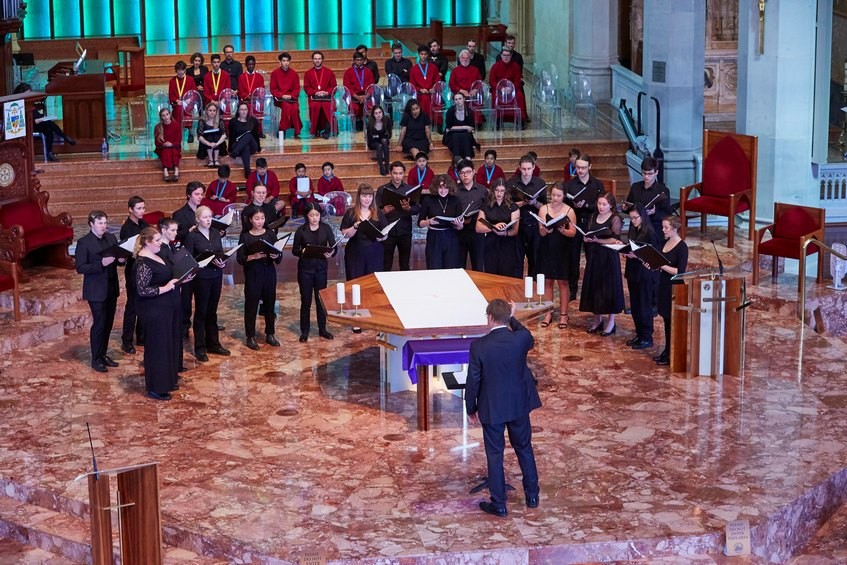 Dr Nicholas Bannan conducts the Winthrop Singers (and friends) accompanied by the St Mary's Cathedral Choir at Con-Celebration on Sunday 15 November. Photo: Ron Tan
"Thank you Nicholas, for so many things over the years – for all your support and enthusiasm, musical expertise par excellence, the invaluable advice you always give and for everything that I have learned from you," Ms Jakovcevic expressed.
"It has been an absolute pleasure having you work with us here at the Cathedral."
Dr Bannan, who up until last week was an Associate Professor at the UWA Conservatorium of Music, is an accomplished international composer, conductor and musical researcher, renowned for winning the esteemed Fribourg Prize for Sacred Music in 1986, and his commissions for the Allegri and Grieg Quartets, the Guildhall String Ensemble, Cantemus Novum of Antwerp, and the Gentlemen of St Paul's Cathedral.
His research focuses on the evolutionary origins of the human capacity for music; vocalisation in song and language; music in child development; and musical communication and pedagogy; and has seen him work with Alzheimer's patients on the UK project Singing for the Brain, examining the potential of singing for retaining social communication between carers and people with dementia.
Dr Bannan was a Canterbury Cathedral chorister and choral exhibitioner at Clare College, Cambridge and taught at several internationally renowned schools, including Eton College and the Yehudi Menuhin School. He was Director of Music at Desborough School, Maidenhead, where the choir he conducted was in demand to work with London orchestras and made frequent broadcasts on television and radio.
He joined UWA from the University of Reading in 2006.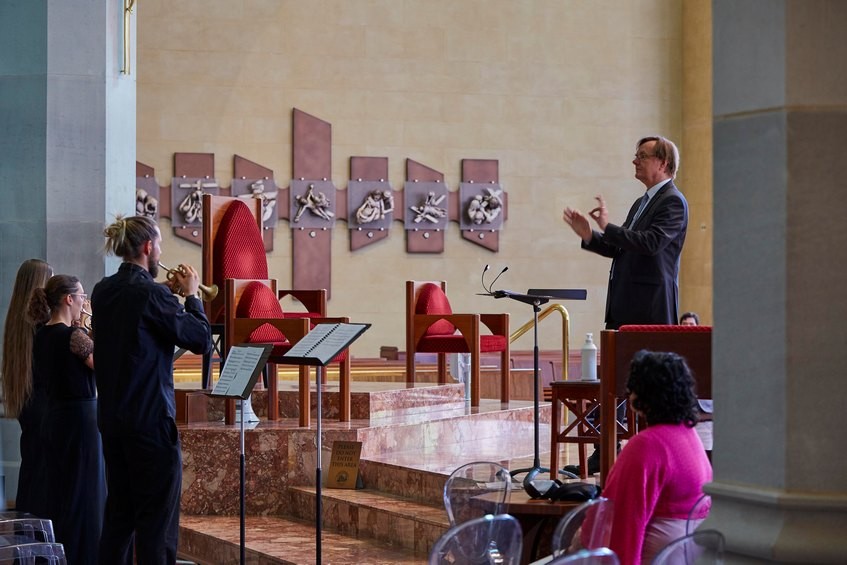 Dr Bannan, the Cathedral's Associate Conductor, was responsible for conducting Orchestral services at St Mary's. As a lecturer, he specialised in vocal studies and composition. Photo: Ron Tan.
His musical pedigree also includes time as a Winston Churchill Fellow, touring the USA to develop choral directors and singing teachers; 12 years as the conductor of The Esterhazy Singers, a London chamber choir that performed with the Esterhazy Chamber Orchestra; director of contemporary music groups 1913 Ensemble and Act of Creation; and Director of the Music Teaching in Professional Practice Initiative, a distance-learning programme leading to Diploma and Masters qualifications administered at the University of Reading.
Dr Bannan will remain in Perth with his wife for the next few months, participating in the Christmas Midnight Mass at the Cathedral, before the couple depart for England, returning to be with their family.