SPECIAL REPORT: Churches commence re-opening after two months of pandemic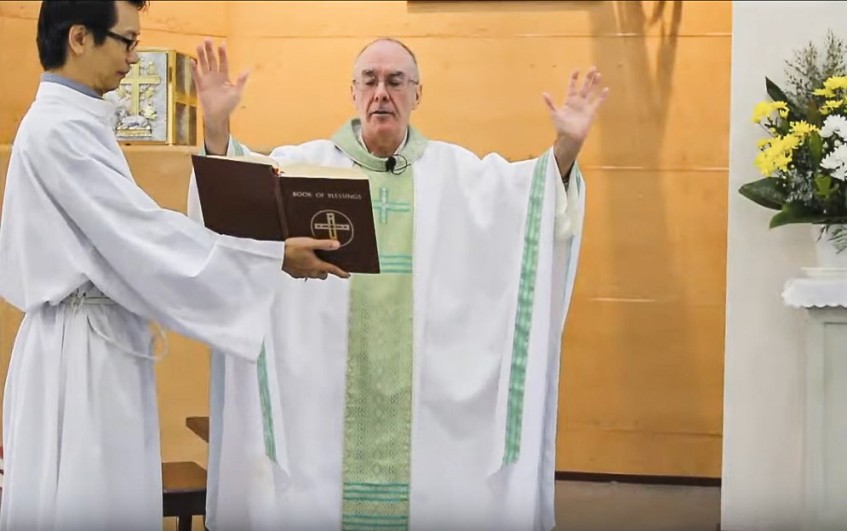 Kwinana Parish Priest Fr Daniel Boyd celebrates live-streamed Mass for the Fifth Sunday of Easter on Mother's Day, 10 May 2020. Photo: Sourced.
By Eric Martin and Matthew Lau
As restrictions lifted to 20-people gatherings from Monday 18 May, Catholics across the Archdiocese eagerly awaited the return of the Mass.
The Record spoke with a number of parishes to get a sense of the expectation and excitement about the being able to celebrate the Eucharist once again.
East Victoria Park Parish Priest Fr Nicholas Nweke celebrates live-streamed Mass for the Sixth Sunday of Easter on 17 May 2020. Photo: Sourced.
East Victoria Park Parish Priest Fr Nicholas Nweke explained he did not have much time to build rapport with his parishioners after the government-enforced closure of "places of worship" came into effect from 18 March, having only commenced his new role at Our Lady Help of Christians Church on 17 February.
"It has been a difficult situation, but we are managing it. I am celebrating Mass via livestream daily and I call parishioners on the phone to know how they are doing," Fr Nweke said.
The parish resumed public Mass for 20 people from Tuesday 26 May, with Sunday Masses remaining temporarily online only.
Ocean Reef Parish reports that Fr Franciszek Kot SDS has been kept extremely busy organising an increase in the number of public Masses celebrated at St Simon Peter Church.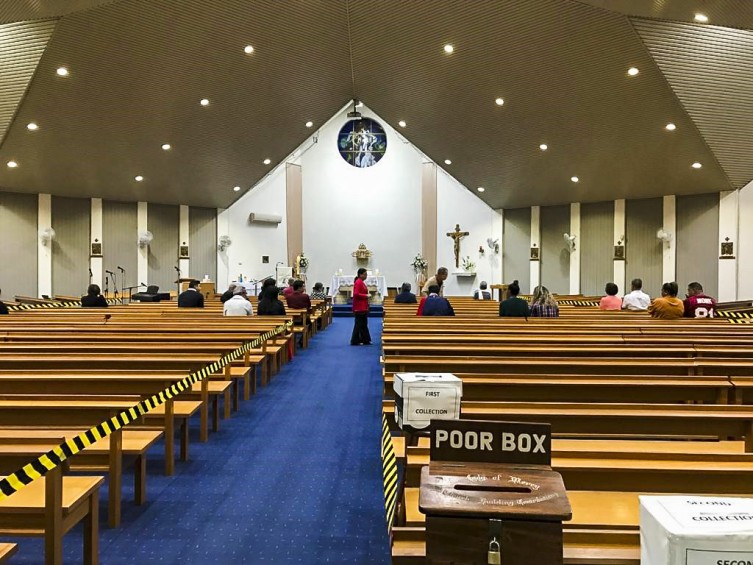 Girrawheen Parish re-opened to the public for Vigil Mass on 25 May with a limit of 20 people in attendance. Like most parishes across the Archdiocese, Our Lady of Mercy Church taped off many of its pews, positioned two collection boxes at its foyer, marked where people were to sit, and had Holy Communion brought to them, with holy water stoups remaining empty and regular sanitisation in place. Photo: Amanda Murthy.
"Personally, it was great to see my parishioners, because for the past two months I have been saying Mass privately. It is a huge relief, though still restricted, and those regulars who attend seem to be very happy," Fr Kot expressed.
"Our first livestreamed Mass, on Palm Sunday, was conducted using just one mobile phone from one position focussed on the altar.
"Now, we have two mobile phones and a camera, we shoot from different angles and we also add music to the video – it's much more interesting now."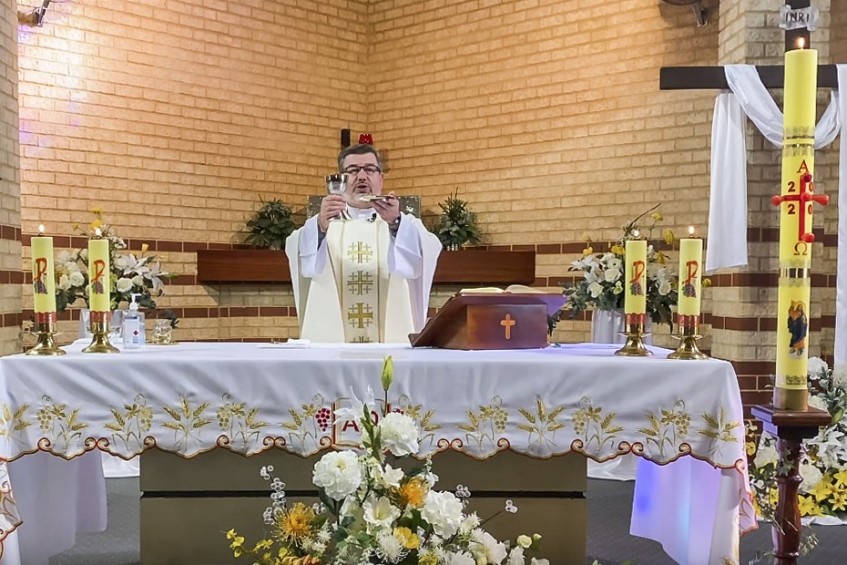 Ocean Reef Parish Priest Fr Franciszek Kot SDS celebrates live-streamed Mass on the Feast of the Ascension on Sunday 24 May 2020. Photo: Sourced.
Seeing his parishioners in person again last week brought "great joy" to the Ocean Reef Parish Priest.
"People get used to it, they understand and they don't complain – but we all look forward to the next phase of 100 plus people being allowed at a gathering," Fr Kot concluded.
Kwinana Parish Priest Fr Daniel Boyd has been integral in ensuring St Vincent's Church complies with the Archbishop's latest guidelines.
"It's been really hectic with re-opening their church. We have Mass every day [limited to 20 per congregation], people ring up and register to attend. We clean every pew and wipe every surface," Fr Boyd explained.
While the Archdiocese of Perth has been broadcasting online Masses daily from the St Mary's Cathedral Parish House, Kwinana Parish is among many parishes that have been proactive in successfully livestreaming daily Mass for its own churchgoers.
"There's a lot of comfort for people seeing a priest they know saying Mass in a church they're familiar with, it gives them a great sense of consolation," Fr Boyd noted.
"I think opening the Mass to 20 people has had a really positive impact. The parish is slowly coming back to life after having an online presence."
Western Australians were given the greenlight to return to work and school last week following the McGowan Government's successful repression of the coronavirus pandemic.
Archbishop Timothy Costelloe SDB wrote to the Perth Catholic community on Friday 15 May, announcing a revised set of COVID-19 directives that came into effect from 18 May, in-line with the launch of the State Government's "Roadmap to Reopening" phase.
"The Western Australian and Federal Governments continue to issue ongoing public health advice in relation to COVID–19 and the Archdiocese of Perth continues to be guided by this advice through our ongoing commitment to monitoring any threat posed to Catholic communities," Archbishop Costelloe stated.
The revised directives include:
Churches are permitted to open with a limit of 20 attendees present within the building at any one time for private prayer, Adoration, and Confessions. However, individual parish priests must exercise judgement in deciding whether it is yet practicable to conduct public Masses and Catholics need to remember that even in parishes where the number of Masses available (both weekday and weekend) may be increased, inevitably, the majority of the faithful will still not be able to attend a Mass;
Indoor religious services (including baptisms, weddings and funerals) are permitted with a limit of 20 attendees in the congregation. An additional 10 people, who are required to conduct the religious service or to broadcast the service, may be present;
Social distancing of one person per four square metres must be observed inside a church and available seating must be clearly marked with signage to assist in maintaining a physical distance of 1.5 meters between people;
Clear guidelines must be put in place to direct people on how to enter and exit the church or chapel;
Pews, seats, seatbacks, top rails, kneelers, doors, door knobs, microphones, sacristies, toilets/bathrooms and all other communal areas are to be cleaned, wiped down and sanitised regularly;
Holy water fonts/stoups and hymnals are not to be used;
Fresh baptismal water must be used for each candidate, full immersion baptism is discouraged but if used, then the baptismal pool must subsequently be cleaned and disinfected after each use; and
The celebration of First Reconciliation (school-aged children), First Holy Communion (school-aged children) and Confirmation (school-aged children and others) remains temporarily suspended.