Perth Military Chaplain's legacy celebrated by family 61 years on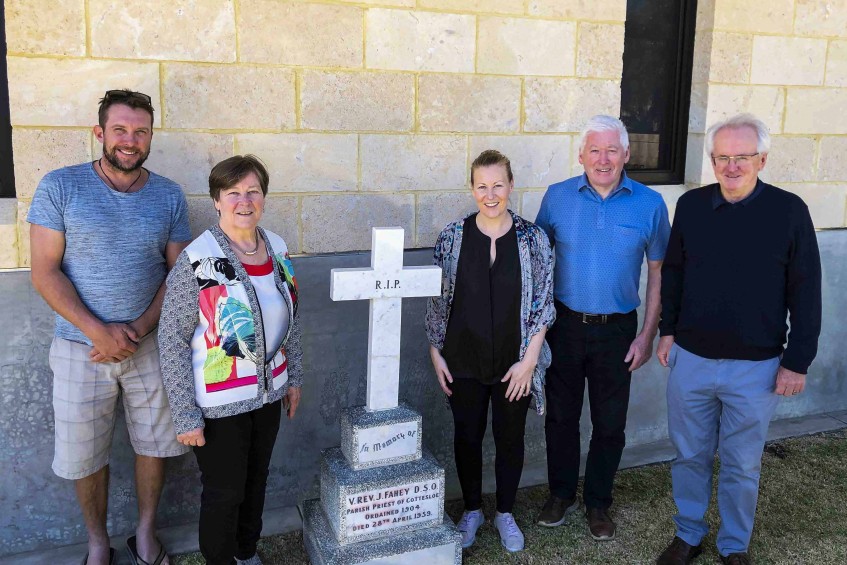 The headstone of Fr Fahey which was removed from Karrakatta Cemetery is now placed at the church grounds due to changes made by the Cemetery Board. Photo: Supplied.
Remembered fondly by the Western Australian community as a war chaplain and hero, former Cottesloe Parish Priest, the late Father John Fahey DSO, will always be saluted for his huge contributions to Western Australia, especially on occasions such as Anzac Day.
This year, some of his relatives from Swanbourne, Margaret River and Ireland congregated at the St Mary Star of the Sea Church to commemorate his 61st death anniversary on 28 April.
Fr Fahey's relatives, including Phil and Marie Tierney from Ireland, spent the morning recounting fond memories with Cottesloe Parish Priest Father Marcelo Gonzalez and Assistant Parish Priest Rev Rodrigo Da Costa Ponte, taking some time to individually offer prayers within the church.
The memorial altar was donated and dedicated by parishioners as a space to remember their beloved leader.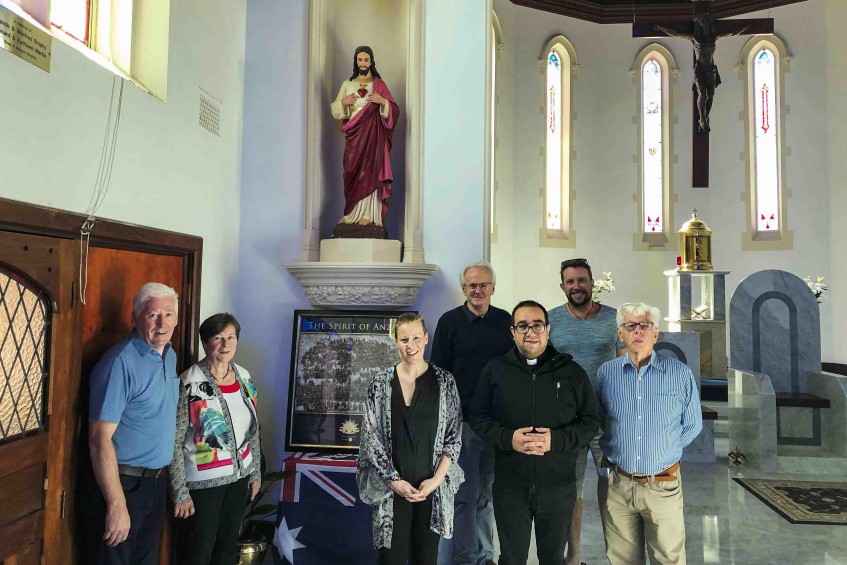 Former Military Chaplain and Cottesloe Parish Priest Father John Fahey DSO was remembered by family on his 61st death anniversary. Photo: Supplied.
Parishioner Ed O'Loughlin who was present at the church during the families visit said they were thankful and appreciative to be able to be at the church, where Fr Fahey had spent much of his time during his life.
"Just being in that space, and seeing the memorial area, as well as having time to reflect in the church grounds was very comforting and assuring for the family," Mr O'Loughlin said.
"They were happy to see the love shown by parishioners to Fr Fahey during his lifetime and even now, with gestures like the memorial stone located at the entrance of our parish, the placement of his original headstone in the church grounds and the portrait from Fr Fahey's time of the 11th Battalion of WA, of which he was military chaplain, displayed in the parish during the Anzac week."
"Fr Fahey will always have a place in our hearts," he added.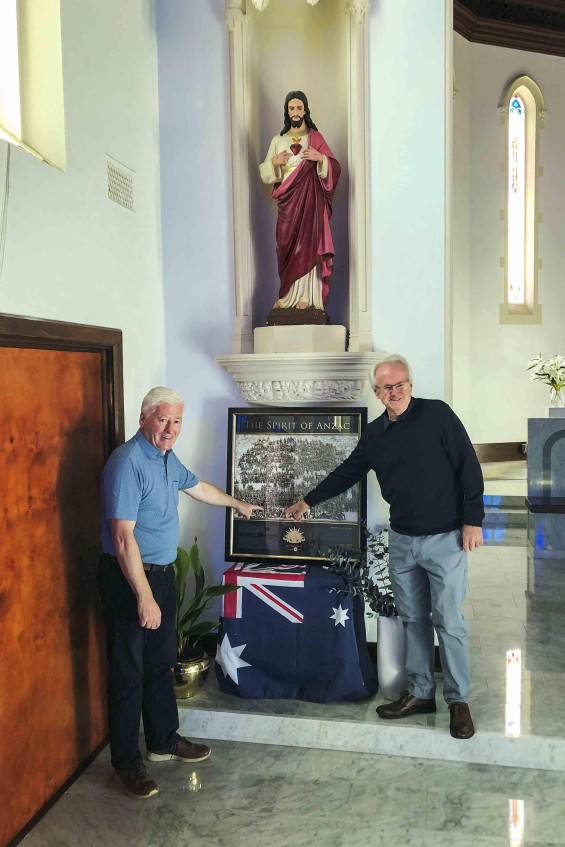 Two of Fr John Fahey's grand-nephews, Philip Tierney and Philip Ryan pointing to a photo of the war military chaplain taken in Egypt before landing at Gallipoli. Photo: Supplied.
Born on 3 October 1883 at Rossmore, in Ireland's scenic county of Tipperary, Fr Fahey was one of nine children born to a devout Catholic couple, farmer Michael Fahey and his wife Catherine, nee Ryan.
Upon completion of his studies at Brignole-Sale Seminary at Genoa in Italy, Fr Fahey was ordained a priest in 1907 at the age of 24, and left shortly afterwards to serve on the Australian mission.
He arrived in Perth in December 1907, working his first role in administration at St Mary's Cathedral, before commencing his appointment first to York for a year and then to the south-west towns of Pinjarra and Yarloop.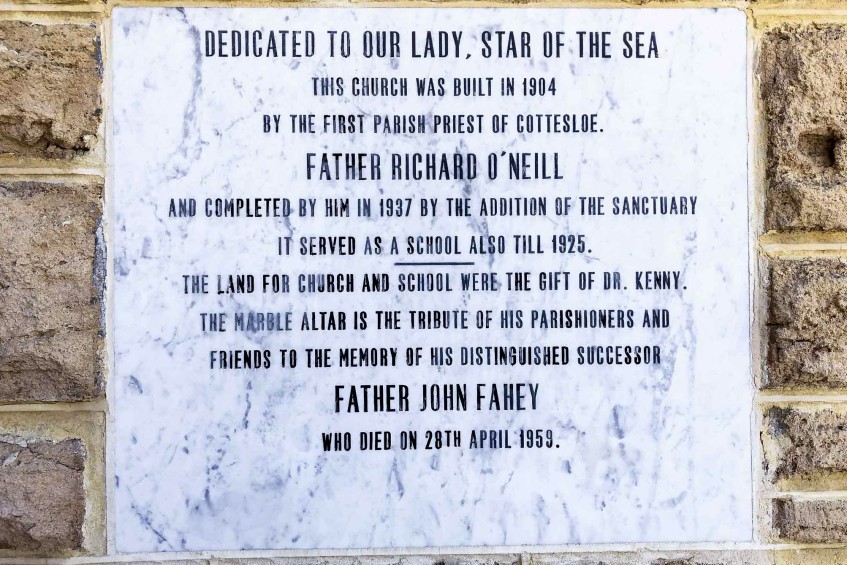 On 4 August 1914, Fr Fahey joined the Australian Imperial Forces on 8 September 1914 as a military Chaplain 4th Class, with the rank of captain, to the 11th Battalion, 3rd Brigade, First Australian Division. In 1939, he served as the second parish priest of the Cottesloe parish (1919-32), then took country appointments at Kellerberrin from 1932-1936 and at various Perth parishes from 1936-1939.
From 1919 to 1932, he was stationed at Cottesloe and then at Kellerberrin from 1932-36 and at various Perth parishes from 1936-39, after which he was Parish Priest at Cottesloe until his death in 1959. His funeral was attended by more than 2000 people and he was laid to rest at Karrakatta cemetery.