Historic homestead offers hope, hospitality
Bishop Sproxton enjoys a time of fellowship with the residents following the ceremony on 28 February. Photo: Eric Martin.
By Eric Martin
Nestled on the banks of the Swan River as it meanders its way through the trees of Guildford, the historic Bebo Moro homestead is the newly restored centrepiece of the refurbished St Vincent's aged care facility; and its tranquil setting and elegant style encapsulate the ethos that has gone into the redevelopment of the entire Catholic Homes' site, which was officially blessed last week.
Perth Auxiliary Bishop Donald Sproxton, joined by Bunbury Bishop Gerard Holohan, formally blessed the new premises on Friday 28 February.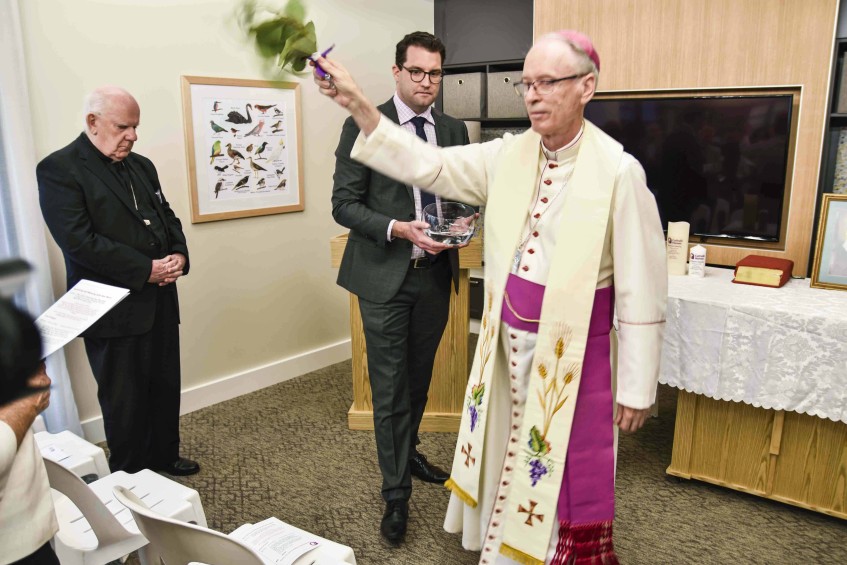 Bishop Donald Sproxton blesses the newly refurbished St Vincent's with holy water. Photo: Eric Martin.
Guests included the City of Swan Mayor Cr Kevin Bailey and City of Swan Chief Executive Mike Foley, with a representative of the construction company EMCO, that undertook the redevelopment, gathered along with Catholic Homes staff and residents.
Bishop Sproxton, born-and-raised in Perth, recalled his visits to St Vincent's when he was a young man, still in the seminary, a time when the facility still housed teenagers and others in critical need, alongside the disadvantaged elderly.
"Bishop Gerry and I will remember coming here as seminarians on a Sunday after Mass," Bishop Sproxton shared.
"There were some teenage children here in those days, one of whom was called Dotty and another called Irma, and Irma used to have to wear a helmet because she had a brain injury and was very, very fragile."
"And I remember them particularly because of the very special needs that they had, and the very special care that was given to them, and the enormous sense of respect that was offered to them, not just by the sisters who were here, but by the staff who looked after them.
"And they were really in a place where they were able to experience how it is to be in a family and be surrounded, and I don't think it's too much to say this, but by love from everyone in this place," he continued.
"And the other thing that I remember is that when we returned to the seminary for lunch, I always went back there with a very light heart: it was really very interesting that every time I came, there was something that I had received, more than what I had given, in conversation or in just sitting with someone."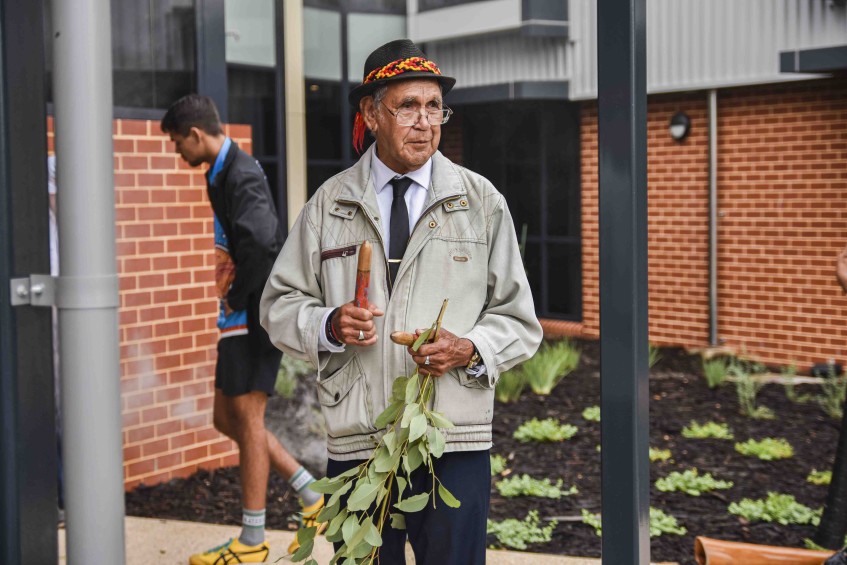 Local Wadjuk Noongar Elder, Uncle Ben Taylor Cuermara, performs the traditional smoking ceremony before the official blessing of the new premises. Photo: Eric Martin.
After a traditional smoking ceremony – conducted by local Wadjuk Noongar Elder Uncle Ben Taylor Cuermara – Bishop Sproxton blessed the new St Vincent's buildings, sprinkling the rooms and halls with Holy Water using a sprig of gum leaves from the earlier ceremony.
Catholic Homes Chief Executive Paul Andrew was onsite early for the launch and spoke with The Record about the response to the new facility so far.
"I think some of the staff are still trying, as it's a larger place, to get their bearings," Mr Andrew said.
"But with the residents, we're conducting activities to get them involved and get them out of their bedrooms, they've got their own TVs now in their rooms so that can be a bit of a challenge," he laughed.
"I was out talking to some ladies this morning over breakfast and they are just over the moon, they think it's wonderful; that it's like a new hotel but still feels like home, which hits the nail on the head – that's the most important thing to us."
Mayor Bailey said the refurbished facility was a fantastic boost to the level of care being provided to the community of Swan.
"I'm incredibly impressed by the work that's been done here, and to bring this level of care and amenity to our aged people in our community is fantastic," Mayor Bailey said.
"And it sits so well within the local environment. All it can do is really enhance the life of our aging population here in Swan."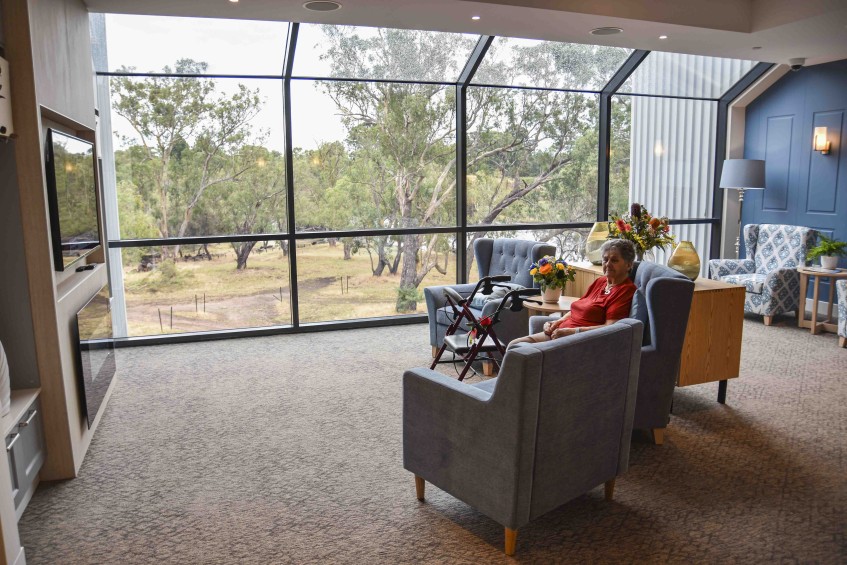 The newly refurbished St Vincent's facility on the banks of the Swan River, Guildford, built around the historic Bebo Moro homestead. Photo: Supplied.
Guildford established itself as a market town and inland port during the gold boom in the 1890s, when Guildford became known as an attractive semi-rural oasis for the affluent seeking riverside mansions accessible by the new railway.
Bebo Moro was one such residence and was designed in the elegant Federation Queen Anne style by the prominent Perth architect JJ Talbot Hobbes, who catered to the elite colonial merchant class.
It's believed that Captain Frank Whitfield, the first government resident of Guildford, built a mud house on the site. In 1837, the property was acquired by Charles Pratt where three generations of the Pratt family lived and who over time added the additional buildings.
Some of these have survived to this day, including a store-room and stone cellar that are believed to be the oldest buildings in Guildford. Bebo Moro remains on the St Vincent's site – a Nyungar word for "bend on the river".
The homestead was originally constructed in three stages between 1830 and 1930 featuring Flemish bond brick work, handmade nails, French doors, sash windows, bullnose verandas, decorative skirting boards and plaster arches, and represents the historic significance of the era.
Today, Bebo Moro houses St Vincent's support services such as hairdressing, physiotherapy (including a physiotherapy room), pastoral care, kitchen and a communal lounge with a deck overlooking the Swan River.