'No kingdom of God without challenges and an open heart', Perth Auxiliary Bishop affirms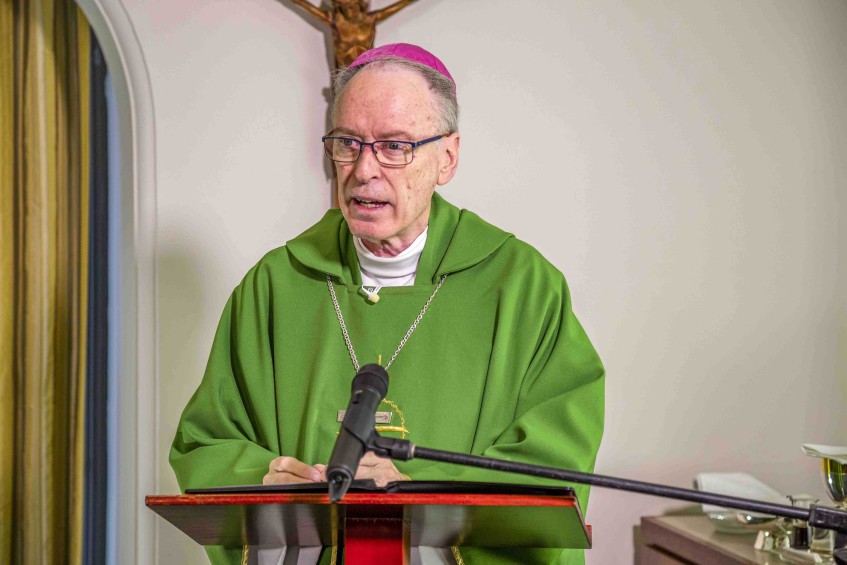 Auxiliary Bishop of Perth Donald Sproxton urged the Perth Catholic community to remain focussed on building the kingdom of God during the 12th Sunday in Ordinary Time Mass on 21 June, celebrated in the St Mary's Cathedral Parish House. Photo: Jamie O'Brien.
By Amanda Murthy
Building the kingdom of God remains the primary mission of the Church, affirmed Perth Auxiliary Bishop Donald Sproxton during the celebration of last Sunday's Mass held on 21 June.
"However, the kingdom of God cannot be built without a stripping of the human heart and the challenge from a world, which desperately needs to find itself the means of salvation," Bishop Sproxton said from St Mary's Cathedral Parish House.
The 12th Sunday in Ordinary Time Mass was concelebrated by St Mary's Cathedral Assistant Priest, Father CJ Millen.
In his homily, Bishop Sproxton shared an experience of a young man, who was faced with a crossroad in his faith life, of whether to turn to atheism or to continue with his Christian faith. Explaining the reasons why the future deacon had eventually decided the latter.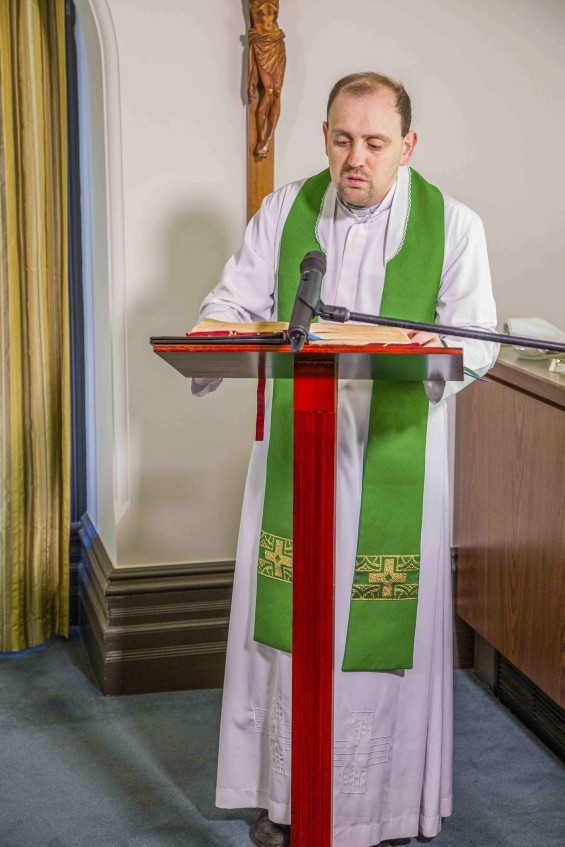 St Mary's Cathedral Assistant Priest Father CJ Millen concelebrated Mass with Bishop Sproxton on 21 June. Photo: Jamie O'Brien.
Bishop Sproxton added that the young man - who was brought up in a Catholic family and received Catholic education all his life - began to wonder at the meaning of religious faith and its relevance for his life as he saw it in the future, during his university days.
"He took this questioning very seriously and he spent a lot of time reflecting on whether he should let go of the notion of God? Questioning the existence of God and questioning who Jesus was beyond being a great and wise teacher and compassionate human," he cited.
"Eventually the young man came to his decision by realising one thing," Bishop Sproxton explained.
"Above everything that he knew about God, there is the love of God that is unwavering and consistent, which he began to recognise, as he reviewed his life, in many things that had happened in his life and the lives of people around him.
"This love was experienced as God reaching out and being the source of strength in the short term and in the longer and protracted struggles," he added.
Just like the young man, Bishop Sproxton said most people were faced with the same confronting questions in their faith journey, as the result of an experience or life event.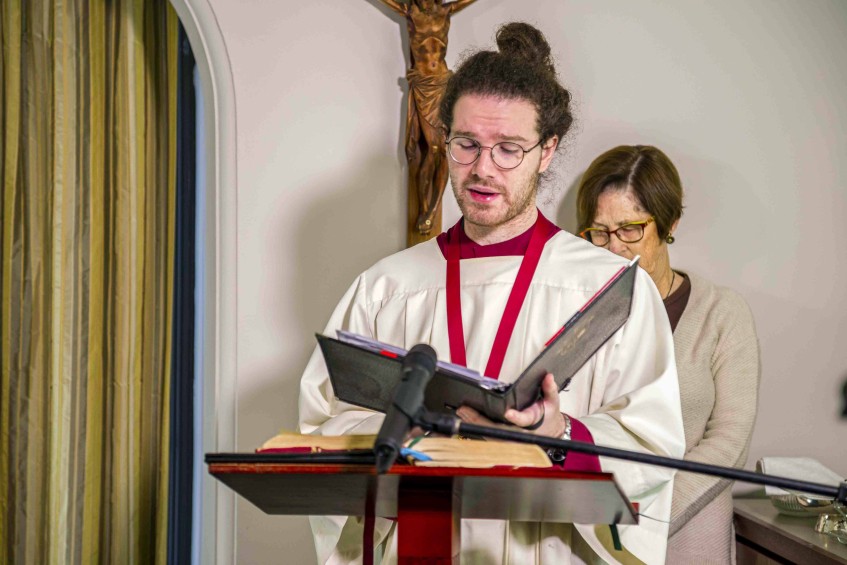 St Mary's Cathedral Cantor and Chorister Joshua Adams was accompanied by Director of Cathedral Music Jacinta Jakovcevic at the Mass on 21 June. Photo: Jamie O'Brien.
Bishop Sproxton shifted the attention to the life of prophet Jeremiah, explaining how he had been preaching against the authorities for 23 years, and as a result, was hated and shunned.
"As Jeremiah looked back over those years, he believed that God had been the only source of grace, power and strength," Bishop Sproxton stated.
"In other words, God was faithful to Jeremiah because of God's love for him.
"God appeals to our better nature by loving us and providing what we truly need in the times of trial," he added.
Bishop Sproxton ended his homily by affirming that Jesus had prepared His first disciples for their mission in the world, to be ready for all types of situations.
"Jesus forewarned the disciples that there would be opposition," Bishop Sproxton added.
"As we look over the history of the Church, we see persecution, fallibility in members of the Church and great mistakes that have held the Church back."
Encouraging the people of God (us) to be conscious and accountable for how our sins affect the Kingdom of God, one of Bishop Sproxton's prayers remain to be delivered from the "obstacles of our making".
"We can count on God who loves us and wants to lift us up out of our sin, to lift us to our feet and to recommence our walking together as one Body of Christ," Bishop Sproxton concluded.