RITE OF ELECTION: 'My children brought me back to the Catholic faith'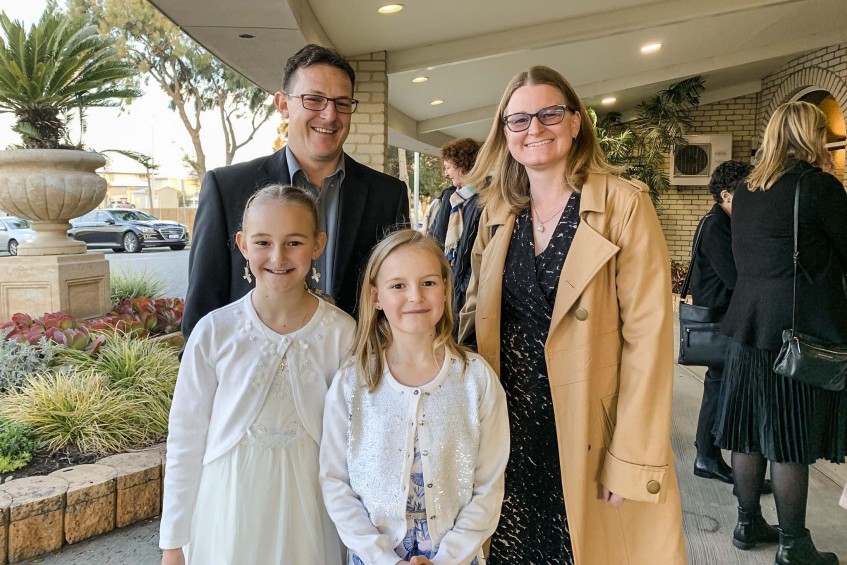 Whitford parishioners Stephen and Sally Paice together with their daughters Emma (pictured at her first Holy Communion last year) and Mia. Photo: Supplied.
By Theresia Titus
When God opened an opportunity for Sally Paice to be baptised in high school, the then teenager refused.
Years later, a desire to celebrate the faith with her children led her closer to the Catholic faith to which she had always felt drawn.
"I went to a Catholic high school. I wasn't Catholic but I was taught the Catholic faith and actually in charge of the liturgy in Year 12. I was responsible for preparing all the Masses," Mrs Paice said.
"At the time, the school invited me to be baptised, but, I decided that I did not feel the need to be baptised to know that Catholicism was my faith.
"I left school and moved away from the [Catholic] Church as I went through university and what was a busy life," she added.
Now a parishioner at Whitford Parish, Mrs Paice moved to Port Hedland in 2008 after finishing her university studies and the birth of her first child in 2009.
"Friends that I met in Port Hedland, Alison and Damien Newbold – who are now also residing in Perth – were Catholic and attending Church regularly so I started going back to the Church with them. Alison is now my sponsor," Mrs Paice said.
"Once my children were born, I discussed with my husband and decided that I wanted them to be baptised and have that faith in their lives."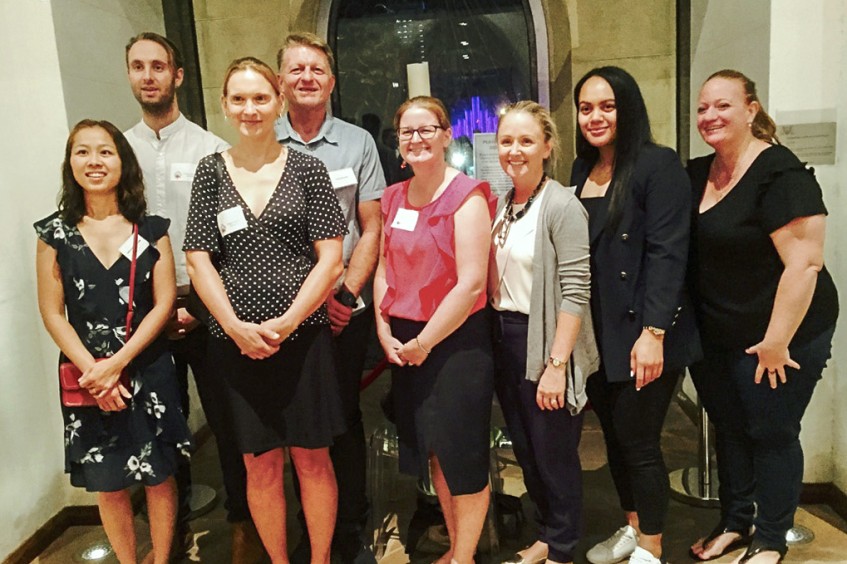 Whitford Parishioner Sally Paice (fourth from right) with fellow candidates at St Mary's Cathedral earlier this year. Photo: Supplied.
Mrs Paice told The Record that wanting to celebrate the faith with her two children enthused her to take Rite of Christian Initiation of Adults (RCIA) classes.
"They are both at school now and started the journey to make their sacraments. My eldest completed her first Holy Communion last year and my youngest daughter is meant to complete her First Reconciliation this year," Mrs Paice said.
"It took me to watch my children celebrate their sacraments to realise that I wanted to be fully involved with the Church. So, I decided that [Catholicism] is my faith and I would love to celebrate it with my children, which was a blessing.
"That's when I decided to go through the RCIA process so I can celebrate the Sacraments with my children and be fully involved with the Church," she added.
Mrs Paice believes her decision to get baptised and enrolled at RCIA classes have made her family closer, especially in coping with the challenges Coronavirus has brought to her family.
"I feel it has made me reflect on my life, on what is important in life and I guess, it has also helped us in the last few months with everything being the way it is," she said.
"It certainly made me reflect on what I should be doing in life to help my family and to help others, living my best life in the service of Jesus.
"I also feel that I am more involved with the Church and have a lot more understanding of the Church community," she continued.
Mrs Paice mentioned that although it was disappointing to have her baptism postponed because of Coronavirus-led restrictions on religious activities, she understood and felt certain of the faith she has chosen.
"I hope that it strengthens my relationship with God and my family because all of us are celebrating the same faith, as well as helping me to open my eyes to what I should be doing to help others and working towards the path God has planned for me and my family," she concluded.