ACRATH unites community in stance against forced marriage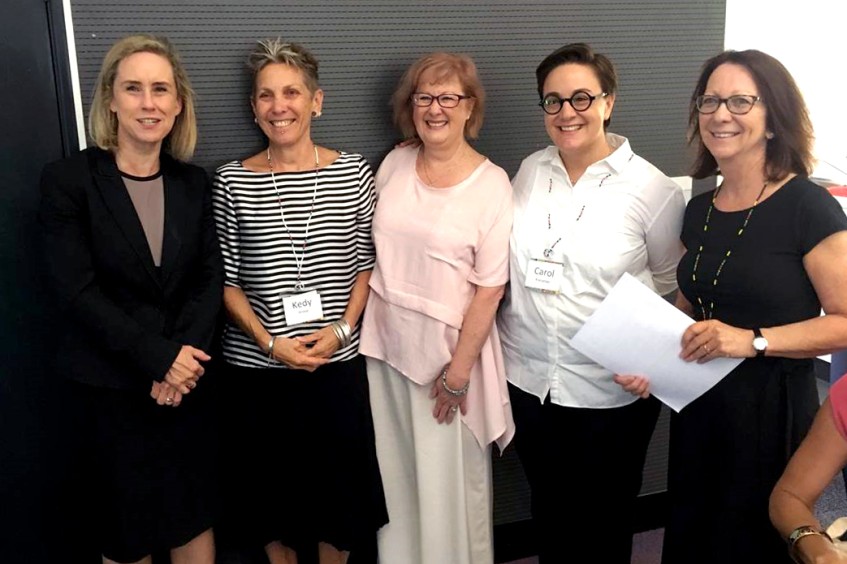 Some of the key organisers and speakers for the Forced Marriage Conference with Minister for Child Protection; Women's Interests; Prevention of Family and Domestic Violence; Community Services Simone McGurk held from 12 to 14 March at the Newman Siena Centre in Doubleview. Photo: Carol Mitchell.
By Amanda Murthy
Police, family violence agencies, clergy, schools, community groups, hospital staff and forced marriage experts gathered in Perth over three days (12 to 14 March), to work towards developing a state-wide network and collaborative approach to combating forced marriage.
The conference, held at the Newman Siena Centre and in Perth city, was a collaborative effort by Australian Catholic Religious Against Trafficking in Humans (ACRATH), the Australian Federal Police, Australian Red Cross, Anti-Slavery Australia, Justice, Ecology and Development Office for the Catholic Archdiocese of Perth, the Women and Newborn Health Service and the Women's Council for Domestic and Family Violence Services.
The purpose of the conference was to learn more about forced marriage, what services are available and how agencies and frontline responders can better and more strategically respond to reports of forced marriage or risk of forced marriage.
Minister for Child Protection; Women's Interests, Prevention of Family and Domestic Violence, Community Services Simone McGurk opened the conference, in the presence of more than 105 conference participants from over 61 agencies from across Perth and beyond.
"Several Perth agencies have been working together on forced marriage for some time now, so this Conference affords WA an exciting opportunity to include more agencies who may come across forced marriage and be able to respond to it", said ACRATH WA Coordinator Kathy Fagan.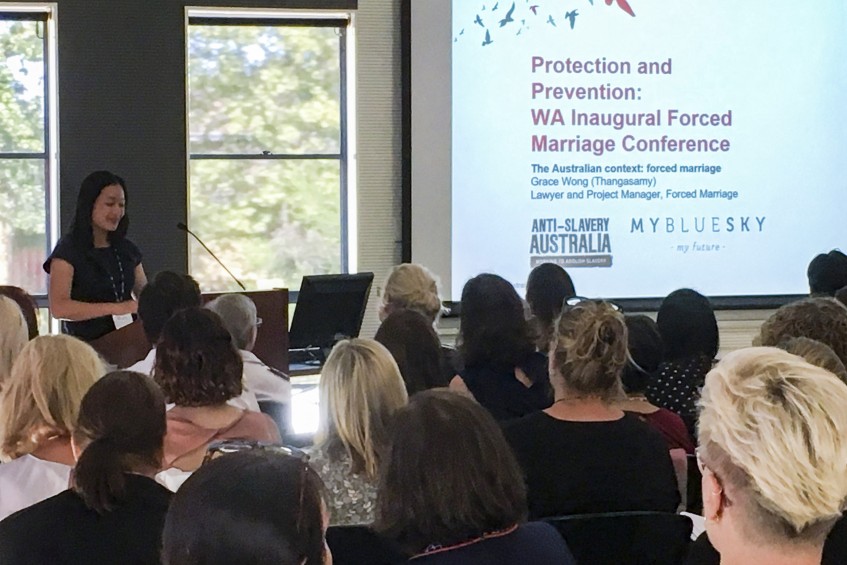 Grace Wong presenting at the Forced Marriage Conference held from 12 to 14 March at the Newman Siena Centre in Doubleview. Photo: Carol Mitchell.
ACRATH Forced Marriage Worker Elizabeth Payne from the Melbourne National office, presented sessions at all three days.
Prior to the conference, Ms Payne confirmed that the events would involve people who could make a difference - not just in creating awareness of forced marriage, but in providing integrated services to those who were escaping a forced marriage or risk of a forced marriage.
"This is a great opportunity to build the capacity of organisations and individuals to respond to those in, or at risk of, forced marriage," Ms Payne said.
"We need to be better at identifying risk factors in order to prevent forced marriages and most importantly, we need common referral pathways and ways to work collaboratively.
"We know that the big gaps in service provision across Australia for victims and survivors of forced marriage are in the provision of linked mental health services and culturally appropriate and clinician-supported accommodation, therefore, we will be trying to come up with a more integrated approach to better support the young people involved," Ms Payne added.
Ms Payne explained that the first day involved discussion related to protection and prevention across agencies, and day two was a seminar specific to clergy that was led by Director of the new Western Australian Catholic Migrant and Refugee Office (WACMRO) Deacon Gregory Lowe.
"We will focus on how to recognise the indicators of forced marriage and how clergy should safely respond and what they need to do should they encounter this situation," Ms Payne said.
The final day of the forced marriage events involved teachers and well-being staff from Government, Independent and Catholic Schools in an Education Seminar.
The speakers covered a range of issues including Mandatory Reporting legislation and referral pathways, including working in partnership with the Australian Federal Police to best support students.
"The first day of the events, provided information to attendees, and this information was shared and further discussed with the school representatives at the Education Seminar on the day three session," Ms Payne said.
"The idea was to support the schools to develop referral pathways that will draw in law enforcement and a breadth agencies that better understand the cultural, religious or economic situation of the community or family involved.
"It's amazing that we can have three days, that have been collaboratively planned and organised by seven Perth-based agencies, dedicated to this important social issue in a city where agencies are so keen to work together for better outcomes," she concluded.
For more information go to www.bluesky.org.au.
If you know someone at risk of a forced marriage call the AFP at 131 237 or call WA Police on 000.