New bells ring for Bassendean parishioners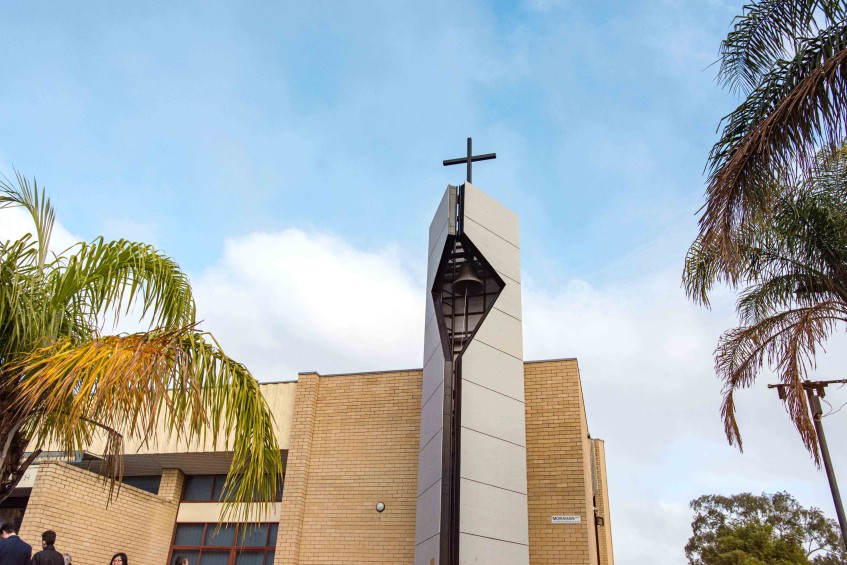 The bell and new bell tower at St Joseph's Church, Bassendean. Photo: Eric Martin.
By Eric Martin
The parishioners of St Joseph's Church Bassendean have last weekend celebrated the long awaited return and blessing of their parish bell on Sunday, 23 June, before reclaiming their suburb with a Eucharistic procession through the streets.
The Mass, blessing and procession were celebrated by Auxiliary Bishop Donald Sproxton, together with Parish Priest, Fr Son Nguyen.
"Dear brothers and sisters, today is a joyous and happy day for all of us, as the bell tower and our bell are installed in our church and we have the opportunity in this celebration to praise God's name," Bishop Sproxton said.
"This will be one of those events that I'm sure you will remember for many years to come: It will always be a wonderful reminder to us, that we the Catholic Community, are here, in this place - and it is to this Church and Parish that we wish the Spirit of God would work through us in a very special way."
"Bells have a special place in the life of God's people. The peal of bells marks the hours for prayer and calls us to the celebration of the liturgy.
"Bells alert us to important events, both happy and sad, in the life of the Church and the community.
"Let us then participate devoutly in this celebration, so that whenever we hear the ringing of the bells, we will remember that we are one family, coming together to show our unity in Christ."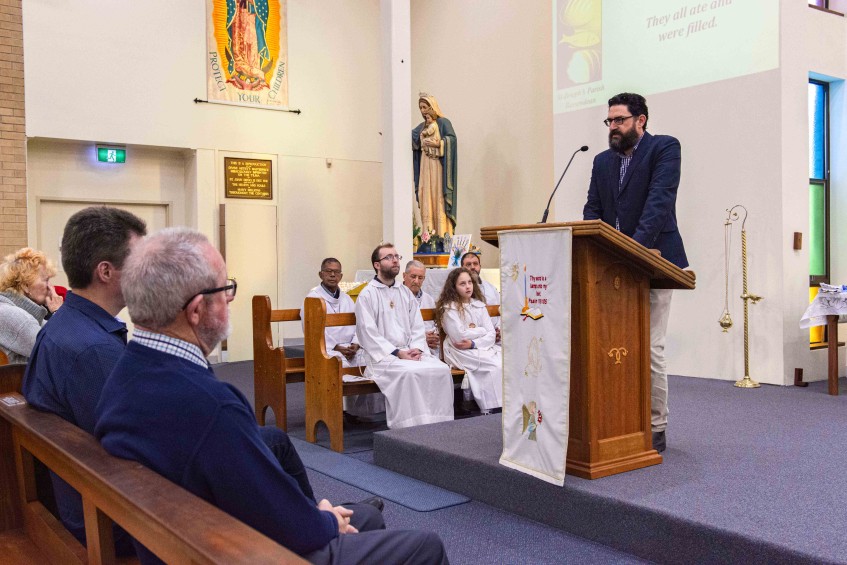 Parish council member, Nathan Jarvis, presented an overview of the bell's history, a copy of which was distributed with the weekly announcements for posterity. Photo: Eric Martin
The bell was originally purchased by the parish in 1951, three years after St Joseph's was established, and was originally cast by John Murphy's, a Dublin foundry, in 1867.
The bell cost 150 pounds and was purchased from St Mary's Cathedral, Perth, with another 317 pounds invested by the Parish into building the original bell tower, which was removed in 1981 due to safety concerns about the structure's soundness.
The single bell was taken down and placed in temporary storage by the parish, who thought that it would only be a short matter of time, a few years at most, before a new tower was constructed to house the bell.
However, the wait was slightly longer than anticipated, and when the bell was finally removed from beneath its old tarpaulin, it took a labour of love by parishioner Moss Wilson to restore it to its original glory – scraping off old paint, cleaning rust and applying application after application of a special Renaissance wax to transform its appearance.
Fr Son Nguyen had a special place of honour at the blessing, not just as Parish Priest but also as a key link to the donors that made the restoration and replacement of the bell and its tower possible – Fr Nguyen's brother and sister in law's generosity sponsored the project, a dedication of love and respect for their brother and his congregation.
Though Fr Nguyen tried to down-play his involvement throughout the proceedings, his parishioners ensured that credit was duly given to those who most thoroughly deserved it through their donations.
As the parishioners gathered around the new bell tower, outside the church, Bishop Sproxton anointed and blessed the bell, re-commemorating it to God and the Bassendean community.
Bishop Sproxton leads the parishioners of St Joseph's Church, Bassendean, in the blessing of the Bell. Photo: Eric Martin.
"In the name of the Most High God, I exorcise all evil and dark influence from this bell. May they be forever banished and driven from this bell which we are about to dedicate to His service.
"In the name of the Most High God, I invoke the holy Archangel Raphael; I anoint this bell for the healing of Christ's faithful followers; that those who hear it may be strengthened in soul and body, through Christ the Lord of heaven and earth."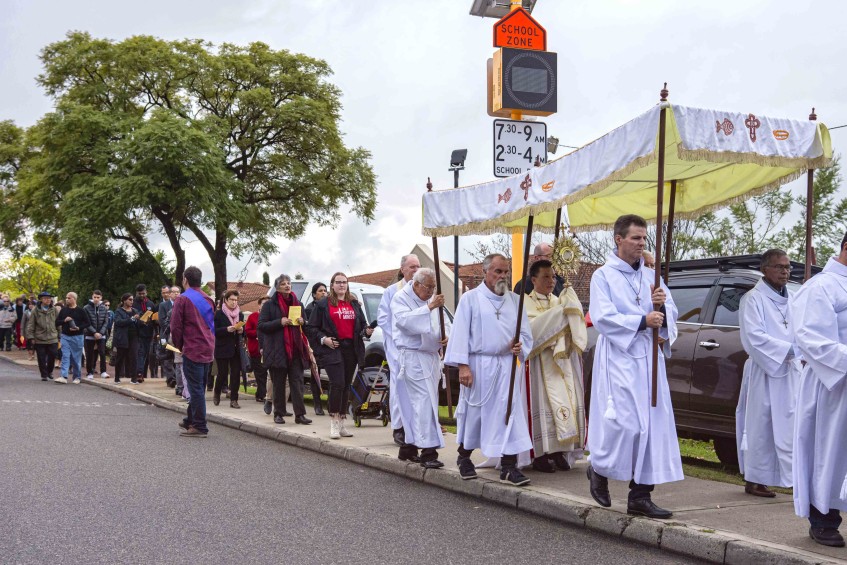 The procession makes its way down Hamilton Street, Bassendean, before turning off onto Old Perth Road and entering the town centre. Photo: Eric Martin.
"This community is here in this place, in this part of the Archdiocese, in order to welcome people in order that they may be fed, fed in so many different levels of their lives," Bishop Sproxton said.
"This community is to be the place where people will meet Jesus Christ and they will meet Jesus through what we do and who we are – a community that wishes to be disciples of the Lord; to be like him; to be welcoming; to be loving and caring, to be encouraging.
"We pray that we might be the Body of Christ for those who are seeking to find the Truth for their lives, to find a place where they belong, where they are accepted – a place in which they can experience this growth of faith, the growth of their spirit and which will enable them finally to come into that great Kingdom of God."
The blessing of the bell was followed by a formal procession of the parish around the suburb, with visitors coming from the surrounding parishes to participate.