SPECIAL REPORT: New Acolytes continue important pastoral tradition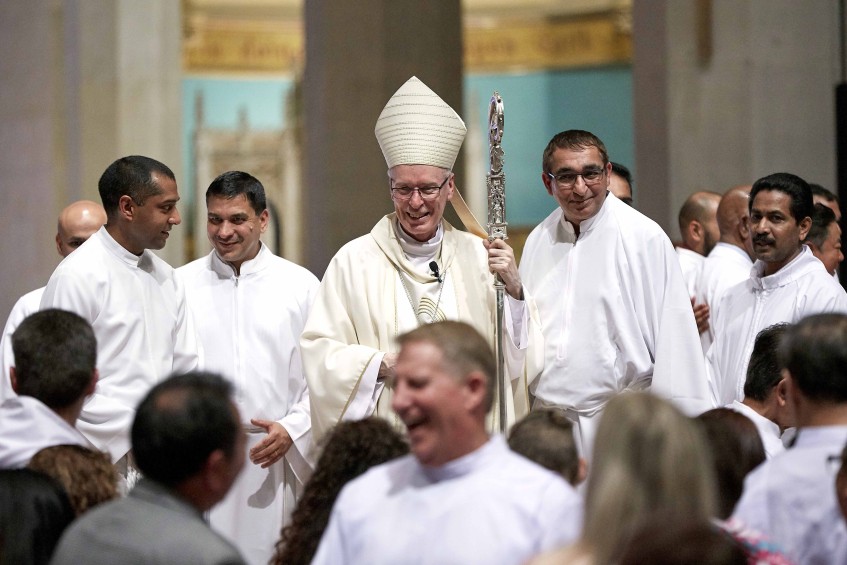 Auxiliary Bishop Donald Sproxton DD commissioned some 130 fresh acolytes at St Mary's Cathedral on 9 November. Photo: Ron Tan.
By Matthew Lau
Auxiliary Bishop Donald Sproxton has conferred the highest of the minor orders on some 130 dedicated men at last Friday's Mass for the Institution of Acolytes.
In his homily for the biannual Mass at St Mary's Cathedral on 9 November, Bishop Sproxton recalled the perseverance of then-Father William Foley in circa 1978 – who, at the time, was Cathedral Dean, prior to his appointment as Archbishop.
"In those days, most of the people in the Cathedral parish didn't want acolytes; some of the priests didn't want acolytes," Bishop Sproxton said.
Archbishop Foley's determination paid off, however, as many people eventually thanked him for finding the men who had undertaken this ministry service of acolyte, and who, by which, had added to the life of the Church community.
Bishop Sproxton said the distribution of Holy Communion by acolytes was, and still remains, an enormous help to the priests.
"This was the vision that Pope Paul VI had of enabling more and more people to have access to the Eucharist, because really there never has been a time when there have been enough priests," he added.
"Many people were being deprived of that opportunity of receiving the source and the strength that they needed for their spiritual life – particularly in those moments when, through illness, they were struggling."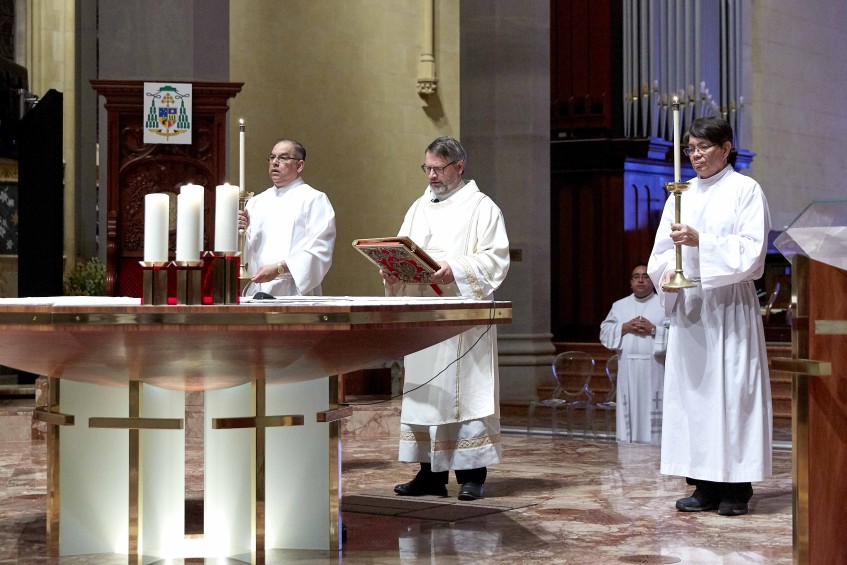 Deacon Bruce Talbot proclaimed the Gospel reading on 9 November. Photo: Ron Tan.
The men who have undertaken the Order of Acolyte, he said, are continuing a great tradition and legacy that has been functioning in the Archdiocese over the past four decades.
"Your ministry is important because of the way you will exercise your ministry humbly, patiently, and respectfully for the people of your parishes, the people of the Church, the people of God," Bishop Sproxton stated.
Three Acolyte Training workshops were held at Infant Jesus Church, Morley Parish, in the weeks leading up to last Friday's Mass.
The recently installed acolytes are now equipped to serve at the altar, prepare sacred vessels, and distribute the Eucharist as extraordinary ministers.
Amador Vargas Jr is one of 11 new acolytes for St Thomas More Church, Bateman Parish.
Parish Priest Fr Phong Nguyen asked the 40-year-old Parish Council member to consider becoming an acolyte due to his interest in and knowledge of the liturgy, as well as his eagerness to assist the parish.
"It is a great honour to be chosen for this ministry. It is a calling for reverent service in the liturgy. Being an acolyte allows me to serve and support the priest and deacon in the divine worship of God so they can lead the faithful in prayer," Mr Vargas explained.
"As a Romanian Greek Catholic in the Byzantine Rite, I bring a unique perspective to the divine worship. I know my role is to give my support to the clergy in ensuring that the liturgy is always dignified."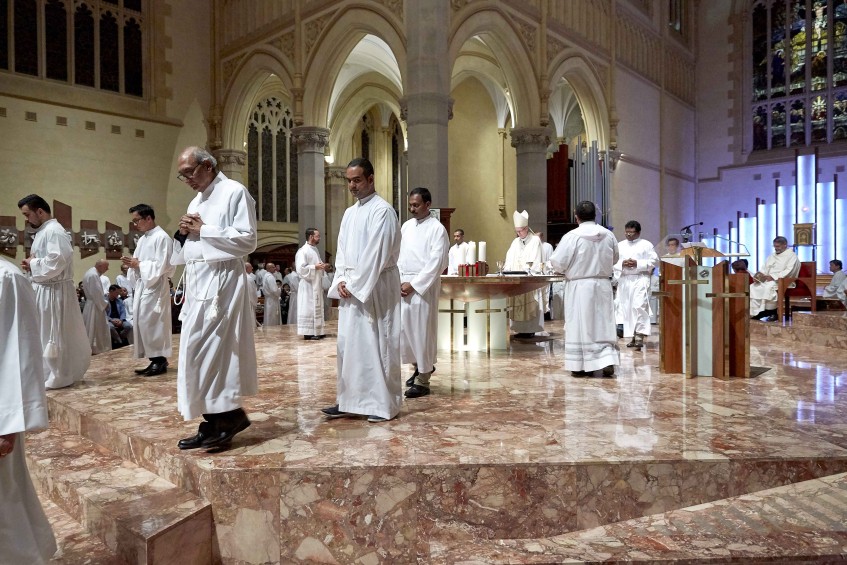 The new Perth acolytes process through the altar at St Mary's Cathedral. Photo: Ron Tan.
Bateman Parish's 11 newest acolytes are undergoing a period of formation by being paired with the more seasoned acolytes over the coming months to ensure they are comfortable with the role and practices of the parish.
St Mary's Cathedral welcomes 20-year-old Noel Chandramoghan to its liturgical service team.
Mr Chandramoghan can also serve at Nedlands Parish if called upon, where he currently holds a role as Youth Minister.
"I was already a Senior Altar Server, doing nearly all the jobs an acolyte would do, so I wanted to be formally recognised as one," he said.
"In the lead up to [the installation], I didn't really put much thought into it. But on Friday night I felt very humbled to be able to further my ministry, to be better, and grow in my faith."
Lockridge parishioner Arnold Leon is delighted have been installed as an acolyte for Good Shepherd Church.
His recommendation came from Parish Priest Fr Aloysius Leong, who encouraged him to take on the duty.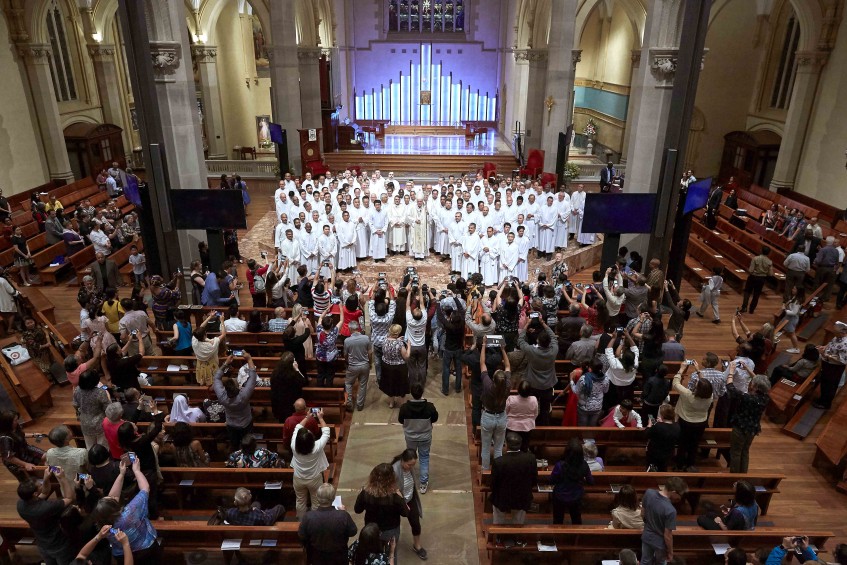 Bishop Sproxton poses for photos with the newly installed acolytes on Friday 9 November. Photo: Ron Tan.
Mr Leon, 49, said he felt he was being called to serve Jesus after recalling a dream where Saint John Paul II appeared to him.
"I am really happy and blessed that I was chosen to be an acolyte," Mr Leon expressed.
Sr Kerry Willison RSM, Director of Liturgy for the Archdiocese of Perth, was pleased to see a wide age range of young men to older men in this year's intake.
"It is good to see that people generally are still keen to get involved in their parish on a liturgical level," she said.
"It was great to see all the families and friends who turned up to support these men."