Connecting through art at the Identitywa exhibition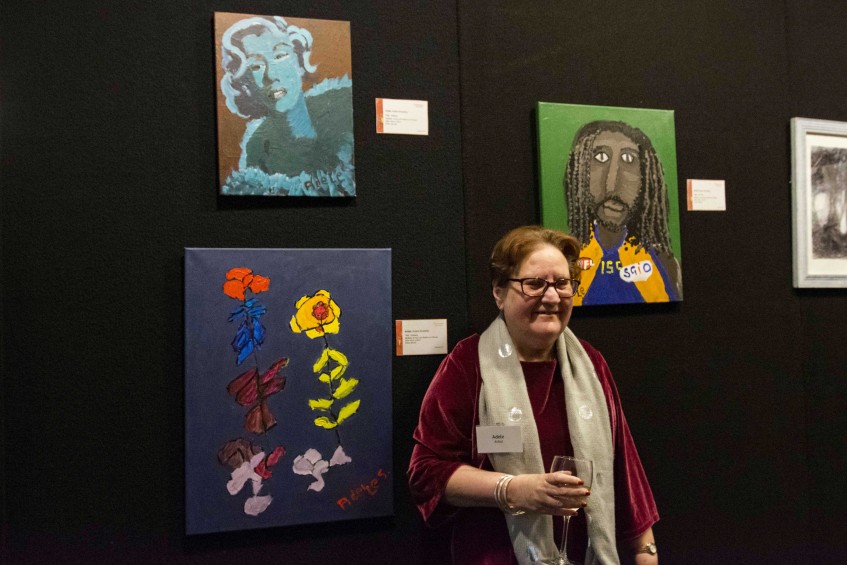 Artist Adele posing with some of her artwork that was displayed at the 2018 Identitywa Art Exhibition last week. Photo: Amanda Murthy.
By Amanda Murthy
Identitywa has recently honoured 10 local artists at the opening of the Identitywa Art Exhibition, which took place on 2 November in Northbridge.
This year's event featured the talents of Elise Butler, Andrea Carter, Stuart Cassey, Clive Collender, James Cross, David Guhl, Tim Maley, Adele Smedley, Gloria Stewart, and Chris Van Aurich, who collectively produced over 50 pieces of artwork, many of which were sold.
Present at the exhibition launch were special guests, staff members, Catholic Archdiocese of Perth agency representatives and proud family members of the artists.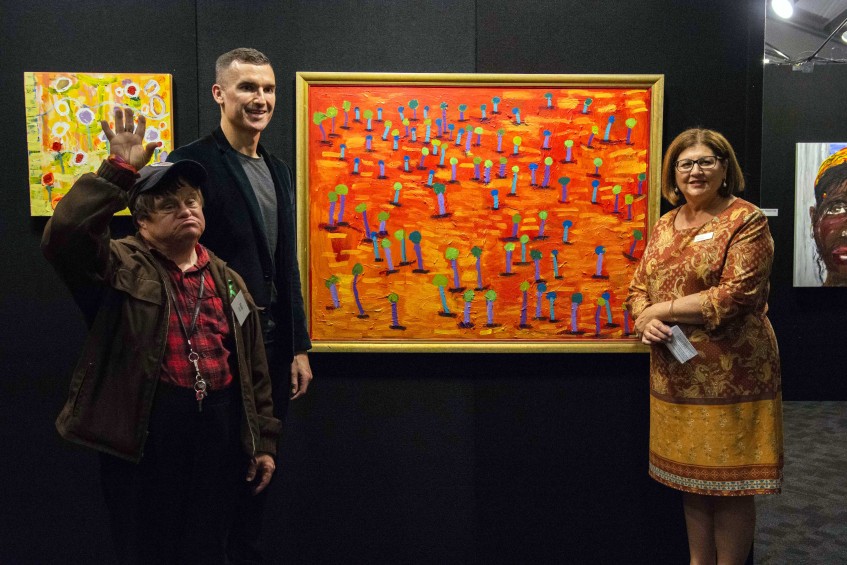 Artist David Guhl poses with his masterpiece titled 'Red Kimberley Landscape'. He is joined by Identitywa Chief Executive Officer Marina Re and Local Member for Perth John Carey MLA at the 2018 Identitywa Art Exhibition. Photo: Amanda Murthy.
Identitywa Chief Executive Officer Marina Re thanked all those present, adding that the event is a result off months of hard work, nurturing, and encouragement.
"The chance to showcase the art work of the people we support and the mission of Identitywa was a great opportunity," said Ms Re.
Local Member for Perth John Carey MLA, also addressed the guests present, explaining the importance of appreciating and allowing creativity within the community of Perth.
He said that within the first few minutes of stepping into the exhibition space, he was taken aback by one of the portraits that were on display.
"When I entered this room, I sat down for a long time, and looked at Dave Guhl's work," Mr Carey explained.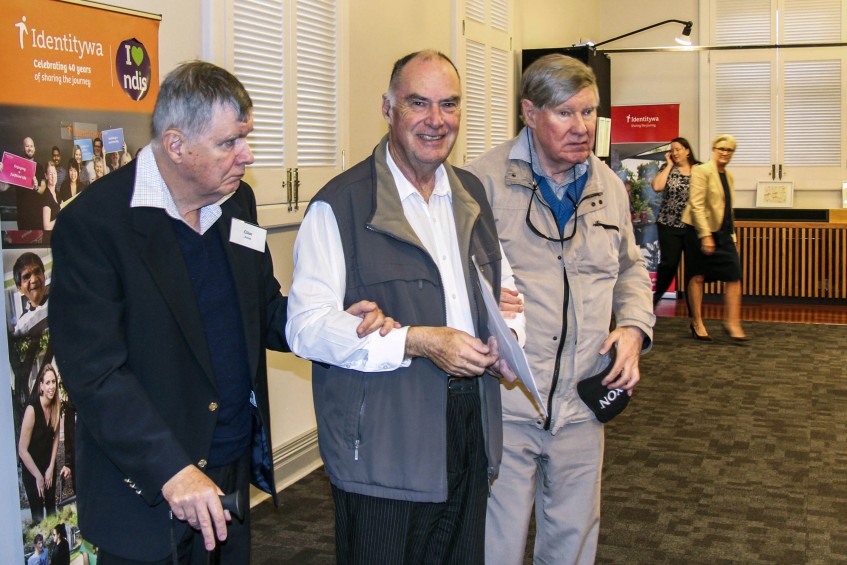 Richard Collender (middle) delivered a heartfelt speech about his brother Clive Collender's (left) journey at the 2018 Identitywa Art Exhibition. Photo: Identitywa.
"As someone who had worked in the Kimberley for five years, it had an emotional and dramatic impact on me instantly – That is the incredible power of art."
Mr Carey went on to congratulate all the artists for not only having the courage to produce amazing artwork, but for sharing their talents with the community.
The politician congratulated Identitywa for always ensuring that people with disabilities are given the respect, dignity, and that they are connected in the community.
"If we want to judge society, we will judge it not by those who are doing well off, but how we in terms of inclusiveness of everyone in our community," he concluded.
Artist Clive Collender received a heartfelt tribute from his brother Richard Collender who shared how art became Clive's way to connect with the world.
"When Clive was around five years old, our father figured that if he drew sketches about what the family was doing while Clive was in boarding school, perhaps he could connect with – and this method worked!," said Mr Collender.
"Art has played a huge and important role in building Clive's connection with people.
"His work is inspired by his encounters with the people he met, the animals he had seen and places he visited.
"It has enhanced his ability to do a wide range of things and I have no doubt that our late parents would have been so proud of him."
There are still some artwork available for purchase. For more information call 08 9474 3303.