Fr Paul Pitzen pledged to make a difference
Fr Paul Pitzen passed away on 20 October, after having served as a priest for 51 years. Photo: Sourced.
By Amanda Murthy
There is no doubt Father Paul Pitzen will be remembered as a pillar of strength for the Emmanuel Centre and the wider Perth community, for all his extraordinary works in championing the rights of the people, especially in the areas of disability.
Born on 22 November 1939 in Fort Wayne, Indiana, USA, Fr Pitzen and his family, of which he was the 11th of 12 children, came from humble beginnings.
His first jobs included making toilet seats and laundry baskets at a local factory, and later on he worked as a preliminary bridge survey worker, while juggling to complete his tertiary education.
The Pitzen family lived across the road from Church and were actively involved in the community, including Fr Pitzen, who became an altar server.
But it was in 1959 that his desire for God grew, reading about the Servites after his mother shared brochures with him after one of her pilgrimages. He wasted no time, joining the Servite Seminary in California in 1960, where he stayed for three years before being transferred to Benburb, County Tyrone, Northern Ireland in 1962.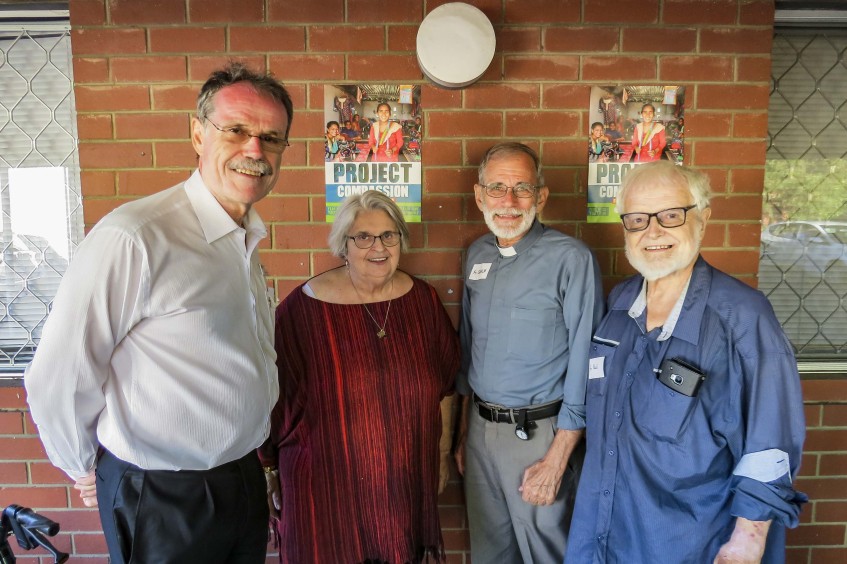 Happier times with Fr Paul Pitzen during his ministry work in Perth with Deacon Paul Reid, Emmanuel Centre Director Barbara Harris, Chaplain for the Catholic Ministry for the Deaf and Hard of Hearing Fr Paul Pitzen, and Fr Charlie Dittmeier. Photo: Matthew Lau.
Fr Pitzen graduated with a Licentiate of Sacred Theology and a Diploma in Mariology.
Speaking about his experience in the Seminary, Fr Pitzen told The Record in 2001, "They moved me to Ireland after the philosophy department was closed down. It was really tough, but at the same time it was very rewarding spiritually."
He then travelled to Rome to complete his studies from 1963 to 1967.
During that period, Fr Pitzen was inspired to pick up several languages including Latin, Italian, Lithuanian and AUSLAN, (the sign language for the Deaf community in Australia).
He was ordained in Rome on 27 March 1967.
Fulfilling his childhood dreams of living in Australia, Fr Pitzen arrived on 27 October 1970. He told The Record last year during his 50 year celebrations of priesthood, that he was grateful to the Australian community for their warm welcome.
"People allowed me to walk their journey with them, and that is a privilege which I don't think I would get anywhere else."
Fr Pitzen experienced yet another life-changing moment during his Sabbatical in San Francisco when he noticed apparent discrimination towards people with disabilities and their families.
It was then that he pledged to make a difference, making it his mission to break down the barriers for people with disabilities in all areas, whether in schools, parishes, or throughout the country.
Upon his return to Australia, Fr Pitzen, who had been a science and religious education teacher at Servite College, was asked by then-Auxiliary Bishop Peter Quinn to become a part-time chaplain for the Catholic Deaf and Hard of Hearing, a role which required him to celebrate Mass once a month.
It was the International Year of Disabled Persons in 1981, and Fr Pitzen together with his life-long collaborator Barbara Harris, opened the Emmanuel centre, a self-help centre for people with disability, their families and carers.
The Catholic Ministry with Deaf and Hearing Impaired People, Catholic Association for Special Education support and the Catholic Mental Health Network also became connected with the Emmanuel Centre.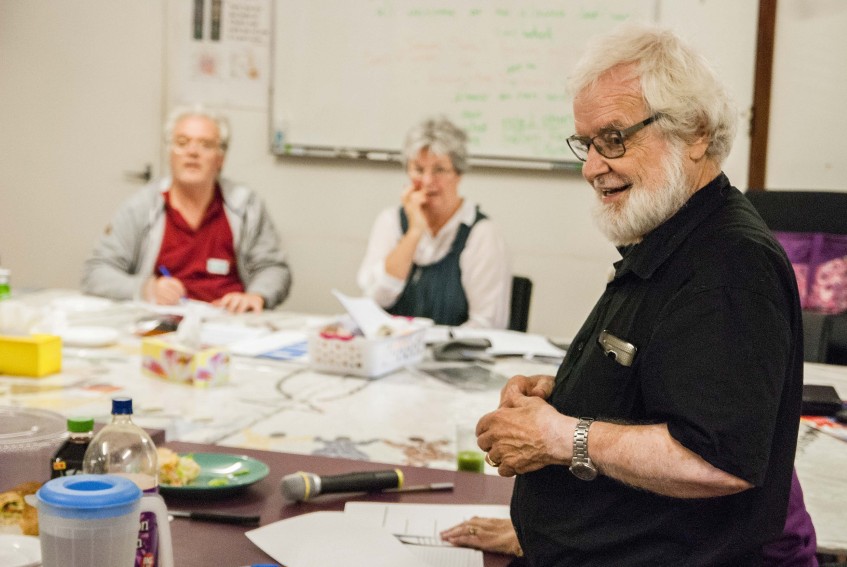 Father Paul Pitzen will be remembered as a pillar of strength for the Emmanuel Centre and the wider Perth community, for all his extraordinary works in championing the rights of the people, especially in the areas of disability. Photo: Sourced.
On this, Fr Pitzen said last year in The Record, "Many deaf and hard of hearing wanted to learn more about their faith and their Church and so wish to attend courses and presentations that various organisations of the Archdiocese offer.
"Unfortunately, not all events were accessible for the deaf and hard of hearing.
"Our hope is that every parish or organisation will have an Access and Disability Inclusion Plan as a guide to offering full inclusion of the deaf and hard of hearing.
"Installing an efficient public address system, using PowerPoint presentations, installing audio induction loops or other assistive listening devices, and learning basic AUSLAN skills along with using down to earth language in any material produced together with captioned and AUSLAN video," the late Fr Pitzen said.
"As an organisation, our aim is to provide assistance for people within the Church to recognise their gifts and talents and access services within the Church that are not currently accessible."
In 1996, Fr Pitzen was incardinated into the Archdiocese of Perth by Emeritus Archbishop Barry Hickey.
He continued to serve the community until his passing on 20 October.
"The eye cannot say to the hand, I don't need you! And the head cannot say to the feet, "I don't need you! But in fact God has placed the parts in the body every one of them, just as he wanted them to be. Now you are the body of Christ, and each one of you is a part of it." – 1 Corinthians 12:18, 21, 27.