Sheelah Rudman: 104 and happy to live, with still so much to give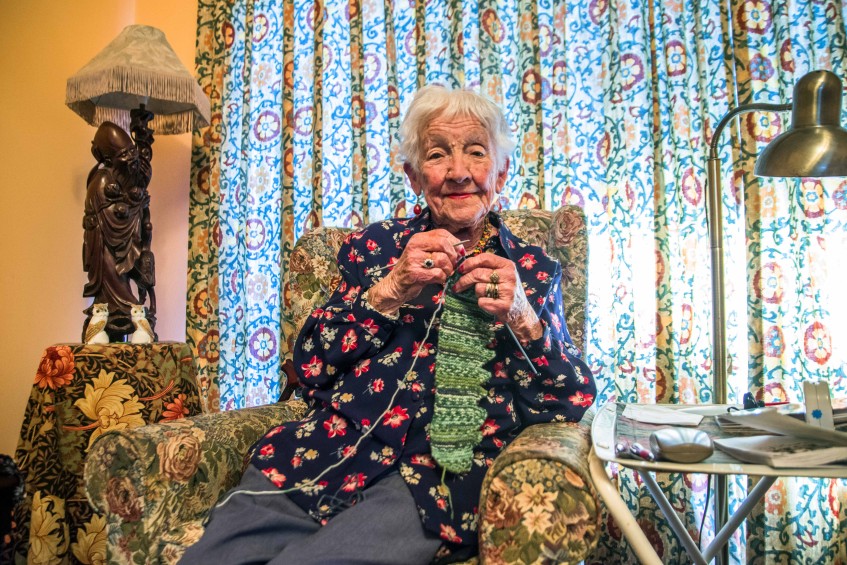 Sheelah Rudman has been volunteering at the Harold Hawthorne Senior Citizens centre for over 47 years, and donates her knitting to charity. Photo: Matthew Lau.
By Matthew Lau and Sunil Rodrigues
In reflection of her 104th birthday, Sheelah Alice Rudman says the formula to a happy long life is good health and strong faith in the ubiquitous Lord.
The Lathlain resident and Cloverdale parishioner has lived through both World Wars, 10 Popes, six Archbishops of Perth, and overcame infantile paralysis.
When she was born on 19 April 1914, St Pius X was Pope and Archbishop Patrick Clune was Archbishop of Perth.
In an interview with The eRecord, Sheelah puts her positive outlook on life down to God.
"He is very likely looking after me. That's all I know," she said, pointing to the sky.
Sheelah is a popular figure at Cloverdale Parish Notre Dame Catholic Church, where her fellow parishioners took the opportunity to celebrate her birthday after morning Mass on 22 April.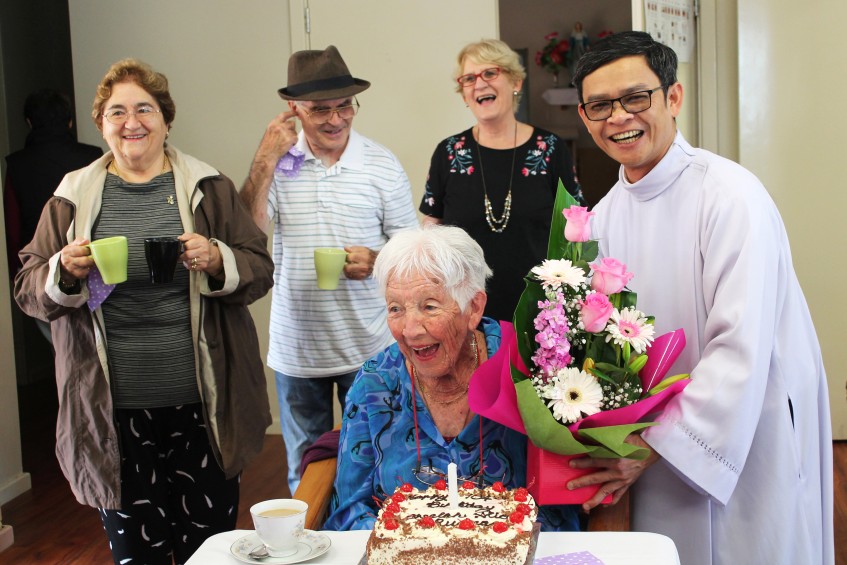 Sheelah Rudman (nee Taylor) with her gifts and cake from Fr Quynh and fellow parishioners in the parish hall. Photo: Sunil Rodrigues.
Parish Priest Fr Quynh (Michael) Do presented Sheelah with a handmade birthday card and a bouquet of flowers and cake.
"She is an inspiration to others and a motivation to all of us, reminding us that we can do anything if we work hard at it," Fr Quynh said.
Sheelah has fond memories of her childhood growing up in the suburb of Northam – it was there where she contracted polio syndrome.
"I was seven when they said I wouldn't walk again, but here I am."
Her sheer determination, exercises, and treatment made it possible for her to walk unassisted – and eventually she became recognised as one of her school's best athletes.
She attended Our Lady's College – now Mercedes College – on Victoria Square and her daughter Barbara followed suit a few decades later.
"All the nuns who taught mum, taught me," Barbara said.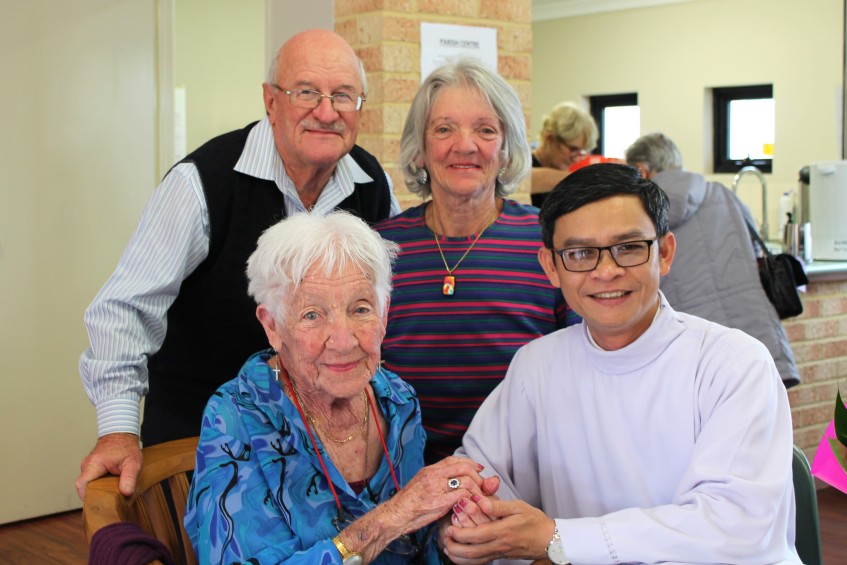 Barbara and Bruce Walther embrace Sheelah on her 104th birthday. Photo: Sunil Rodrigues.
Barbara's wedding with Bruce Walther, celebrated by Mgr Michael Keating at St Mary's Cathedral on 29 January 2014, was one of Sheelah's proudest memories.
"I took her hand in my arm and walked her down the aisle," Sheelah said.
Barbara's wedding took place 75 years after her parents married at the iconic Cathedral on 16 December 1939.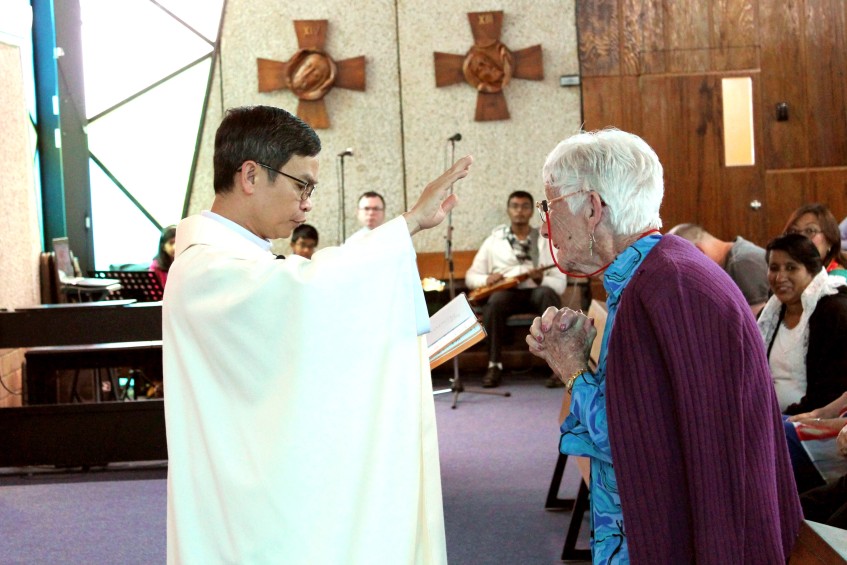 Cloverdale Parish Priest Fr Quynh Do gives Sheelah Rudman a blessing on 22 April. Photo: Sunil Rodrigues.
During WWII, Sheelah was lucky to escape the bombing of Darwin in 1942 when she left the town just three days prior.
The 104-year-old puts her invigorating long life down to: ample sleep, a good sense of humour, keeping her mind active, knitting, and drinking a glass of wine every night.
Sheelah gracefully wears a pearl blister on her right hand that her mother gave to her more than 100 years ago.
Barbara, who is the primary carer of Sheelah, conveyed her mother's message of advice for those who wish to live a prolonged life.
"Think positive, be thankful for God's blessings and try to help others as much as you can," Barbara said.
"This is what has kept Sheelah going for over 104 years and this will keep her going for many more years to come."
One key aspect to Sheelah's long and happy has been ensuring that she keeps her mind and body active – up until last year she was delivering the local newspaper for many years. Photo: Matthew Lau.
Sheelah underlines the importance of being surrounded by loved ones.
"Be happy with what you're doing, have interests in life; and have many good, sincere friends."