We can learn humility and strength from the example of St Patrick, says Fr Donovan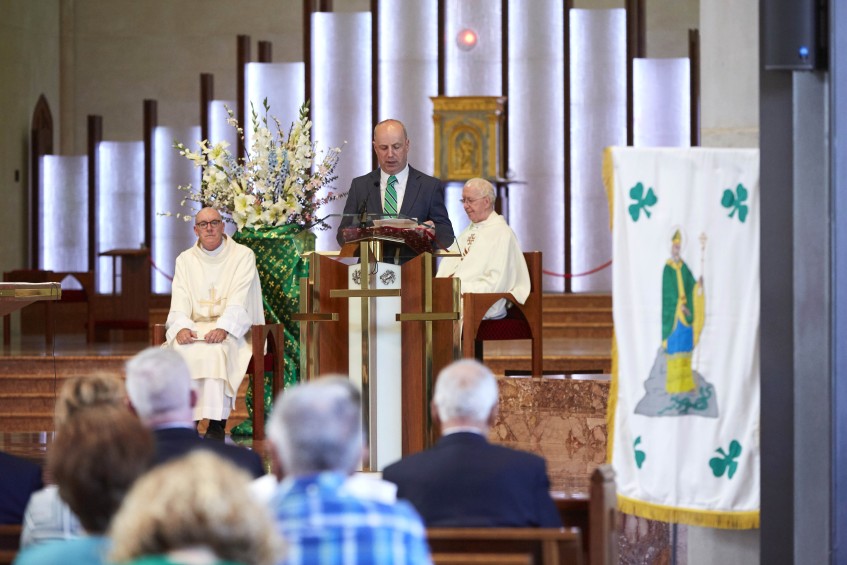 Minister of State at the Department of Health Jim Daly who flew in from Ireland for the Mass, is seen delivering the official address from the President of Ireland. Photo: Ron Tan.
By Amanda Murthy
There is much to learn from Saint Patrick, apostle of Ireland, who dedicated more than 30 years of his life to spreading the Gospel of Christ.
These were the words of Fr Greg Donovan, who last Saturday 17 March, celebrated the annual St Patrick Mass at Perth's St Marys Cathedral last Saturday.
His humility, sacrifice and faithfulness to God is something we must all strive to follow, Fr Donovan continued.
The feast day, which coincides with Ireland's National Day, was attended by some 400 devotees, including the Minister of State at the Department of Health, Jim Daly TD and his Special Adviser Darren Hourihane, who travelled from Ireland to join in the festivities and deliver a message from the President of Ireland.
Honorary Consul's of Ireland to WA Mr Marty Kavanagh and Mr Richard Matias also hosted Canberra's Embassy of Ireland Second Secretary, Mr Graham Harnett.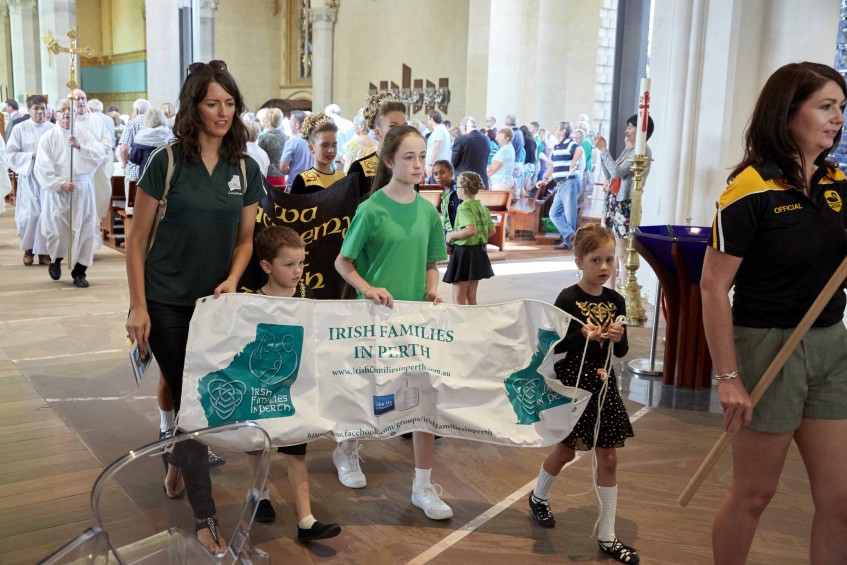 Representatives from the Irish Families in Perth displaying their banner during the final procession at the St Patricks day celebrations. Photo: Ron Tan.
The congregation, dressed mainly in green, were greeted by Celtic and Irish-inspired music by a quartet, followed by a procession of St Patrick banners and flag represented by various Irish Clubs in WA at 10am.
Fr Donovan who was joined by concelebrants Fr Henry Byrne, Fr Laurence Murphy and Fr Vincent Glynn, challenged those present to not regard St Patrick's Day only as a nostalgic feast.
"Instead of looking back on what St Patrick has done, we have to realised that just as he was sent by the Lord to spread the Good News, we too are called to be missionaries of Christ."
At the conclusion of Mass, a traditional liturgical dance by the children of the WA Academy of Irish Dancing, as well as a mesmerising rendition of 'Ave Maria' and 'Panis Angelicus' by Cathedral soloist Attracta Connolly were performed.
The Mass concluded with the hymn "Hail, Glorious St Patrick".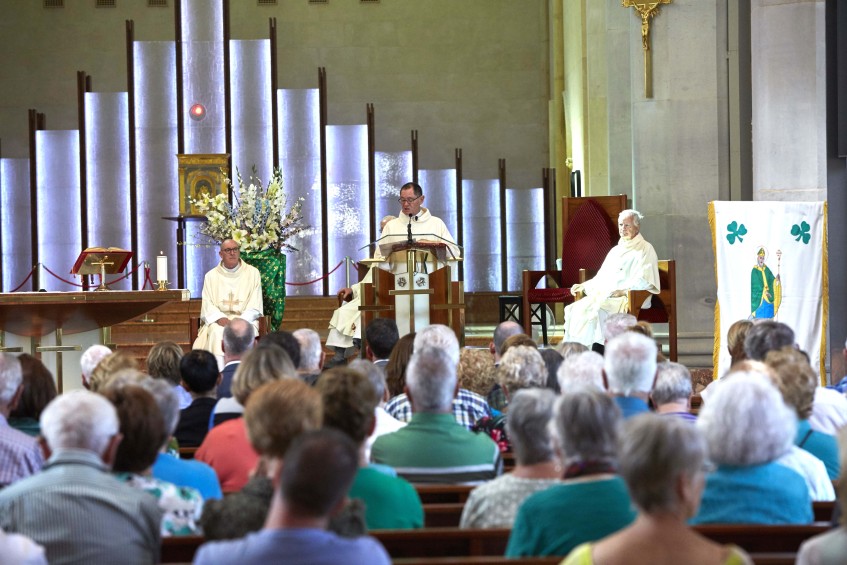 Fr Donovan challenged the congregation to follow in the footsteps of St Patrick, during his homily at the St Mary's Cathedral last week. Photo: Ron Tan.
Parishioner Mr Bernard O'Sullivan, 68 who is of Irish decent, regarded the celebration as a family tradition.
"My family and I have been participating in the St Patrick's Day Mass for over 46 years now, and we usually have a meal together after Mass at the Irish Club in Subiaco."
"St Patrick basically represents the Irish community as the best example to follow, and we proudly honour him," he added.
St John of God Sister Vitalis Kilroy, who is also a regular at the annual celebrations, said it is always lovely to be able to meet so many Irish people and pray with them in honour of the beloved Saint.
As for Ms Ann Marky, 34, she highlighted the importance of keeping the traditions alive.
"I make sure all my children and grandchildren attend this event yearly."
"It is important that they know all the sacrifices the Saints made for our Faith and keep this tradition alive for generations to come," Ms Marky said.