Indelible memories ingrained in Leederville Parish's 100 years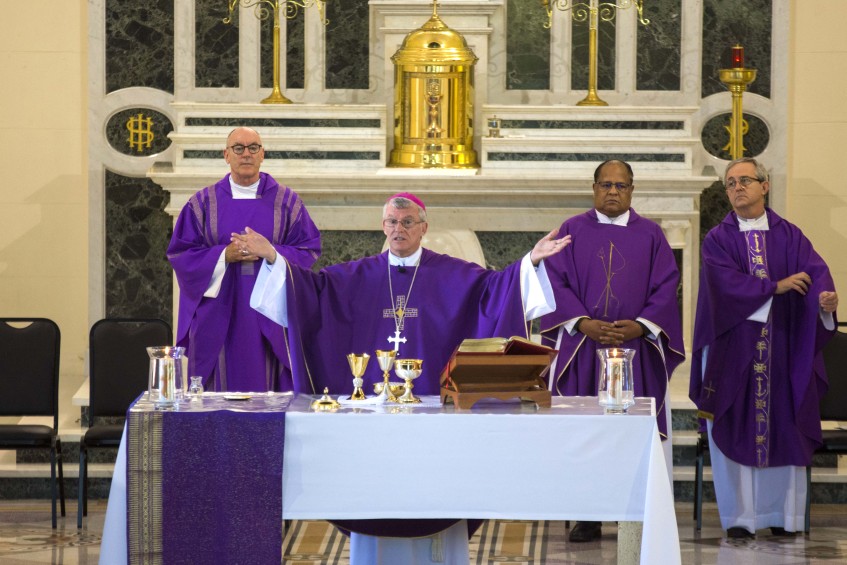 Archbishop Timothy Costelloe was the special guest and main celebrant of the morning Mass at Leederville Parish on 4 March. Photo: Matthew Lau.
By Matthew Lau
Fidelity to the Gospel is the only criterion by which we can truly measure ourselves as individual Christians and as a Catholic community, said Perth Archbishop Timothy Costelloe SDB, during Mass to mark the centenary of Leederville Parish, Sunday 4 March.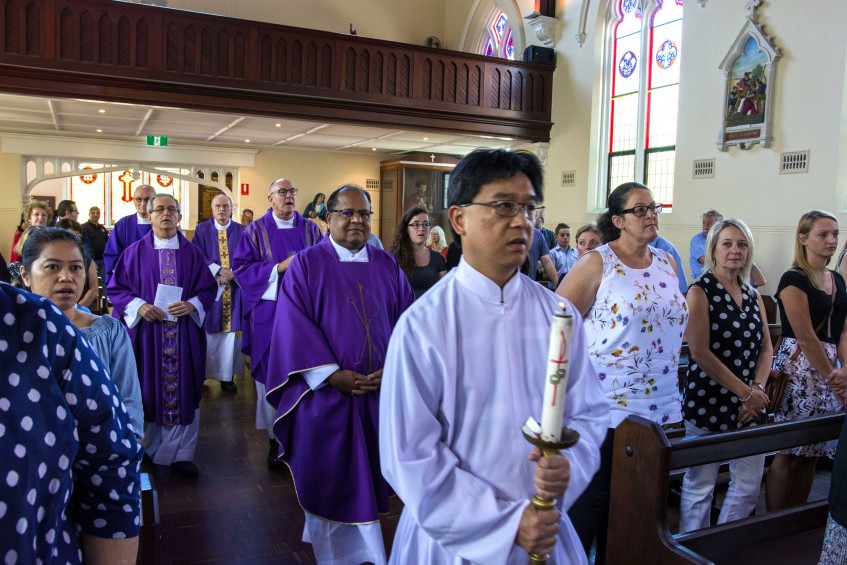 The entourage of priests make their way to the altar. Photo: Matthew Lau.
In the presence of more than 300 people, Archbishop Costelloe celebrated Mass at St Mary's Church Leederville, assisted by concelebrants, Parish Priest Fr Joseph Angelo, Msg Tim Corcoran, Fr Vincent Glynn, Fr Nino Vinciguerra and Fr Greg Carroll.
Archbishop Costelloe delivers his homily. Photo: Matthew Lau.
During his homily, Archbishop Costelloe honed in on the importance of paving the way for next 100 years in the Catholic Church.
"We know that it is our task to keep our faith alive so that future generations will receive what we pass on to them with gratitude," he said.
"I invite you all to commit yourselves today … as we look forward, we realise that what we are celebrating is not so much the material achievements of the past 100 years, but rather the fidelity to the Gospel which has marked, continues to mark, and will continue to mark the presence of the Catholic community here in this part of Perth.
"We entrust to the Lord with hope and confidence, all those who will come in the future here to St Mary's, to be a part of this ongoing story of fidelity, giving expression to the hope expressed by the Lord Jesus himself at the Last Supper," Archbishop Costelloe added.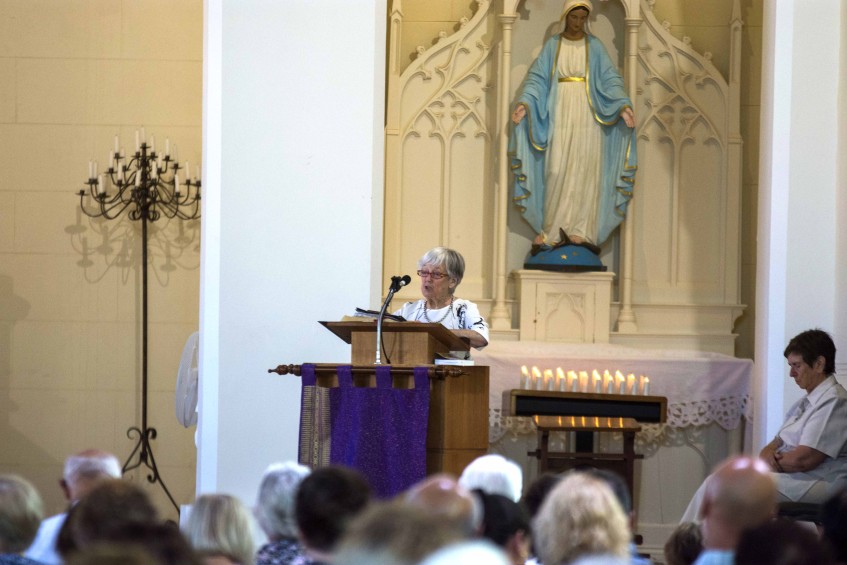 Mary Boyd read the second reading and the prayer of the faithful. She has lived in the same house ever since she was born, and was baptised at St Mary's Church in 1935. Photo: Matthew Lau.
The first reading was read by Joan Buckham – the second by Mary Boyd, who was baptised in St Mary's in 1935.
The Mass was followed by refreshments in the Aranmore College Centre for the Arts and Sports Science. Students from Aranmore College assisted with the hospitality and the Aranmore Catholic Primary School performed songs.
The ceremony committee was led by Darryl Winsor.
"Each and every one of you have contributed to keeping St Mary's a vibrant, relevant, and significant community over many years," Mr Winsor expressed.
"It's about the conversations and stories that I hope we'll share with each other as we reminisce about our time in this parish."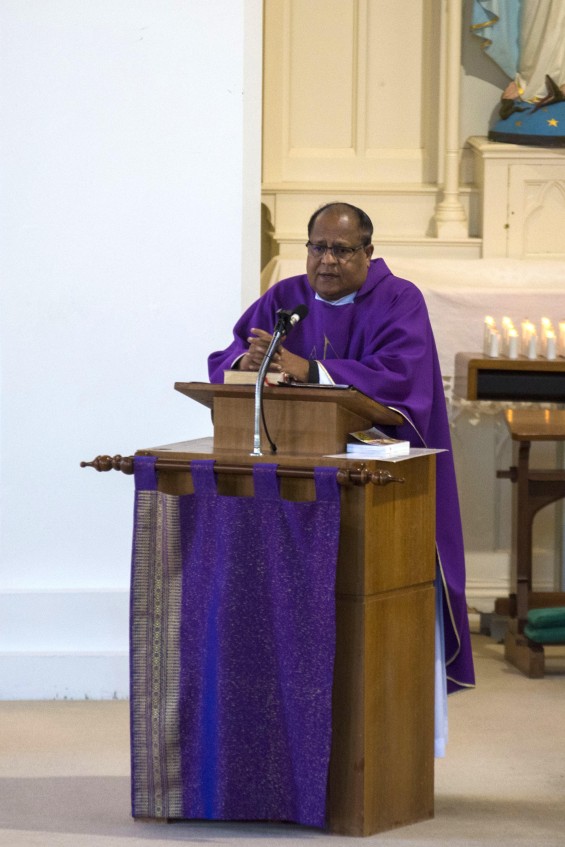 Fr Joseph Angelo (left) is joined by long-standing members of the parish to cut the celebratory cake. Photo: Matthew Lau.
Fr Angelo said he is pleased that a large number of people have an attachment to St Mary's with various memories.
"I hear a lot of stories about this beautiful, wonderful church. It is an important milestone, 100 years have passed, and still many more years to come," Fr Angelo said.
"We must help each other, support each other, and greet each other so that whoever comes to this church may receive God's grace."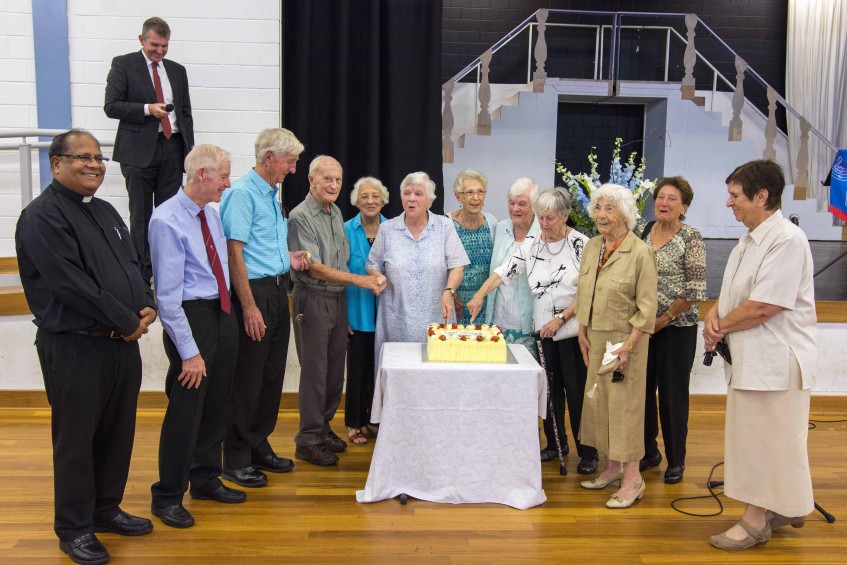 Fr Joseph Angelo (left) is joined by long-standing members of the parish to cut the celebratory cake. Photo: Matthew Lau.
Diana Alteri, Secretary of the Parish Council, has attended St Mary's for the past 28 years.
"It was just wonderful to see so many people who have such a connection to the parish," she said.
"We had a few more people who had come back for the celebration, including Parish Brothers and Sister of Mercy. We have had some lovely Parish Priests."