YEAR OF YOUTH: Vinnies - making a difference for young people in WA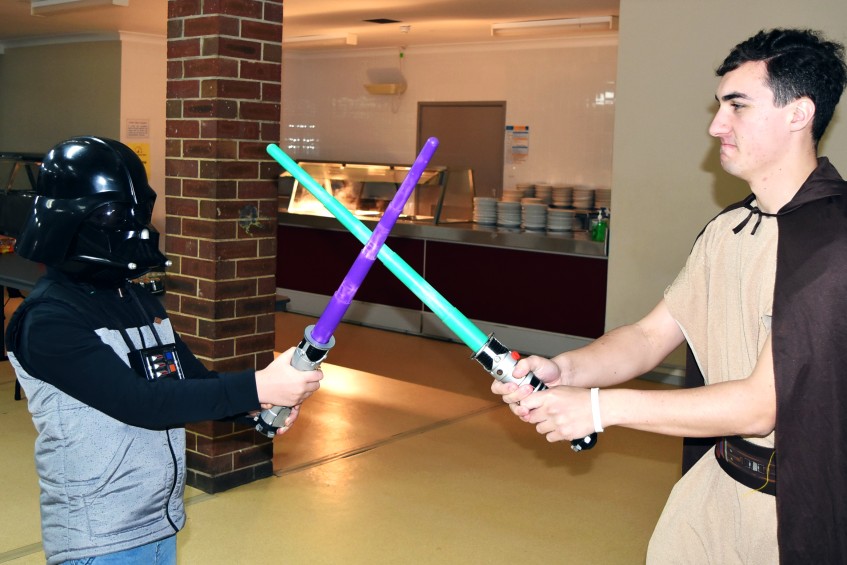 Vinnies State Youth Representative Patrick Wallis, right, participates in some games at a camp for disadvantaged children which he helped to run with a team of young Vinnies volunteers. Patrick has been volunteering with Vinnies since he was 13. Photo: Supplied.
Patrick Wallis has been volunteering with Vinnies for almost half his life – which is impressive considering he is just 21 years of age.
The Curtin University student was in Year 8 and aged just 13 when he first became involved with the charity through the Vinnies High School social justice program.
Patrick is now a State Youth Representative for Vinnies and member of its Board and more importantly, one of 75 youth program volunteers who support children and teens experiencing disadvantage.
The Chemical Engineering student from Mt Lawley last month took part in a four-day camp in Hillarys for 29 disadvantaged children which he helped to run with a team of young Vinnies volunteers.
"It is really about breaking the cycle for these kids and helping to develop confidence and life skills," Patrick explained.
"These kids are either from families that Vinnies is working to assist or from homeless shelters and refuges. They may also be referred to us by other agencies."
Vinnies runs six camps every year in WA for young people aged from just seven to 17.
The most recent camp, which was held in mid-January at the Department of Sport and Recreation's Ern Halliday facility in Hillarys, was for children aged seven to 11.
"The camps get these kids away for a few days to give them a break from stresses they may be experiencing in their lives and get them together with other kids to have some fun. They also provide some well needed respite care for parents and carers as well.
"All the activities are planned and lead by the Leadership Group, who are all aged 16 and older. The theme of the last camp was Pirates of the Caribbean and the activities included cooking, craft and sports activities like an obstacle course which was all made and put together by the Leadership Group."
Patrick says he was drawn to volunteering at a young age as he always had a strong sense of social justice which he inherited from his Mum and Dad.
"I first became involved with Vinnies through the High School program which involved meeting weekly with a group of like-minded students to organise fundraisers and advocacy events and generally assist people in need within the local community.
"I later became President of that group and then attended a Vinnies High School Formation Camp and learnt more about what I could do to become more involved in advocacy and in helping the community.
"It was from there that I became involved in the Youth Camps."
Patrick says that volunteering with Vinnies has been extremely rewarding and given him the opportunity to develop a wide range of life skills.
"Getting involved with Vinnies has given me good inter-personal skills as well as public speaking and management skills, particularly in my role as State Youth Representative," he said.
"There is also an enormous sense of accomplishment that you get being part of the volunteer team running the kids and teen camps.
"You get to create these relationships with these kids and you might not think that much of it but then you will see them again at the next camp and they will be so excited to see you and want to know all about how you are doing. You realise that you have formed a real bond and made a meaningful connection with them that's had a positive impact.
"It's all about making those connections, forming relationships and maintaining them.
"I have worked on 17 camps in total and that is a lot of kids and it does come full circle. Someone came on as a Youth Leader on a camp recently and it was one of the kids from my very first camp – which was amazing."
Volunteering has also been instrumental in the formation of many of Patrick's closest friendships.
"Pretty much all my closest friends are from Vinnies now and a lot of those friendships were formed in high school, not just my high school but with students from other schools.
"Volunteering can also be quite a bonding experience. When you are working on the camps, by the fourth day you are deliriously tired and it can be very hard work dealing with a big group of kids.
"We support each other through that and we get through it together. You become like family really."
Vinnies CEO Susan Rooney said the Youth Support Program was an extremely important part of services provided by Vinnies, helping children and teens experiencing difficulties as well as nurturing the next generation of leaders and volunteers.
If you would like to find out more about volunteering for Vinnies, visit vinnies.org.au or call 08 6323 7500.