National Women's League welcomes incoming WA leadership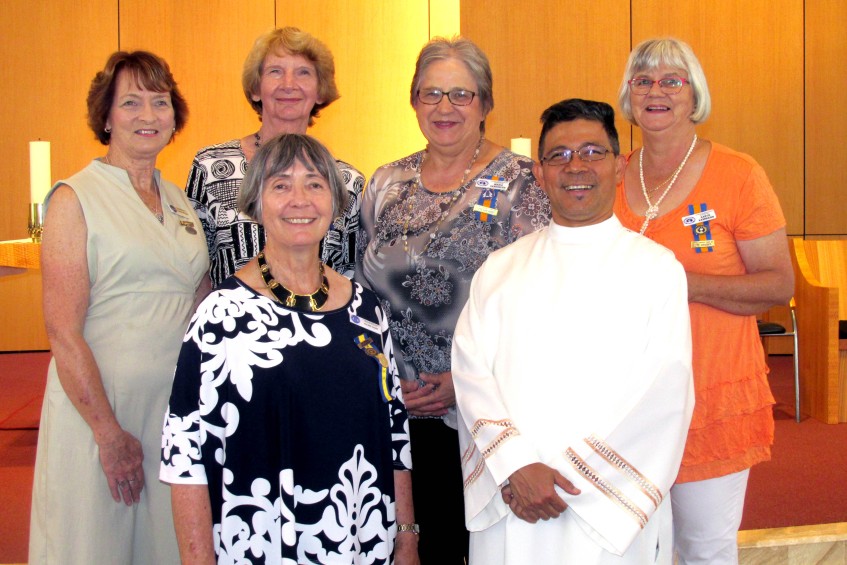 Back row L-R facing - Fran Mulcahy (National Treasurer), Adele Parson (Vice President), Maria Parkinson (National Secretary), Karyn Kammann (Vice President); Front Row - Valma Ivory (National President), Fr Jess Navarra (National Chaplain). Photo: Supplied.
By Amanda Murthy
Five West Australian women have this month been installed as the leadership of the Catholic Women's League Australia (CWLA).
During an installation Mass on 6 February held at Applecross Parish St. Benedicts Church, Fr Nelson Po and National Chaplain Fr Jess Navarra, together with Deacon Mark Rucci welcomed the new National Executive, followed by an afternoon tea at the church hall.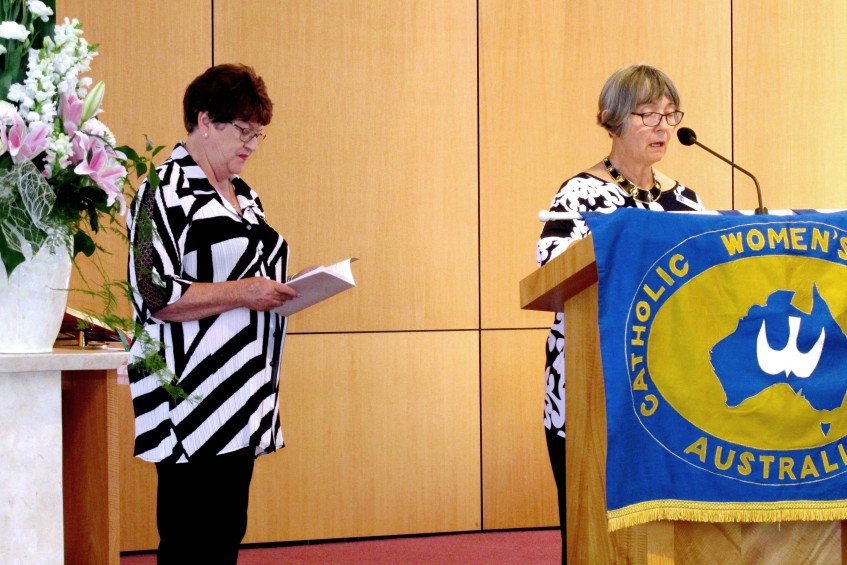 National President Valma doing the reading at Mass with Anne Marie Clark the immediate Past President from SA to the side. Photo: Supplied.
Valma Ivory is the incoming National President, together with National Secretary Maria Parkinson, National Treasurer Fran Mulcahy, vice Presidents Karyn Kammann and Adele Parsons and National Chaplain Father Jess Navarra.
Many groups were in attendance at the event including representatives from the Aboriginal Catholic Ministry, University of Notre Dame, the St Vincent de Paul Society, Australian Church Women, World Day of Prayer, members of the outgoing CWLA National executive from South Australia, visiting members from Victoria and New South Wales, and around 60 members from branches throughout WA.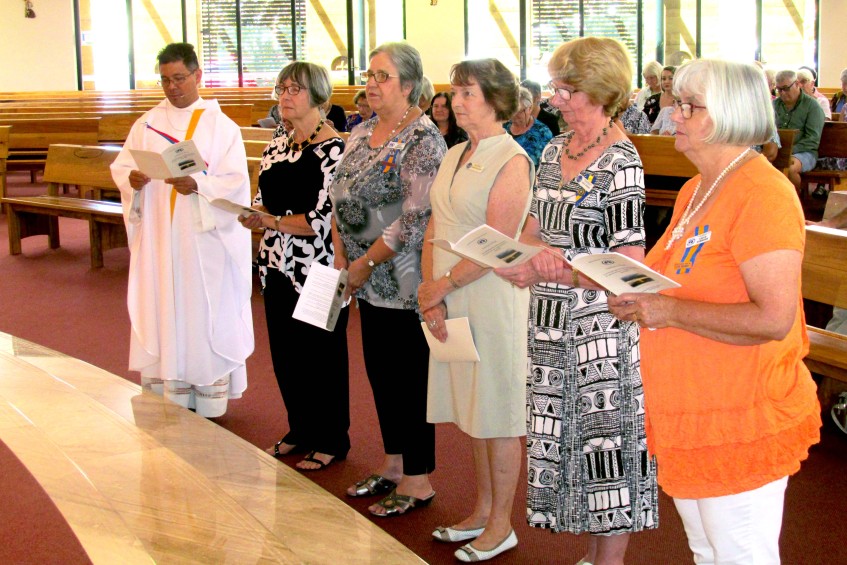 The CWLA National Executive making their commitment. Photo: Supplied.
National Secretary Maria Parkinson said that the league hopes to increase its membership in the next two years seeing as WA will be in charge of administration for the whole of Australia. "We currently have 3640 members Australia-wide, comprising of women between the ages of 18 to 90," she said.
CWLA's motto "Charity, Work and Loyalty" serves as the voice for Catholic women, conducting research and making submissions on topics relating to women, family, social justice, human rights, and bio-ethics.
Incoming National President Valma with four Past National Presidents - L-R Georgie Bruce-Smith (WA), Peg McEntee (NSW), Karyn Kammann (WA), Anne Marie Clark (SA), Valma Ivory (WA). Photo: Supplied.
"In Western Australia, Associate membership is available for women who want to belong to CWL, but for any reason may not be able to attend meetings. They are kept in contact through a delegate on State Council and are sent newsletters and reports along the way."
"Personally Catholic Women's League has been for me the place where I have felt most comfortable with like-minded women in the Catholic Church. Having been a member for 22 years and shared the highs and lows of our Church. Sharing that commonality of thought and action is an amazing thing," said Mrs Parkinson.
CWLA is comprised of six member organisations namely New South Wales, Victoria/Wagga Wagga, Queensland, Tasmania, South Australia and Western Australia.