Notre Dame celebrates outstanding graduate success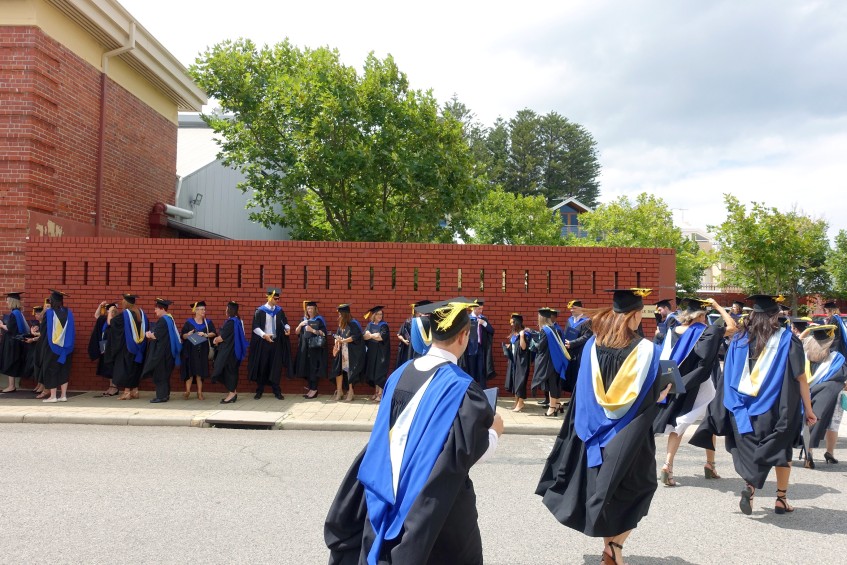 This year's batch of graduates line-up at the Fremantle Campus. Photo: UNDA.
The University of Notre Dame Australia's Fremantle Campus was alive with celebration from 11 to 13 December as more than 1000 students cross the threshold to their future at the University's Graduation Mass and Ceremonies in Perth and Fremantle.
The Notre Dame community of family, friends, benefactors, donors, academic and departmental staff, and more gathered to celebrate the achievements of its graduates.
Celebrations commenced with the annual Graduation Mass on Tuesday 11 December, at St Mary's Cathedral in Perth.
More than 1000 guests attended the special ceremony where graduates were presented with their graduation crosses – a traditional icon of the University and a commemorative symbol of a student's time at Notre Dame.
| | |
| --- | --- |
| Baskets of crucifixes are held as Archbishop Costelloe blesses them with holy water. Photo: UNDA. | Archbishop of Perth Timothy Costelloe SDB incenses the altar during Mass on 11 December at St Mary's Cathedral. Photo: UNDA. |
During his homily, Perth Archbishop Timothy Costelloe SDB drew on the life of Cardinal John Henry Newman and his writings, emphasising that a university "must have a soul".
"For Newman, the experience of attending a university should be so important that it marks a person for the rest of his or her life," he said.
"As Newman puts it, a university education enables, or should enable, a person to move towards "a clear, calm, accurate vision and comprehension of all things.
"If the only thing you have achieved during your time at Notre Dame is 'employability' – important as this is – then the university has failed you. You may have engaged well with the skeletal structure of the University, but you have missed its soul."
| | |
| --- | --- |
| Celebrations commenced with a Graduation Mass at St Mary's Cathedral. Photo: UNDA. | Proud graduates take selfies outside St Mary's Cathedral, Perth. Photo: UNDA. |
In 2018, the University held nine graduation ceremonies – four in December and two in July on the Fremantle Campus; one in August on the Broome Campus; and two ceremonies at the Sydney Town Hall in March – and farewelled more than 2500 students nationally.
| | |
| --- | --- |
| Nursing graduates are thrilled on Graduation Day. Photo: UNDA. | Art and Science graduates of UNDA Fremantle Campus. Photo: UNDA. |
In her address to the graduates Notre Dame Vice-Chancellor Celia Hammond said: "We believe that the best education we can provide any person is one which encompasses specialised expertise, knowledge and skill with the capacity to reflect on broader perspectives, including the ethical and social dimensions of their work, research, decision making and promoting the common good".
"We hope and pray that we have been able to live up to our goal of providing you with this sort of education," she expressed.
Higher degree by research recipients:
Linda Ginetta Cranley – Master of Philosophy (Education)
James O'Neil l– Master of Philosophy (Education)
Dr Antonella Poncini – Doctor of Philosophy (Education)
Dr Nigel Hilton Stewart – Doctor of Philosophy (Education)
Eric Law – Master of Science (Arts & Sciences)
Riley Ann Buchanan – Master of Philosophy (Arts & Sciences)
Elizabeth Margaret Burns-Dans – Master of Philosophy (Arts & Sciences)
Paul Reilly – Master of Philosophy (Arts & Sciences)
Dr Robert Lyons Pearce – Doctor of Philosophy (Medicine)
Dr Paige Elizabeth Tucker – Doctor of Business Administration
Alexander Gerard Anthony Westenberg – Master of Philosophy (Philosophy & Theology)
Christine Elaine Adams – Master of Nursing
Nitasha Aarni Narayan – Master of Nursing
Rebecca Hahn – Master of Philosophy (Nursing)
Dr Kylie Davies – Doctor of Philosophy (Nursing)
Dr Karen Margaret Taylor – Doctor of Philosophy (Nursing)
Dr Warren Ramon Doudle – Doctor of Philosophy (Business)