Iona Presentation College end 2018 on a high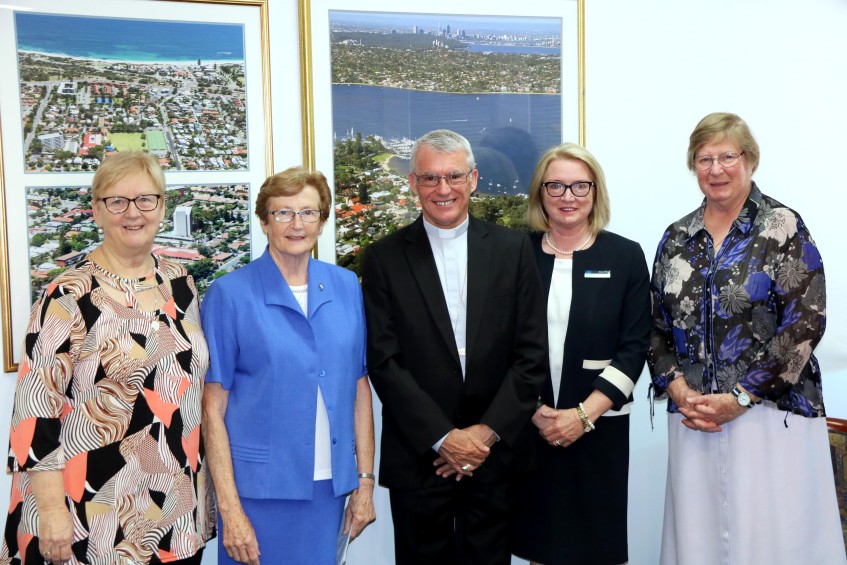 Archbishop with Iona Principal Anne Pitos and some of the Presentation Sisters after the final Mass for 2018 at Iona Presentation College on 21 November. Photo: Supplied.
By Amanda Murthy
The Iona Presentation College community gathered for its annual final Mass of the year on Wednesday 21 November at the college grounds.
The Mass, celebrated by Archbishop Timothy Costelloe SDB, was held in conjunction with the Feast of the Presentation of the Blessed Virgin Mary.
Archbishop Costelloe began the Mass by congratulating the students on their achievements.
"When I became the Archbishop nearly seven years ago, the girls who are now about to leave secondary school behind them were still in primary school and the students who will be moving from Iona Primary into various secondary schools around Perth were probably just about ready to start school for the very first time," Archbishop Costelloe said in his homily.
"Lots of things can change in seven years, but some things stay the same – Iona is still here, still offering the families who send their young people here a wonderful education based today, as it was then, on the person and the teachings of Jesus and His Church."
Crediting the Presentation Sisters on their constant dedication to bring their love for the Lord and His Church with them to Australia since they began their mission, Archbishop Costelloe said he is certain that Presentation Sisters founder Sr Nano Nagle is proud.
Archbishop Costelloe said one thing that has not changed in the past seven years is his conviction that the mission of the Catholic Church today.
"Our mission demands of us that we begin everything by turning our eyes and our ears to Jesus, watching Him in action as He reaches out to others, listening to Him as He talks about God as a loving and merciful Father, and committing ourselves to following Him as our leader and teacher," Archbishop Costelloe explained.
"While it is important for every person who belongs to the Church or is involved in some way in the Church, it is particularly important for people at a college like Iona to remember that the Lord himself has given us his mother, Mary, to guide us as we try to get this right."
Archbishop Costelloe continued to explain that Mother Mary was asked to be the mother of Christ, but what makes her extra special is the fact that she said yes to God's call.
"And what makes Mary even greater is that she kept saying 'yes' every day of her life to whatever God might ask of her. This is exactly what today's Gospel is telling us," he explained.
"Mary was the very first to listen to God's word, when the angel called her to become the mother of Jesus, and the first to say 'yes' and to give herself freely and generously to God no matter how much it might cost her.
"She, more than anyone, did the will of her Father in Heaven," he added.
Archbishop Costelloe challenged those present to carry the words of Mary: "Do whatever Jesus tells you".
In the words of Mary: "No matter what He asks, no matter how strange it seems, or how unlikely it is that it will help, do whatever He asks you. Follow Mary's advice; do whatever He, Jesus, tells you, and you will know that joy," Archbishop Costelloe concluded.
At the commencement of Mass, the students paid tribute to the Sister's for their significant contributions and presence in WA over the past 110 years. A documentary produced by students Shalia Govender and Sophia Spadanuda titled Deeds not Words was enjoyed as the group unpacked the question "What does it mean to be a Presentation person 300 years on from Nano Nagle's birth?."
Flowers were then presented to the Sisters, adding to the celebrations.