OBITUARY - Fr Noel Tobin remembered as a 'top bloke'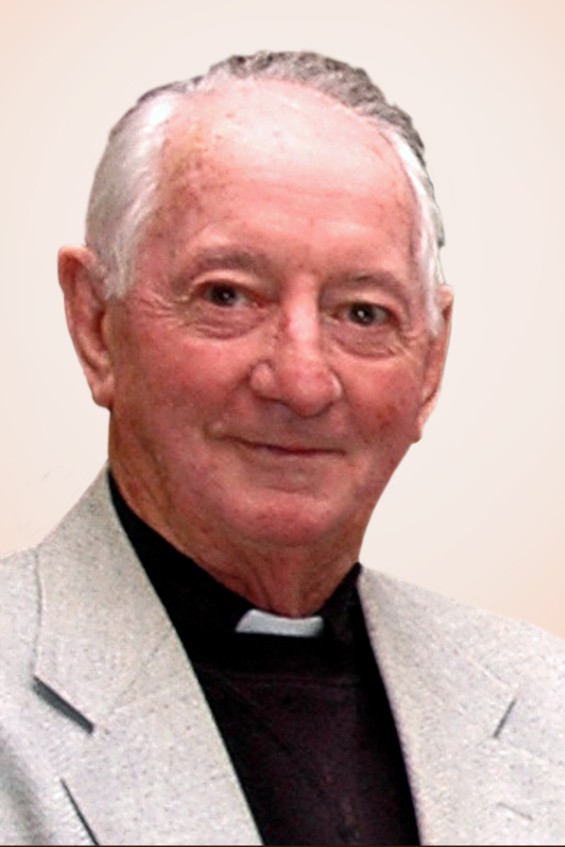 Fr Noel Tobin died on 3 November after 67 years of ministering to parishes in Diocese of Geraldton and the Archdiocese of Perth. Photo: Supplied.
By Theresia Titus
Geraldton priest Father Noel Tobin will be fondly remembered for making a significant impact to those who knew him.
Fr Tobin died peacefully in his sleep on 3 November 2018 at Nazareth House Geraldton at the age of 89.
More than 140 people attended a concelebrated Mass to commemorate his life, and was held at St Francis Xavier Cathedral, Geraldton on 14 November.
The Mass was celebrated by Bishop of Geraldton Michael Morrissey and concelebrated by Emeritus Bishop of Geraldton Justin Bianchini, in addition to several priests of Geraldton and Perth.
A rosary prayer meeting was also held on the 13 November at St Francis Xavier Cathedral.
The commemorations were then followed by another rosary prayer meeting on 15 November, before the funeral and burial Mass at St Mary of the Cross MacKillop Church, Ballajura Parish on Monday 16 November, which was celebrated by Emeritus Bishop of Geraldton Justin Bianchini and concelebrated by Bishop Michael Morrissey, Perth Archdiocese Vicar General, the Very Rev Fr Peter Whitely VG, Emeritus Archbishop of Perth Barry Hickey, Ballajura Parish Priest Fr John Jegorow and some 35 priests of Geraldton and Perth.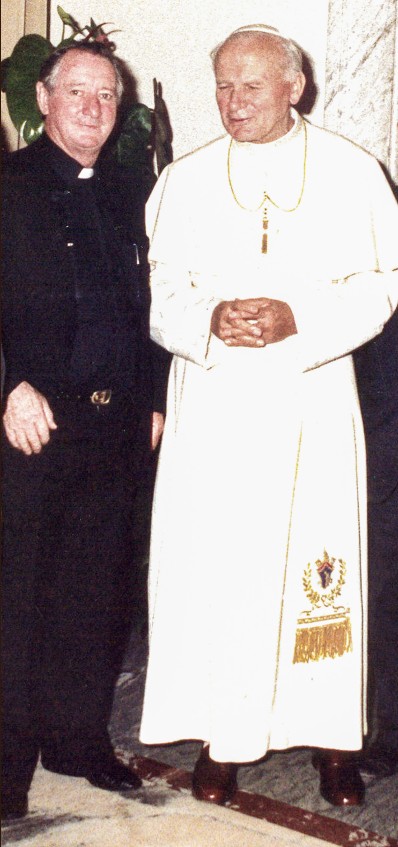 Fr Noel Tobin pictured with St John Paul II. Photo: Supplied.
In his homily for the Mass in Geraldton, Bishop Morrissey told the congregation how Fr Tobin spread hope to people throughout the years.
"First and foremost, as a priest, Fr Noel offered hope and friendship to many people through his years in the Diocese of Geraldton and for over 20 years in the Archdiocese of Perth," Bishop Morrissey said.
Born in Canowindra, New South Wales on 29 December 1928, Fr Tobin commenced his studies for the priesthood in 1946 in Sydney before heading to Rome, with the support of Bishop Alfred Gummer from the Diocese of Bathurst.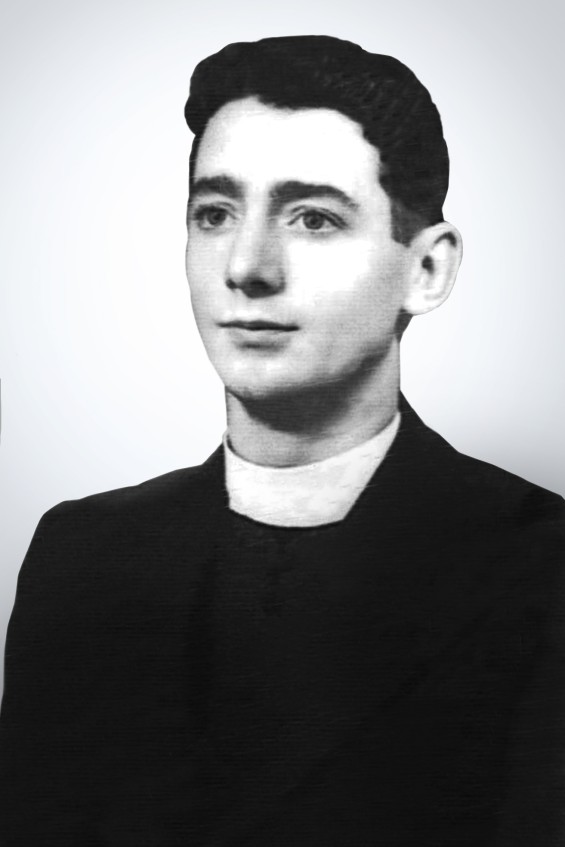 Fr Tobin was ordained as priest at the age of 22 on 15 July 1951 at Castel Gandolfo by Cardinal Pietro Fumasoni-Biondi for Geraldton. Photo: Supplied.
He was ordained with special dispensation at the age of 22 on 15 July 1951 and left Rome in the same year for the Diocese of Geraldton, becoming Editor of the Cathedral Chronicle until 1956.
He then became Parish Priest at Lenora, before moving onto Port Hedland at Priest-in-Charge in 1964 and then Mt Magnet as Parish Priest in 1965, and Exmouth as Parish Priest in 1970.
Then Bishop of Geraldton, now Emeritus Archbishop Hickey (of Perth) appointed him as Administrator and Chancellor at the Diocese of Geraldton from 1985 to 1994 to put the Diocese back on its financial feet.
"Fr Noel never missed an opportunity in finding a new way to raise finance whether it was setting up the Diocesan Development Fund in Geraldton or avoiding the financial crash in WA in the 1980s, which caused him to have a few sleepless nights," Bishop Morrissey said.
Fr Tobin's parents: Norman Tobin and Alma McCoskey. Photo: Supplied.
Fr Tobin was the third child of Norman Tobin and Alma McCoskey, and brother to Molly, Allen and John.
His nieces and nephews were Helen Barber, Judy Barber and Noel Barber; Shirley-Anne Tobin, Barry Tobin and Susie Tobin; Claire Parkhill nee-Tobin and Ian Tobin.
He was the editor of The Sower from 1987 before he moved to Beldon in 1994 and then assisted Fr John Jegorow at Ballajura Parish from 1996 to 2015.
Fr Jegorow told The Record that Fr Tobin single-handedly paid off parish debts by taking up many jobs such refuelling aircrafts, being a handyman, mowing lawns, managing the Drive Inn Theatre, and being a piano man at local clubs and pubs when he was in Exmouth.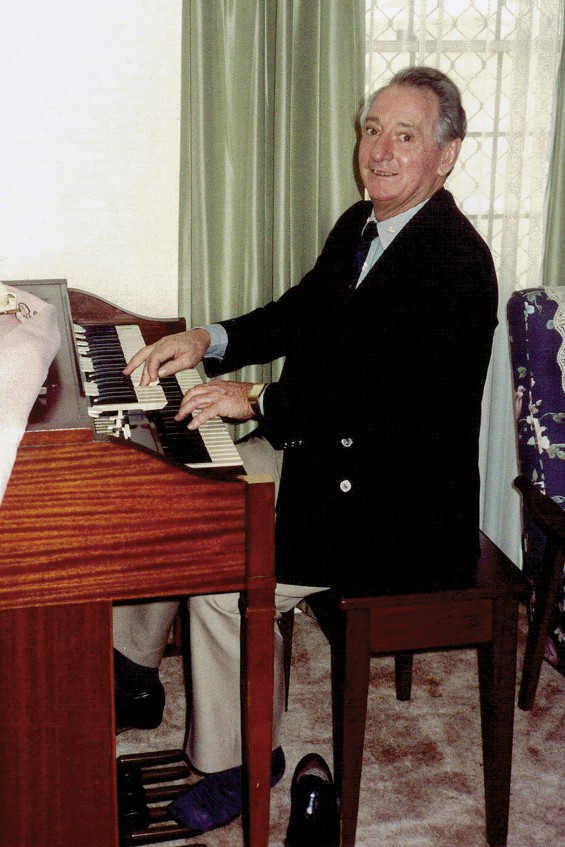 Fr Tobin was often seen at the piano, playing away merrily for the patrons. Photo: Supplied.
He also acted as the WebMaster for Diocese of Geraldton from 2004 to 2010 while assisting at Ballajura Parish, before returning to Nazareth House in Geraldton in 2017.
"When he moved to Perth, he still supported the Diocese as a supply priest and develop new ministries in Perth away from the rigours of Diocesan administration and became more reflective and comfortable in his achievements and gifts," Bishop Morrissey added.
"Fr Tobin was like Martha in the Gospel of John, full of faith and a get on with it attitude. This was no time to be idle when he moved to Perth.
"Many parishes in Perth benefited from his ministry, none more so than the Parish of Ballajuara; you welcomed him into your midst and the Parish became his family and home and where he will be laid to rest forever," Bishop Morrissey continued.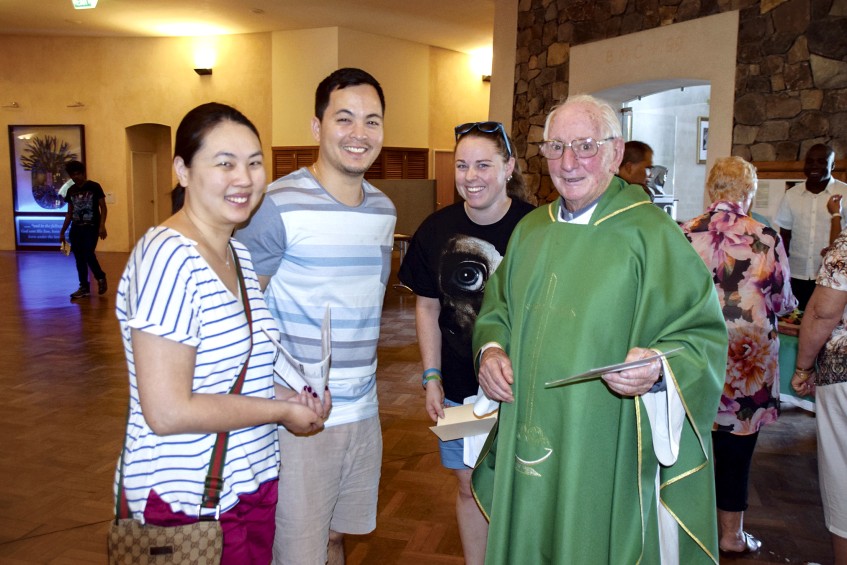 Ballajura parishioners Justine Yong, Sebastian How and Aleisha Naughton-Watt with Fr Noel Tobin. Photo: Supplied.
Bishop Morrissey also said Fr Tobin's ministry was unique and that he enjoyed serving and providing support to people over numerous years.
"He mirrored Jesus from the Gospel of John in walking with bereaved families, understanding their sadness and grief and honouring deceased family members with Catholic funeral rites; like St Mary MacKillop, he saw a need and did something about it," Bishop Morrissey said.
Fr Tobin lived a long life and devoted himself to 67 years of priesthood, ministering to many people in different parishes, gaining many friends who loved and cared for him
"As the preface for the Eucharistic Prayer, I will use today will say 'For your faithful, Lord, life is changed not ended'.
"May Fr Noel live forever in our hearts and minds and may he rest forever in peace," Bishop Morrissey concluded.