DIACONATE ORDINATIONS – Perth set to ordain two men to Diaconate this week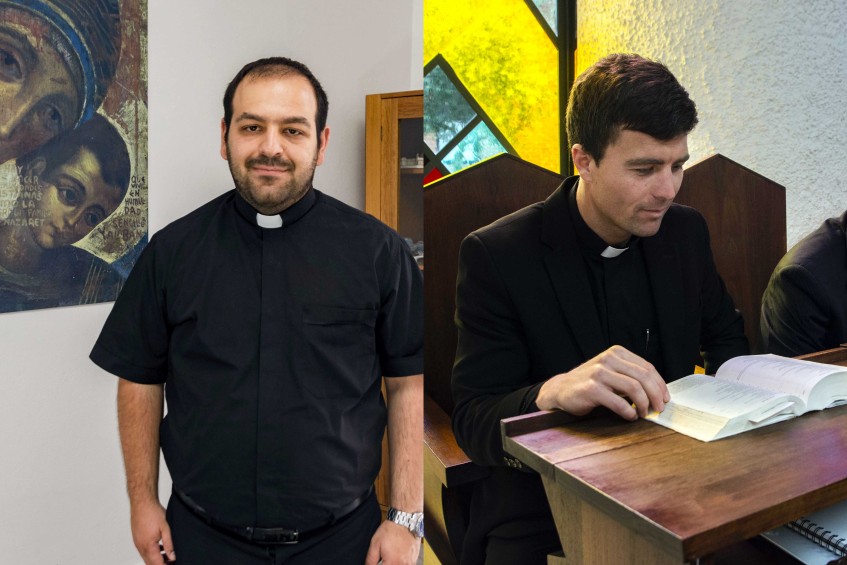 Matteo Verdi and Liam Ryan from Redemptoris Mater Seminary will be ordained to the Diaconate on Friday 7 December at 7.30pm by Auxiliary Bishop Don Sproxton. Photos: Matthew Lau.
By Jamie O'Brien and Matthew Lau
The Archdiocese of Perth will tomorrow welcome two more men to the order of Diaconate at an Ordination at St Mary's Cathedral by Perth Auxiliary Bishop Don Sproxton at 7.30pm.
Matteo Verdi and Liam Ryan, from Redemptoris Mater Seminary, Morley, will be ordained following several years of study and pastoral formation.
The two men are the 'fruit' of vocations borne from the Neocatechumenal Way, which this year celebrated its 50th anniversary. Some 20 communities are present in the parishes of Mirrabooka, Cathedral, Cottesloe, Kelmscott, Baldivis, Rockingham and Osborne Park.
31-year-old Liam, who is originally from Perth, told The Record that his vocation has been nourished by listening to the word of God.
The former Servite College student, who grew up attending Church at the Mirrabooka Parish St Gerard's Church, has a degree in Commerce from the University of Western Australia, and is the second of 10 children to parents Michael and Rita Ryan.
"This time of formation has been a concrete blessing," Liam said.
"I have seen many signs of God working in my life, and in the lives of those around me, urging me all the more to be ready to evangelise and announce the love of Christ for all," he said.
Redemptoris Mater Seminary Rector Fr Michael Moore, said the ordination of Liam and Matteo are a great sign for the Church in Perth and Australia.
"These two men have been open to the work of God in their lives and I invite the whole Church of Perth to pray that the spirit will continue to work in them," Fr Moore said.
"Matteo and Liam have responded to the words of scripture, which calls workers to the harvest of the Lord, and for this we can give thanks to the work of God," he said.
As one of four children, 28-year-old Matteo has positive memories of attending Mass with his parents as a youngster.
Matteo, who who hails from Rome, Italy, said he is excited about becoming a deacon after years of seminary formation which included pastoral experiences in Adelaide, Papua New Guinea, Malaysia, Darwin, and mission ad gentes in Baldivis.
The two men will learn of their placements as Deacons following their ordination.
The Ordination to the Diaconate of Liam Ryan and Matteo Verdi will take place at St Mary's Cathedral at 7.30pm. All are welcome.