OBITUARY: Vale Fr Eugene McGrath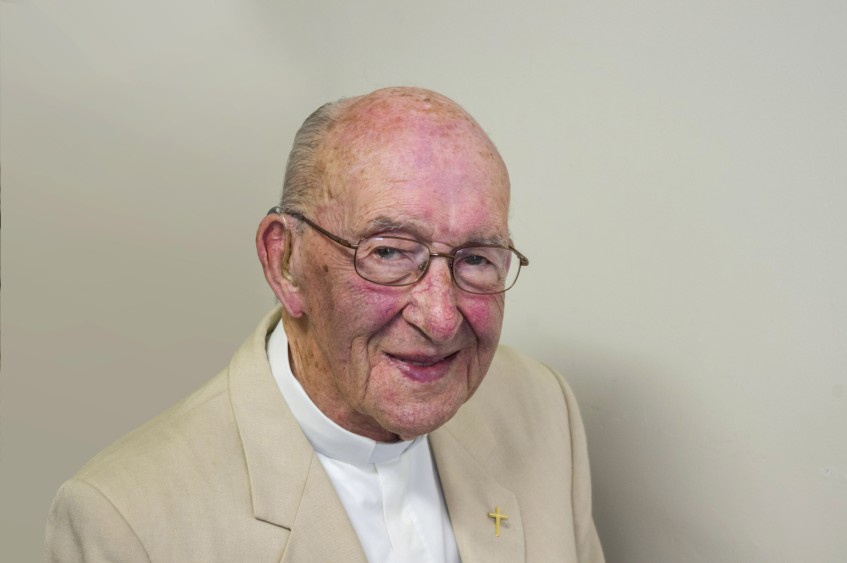 Fr Eugene McGrath is dearly remembered for his priestly services at numerous parishes of the Perth Archdiocese: Photo: Mark Reidy.
By Matthew Lau
A highly regarded Irish priest, who died on Thursday 2 August 2018 at the age of 88, will be greatly remembered for serving the people of the Church unstintingly.
Father Eugene McGrath enjoyed a colourful pastoral ministry across the span of 64 years in the Archdiocese of Perth.
The funeral Mass for Fr Eugene was celebrated on Thursday 9 August at the Redemptorist Monastery, North Perth Parish, followed by his burial at Karrakatta Cemetery.
He served as a priest at the parishes of: Boulder, Northam, Subiaco, Kellerberrin, Rockingham, Guildford, Manning, Bruce Rock, Merredin, and Belmont-Redcliffe.
In 2009, Fr Eugene was one of 11 Archdiocesan priests who received the Papal Award 'Pro Ecclesia et Pontifice' (For the Church and Pope), an honour founded by Pope Leo XIII in 1888.
Raised in County Kerry, south-west Ireland, he was the youngest of 10 children to Eugene and Margaret, farming parents who provided the family with a remarkable and lifelong gift of faith.
Four of his sisters have been religious sisters dispersed throughout the world.
Sr Angela and Sr May (Pius) were in the Perth Congregation of the Presentation Sisters, Sr Rose was in the Poor Clares, Sr Gemma belonged to the Presentation Order in Listowel, and Perth-based cousin Sr Maureen Lovett is a living member of the Sisters of St John of God.
However, it was his older brother Fr James who had the greatest influence in leading him to a path of spirituality.
Fr Eugene was the last remaining member of his family, as his beloved brother Christie died on 15 March of this year.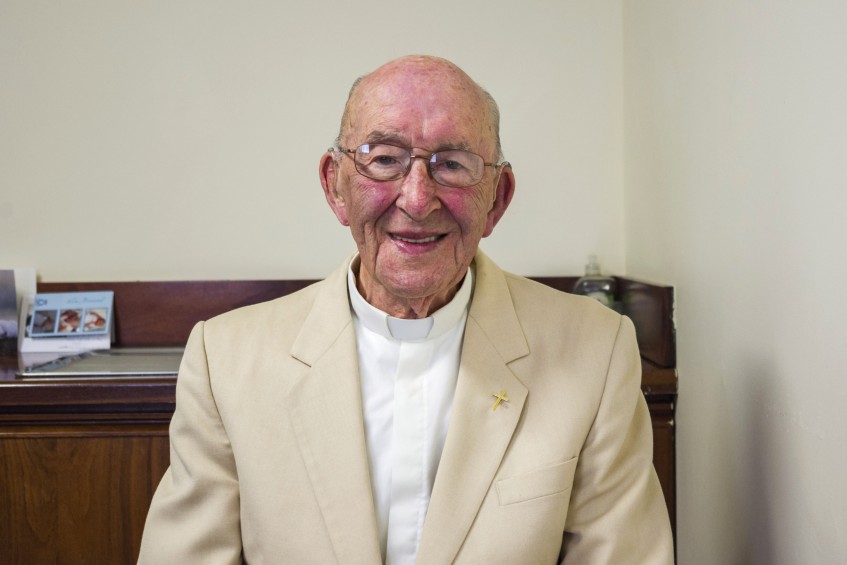 Fr Eugene McGrath was ordained in Rome in 1954 before relocating to Perth. Photo: Mark Reidy.
Before entering the Pontifical Irish College seminary in Rome, he attended St Brendan's College in Killarney.
Eleven months after his ordination on 13 March 1954, Fr Eugene arrived in Perth at the invitation of Archbishop Redmond Prendiville and was appointed Assistant Priest at Queen's Park Parish.
From 1959 to 1967, he served as Priest-in-charge of Boulder, Assistant Priest at Northam, and Assistant Priest at Subiaco – which included Chaplaincy to King Edward Hospital for women and Princess Margaret Hospital for children.
From 1967 to 1976, he served as Parish Priest of Kellerberrin – which included Chaplaincy to the Preventorium for Asthmatic Children – and Parish Priest of Rockingham, which coincided with the opening of Star of the Sea Primary School in 1974.
From 1976 to 1990, he was Parish Priest of Guildford, and later of Manning.
Fr Eugene was appointed Parish Priest of Bruce Rock in May 1990, and then Parish Priest of Merredin in April 1991.
In April 1994, Fr Eugene was appointed Parish Priest of Belmont-Redcliffe until his retirement from parish ministry. He then became Chaplain to the Little Sisters of the Poor for four years, and then became a resident for eight years until his death.
"His prayerful presence will be missed at the Glendalough Home," said Tess Thompson, a family friend for more than 50 years.
In an interview with The eRecord in 2014, Fr Eugene highlighted the six years of Perpetual Adoration he helped establish during his time at Belmont-Redcliffe Parish as "the most fruitful edition" of his priestly ministry.
Legion of Mary WA wrote the following tribute to Fr Eugene in The West Australian Legacy Guestbook: "An inspiring servant of God and Our Blessed Mother has been taken to his heavenly reward. Thank you Father for your loving support of the Legion of Mary. Your gentle guidance will be greatly missed".
Away from the religious scene, Fr Eugene was a great follower of Gaelic football – enjoying attending games with his brother and nephews when visiting Ireland – and was a West Coast Eagles supporter for many years.