No prayers, only hope for Richmond: Perth Catholic Archbishop hopeful his Tigers can break premiership drought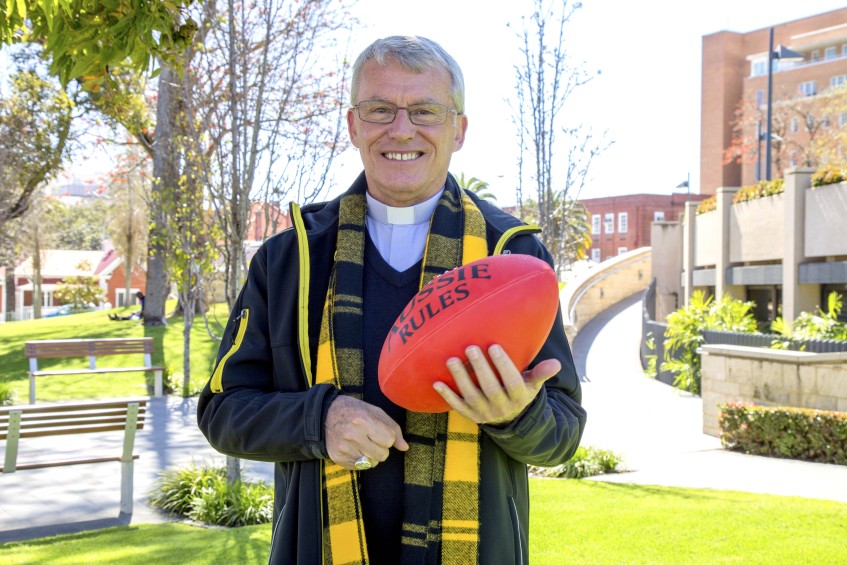 Big fan: Perth Catholic Archbishop Tim Costelloe in Tiger colours.
By Justin Bianchini
HE'S dyed in the wool Richmond.
Perth's Catholic Archbishop Tim Costelloe hails from Melbourne where he grew up barracking for the Tigers.
He said he was hopeful and quietly confident his team could break their long premiership drought by beating Adelaide this Saturday.
"My dad was born and raised in West Richmond and my mum grew up in East Melbourne, both within walking distance from the Punt Road Oval," he said.
"I can remember when I was a little kid, standing in the outer with my dad and my older brother, trying to peer over the heads of the crowd to follow the game. And I am only half joking when I say that in our home if you didn't barrack for Richmond, you had to look around for somewhere else to live."
The Archbishop won't be travelling to Melbourne for the big game this Saturday, but will watch it with friends.
And while he won't be praying for Richmond to win, and the Tigers flag won't be flying from the Cathedral flagpole, he can't promise he will have much voice left for a long homily on Sunday.
Courtesy of Eastern Reporter, Community Newspaper Group