LifeLink 2017 Christmas Appeal: Relieving loneliness and need at Christmastime a priority for The Shopfront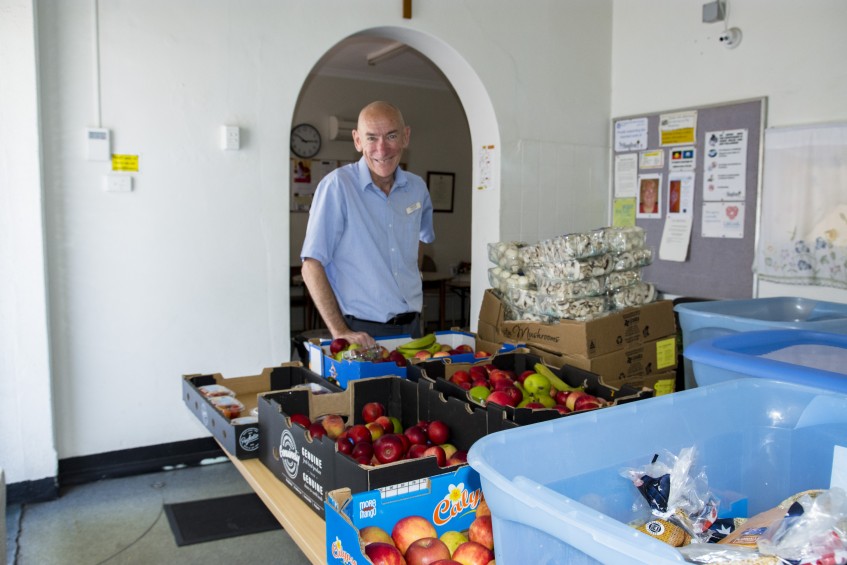 The Shopfront Director Damian Walsh with some of the food that is given to guests who visit the Maylands-based agency looking for support and a friendly face. Photo: Caroline Smith.
By Caroline Smith
Providing a place of friendship and support throughout the year is essential to the work of LifeLink agency The Shopfront, but in the lead-up to Christmas, its volunteers aim to inject a bit of festive cheer into the proceedings.
"What we do just before we close at Christmas is we give people a couple of festive presents: mince pies and chocolates and plum puddings," Director Damian Walsh told The eRecord.
"It's stuff we wouldn't normally have throughout the year, but we specifically go and try to source these things for Christmas."
Mr Walsh said this was additional to The Shopfront's annual Christmas party, which will be held this Saturday 25 November in Bayswater.
"We're going to have 345 people for a sit-down lunch with casseroles, salads, desserts and soft drink, and every single person who comes gets a Christmas present," he said.
"People who have children will get something for them: so they can give their child or estranged child a present at the party or afterwards. We have just under 200 children's gifts that will be given out on Saturday."
Founded in 2002 as a drop-in centre for homeless people in Perth, The Shopfront still offers its guests a cup of tea or coffee and a sandwich each day, but Mr Walsh said that friendship and support was the main focus.
"We have about 500 people who come in every month. Most months, about half of those will be new, and half are regulars," he said.
"For the regulars, you find that this becomes their social club, a place of safety. One thing we're trying to push this year is that The Shopfront is not about assistance, it's about companionship; that's what it was set up for.
"We do provide other support, but it's mainly about personal contact with people."
He added that the agency – which is based in Maylands - would be closed for a few weeks from 20 December, as its mainly volunteer staff took a break, but would open again in January for what is normally a very busy period.
"People's needs don't change over Christmas– there's still a demand for food and support with accommodation," Mr Walsh said.
"However, after Christmas the demand grows, with families needing schoolbooks and all that. People often spend too much over Christmas, and they find that they've got an electricity bill they can't pay."
But Mr Walsh reiterated that it was often the social interaction at The Shopfront that was most in demand throughout the year, for regulars who are often homeless in particular.
"We have one man who comes in two or three times a week: he jokes that it's for the food, but in actual fact he comes so he can have a chat," he said.
"When you're on the street, you're on your guard: you can't talk to someone there the same way, because you're wondering what they want. So The Shopfront offers a place of solace for conversation."