Sr Frances Wilson – going down the road less trodden to a beautiful life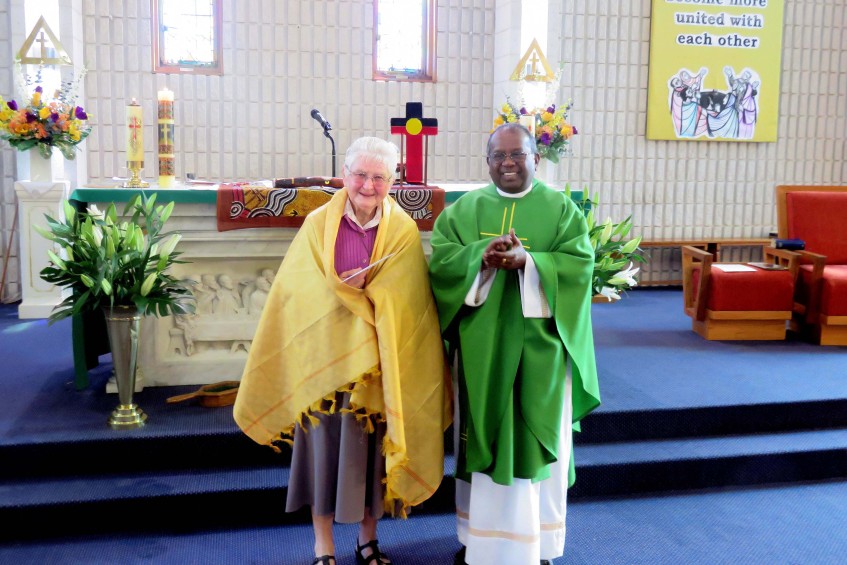 Fondly known in the Kimberley by her bush name, Jindibirri (Willie Wagtail) because of her sprightliness, an advocate for education and the set-up of the new mission in Gibb River, Sister Frances Wilson RNDM was farewelled after 27 years of service serving with the Aboriginal communities in the Kimberley, at Mazenod and St Brigid's Colleges in Perth. Photos: Supplied.
By Natashya Fernandez
Fondly known by her bush name, Jindibirri (Willie Wagtail) for her sprightly character, Aboriginal Catholic Ministry (ACM) Pastoral Care worker Sister Frances Wilson RNDM was last month farewelled after 27 years of service.
As an advocate for education and the development of the new mission in Gibb River in the Kimberley, Sister Frances worked across a variety of communities, including with the Aboriginal peoples of the Kimberley, at Mazenod and St Brigid's Colleges Perth, and most recently with ACM in Perth.
The farewell Mass was held on 15 October at Embleton Parish Holy Trinity Church and was celebrated by Father Anscar McPhee OSB, who has known Sr Frances since her days in the Kimberley when he was Parish Priest at Kalumburu.
In an interview with The eRecord, Sr Frances reminisced about the past 27 years, speaking about her life in the Kimberley, her work as the Aboriginal Liaison Officer at Mazenod College, as mentor to Aboriginal students at St Brigid's College and as Pastoral Care worker with the ACM team, saying that even though she's on the doorstep of turning 80 in 2018, she will keep going for as long as she can.
Born in Inglewood, New Zealand, the youngest of two daughters, Sr Frances said her calling to service came at the young age of 16 when she decided to enter the novitiate. She joined the Sisters of Our Lady of the Missions, an international congregation of women who work with the poor and marginalised all over the world.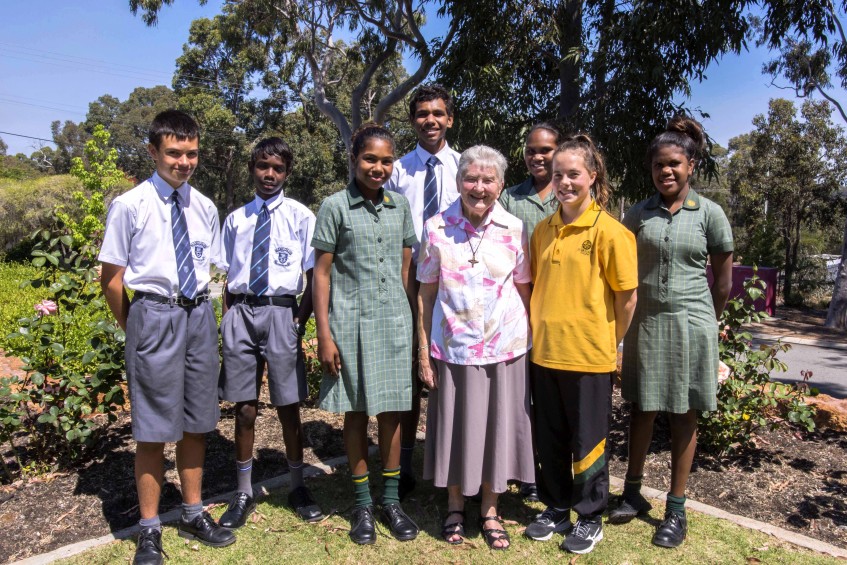 Sr Frances Wilson with children she is mentoring from Mazenod College and St Brigid's College. Photo: Natashya Fernandez.
She spent the next 30 years of her religious life teaching in primary schools in the North Island, including 17 as principal of St Paul's Primary School, Ngaruawahia.
Life for Sr Frances took a dramatic turn when in 1990 when she was approached by her Provincial and asked to go to Western Australia to start a new mission in the Kimberley.
"Initially I said no as I was starting up another ministry in New Zealand, but three months later they approached me again.
Sister Madeleine Barlow, a member of the Australian Provincial team at that time, said that she could see me being there as someone who would sit under the gum trees with the Aboriginal people.
"So I finished my ministry at the end of 1990 and flew to Perth to join Sr Margaret Scott RNDM, another New Zealander who, as principal of the new school, was already in Broome preparing for Wanalirri Catholic School in Gibb River," she said.
"With the help of then Fr Christopher Saunders and Bishop John Jobst, we had two caravans to help us with our accommodation. The school was a corrugated iron shed and we had to make do with a generator that was used in the mornings and evenings."
"With Derby the nearest town some 370kms away, supplies only came every fortnight and sometimes took longer in the wet season," she added.
While it was a hard slog and challenging in those days, Sr Frances said she loved every minute of it.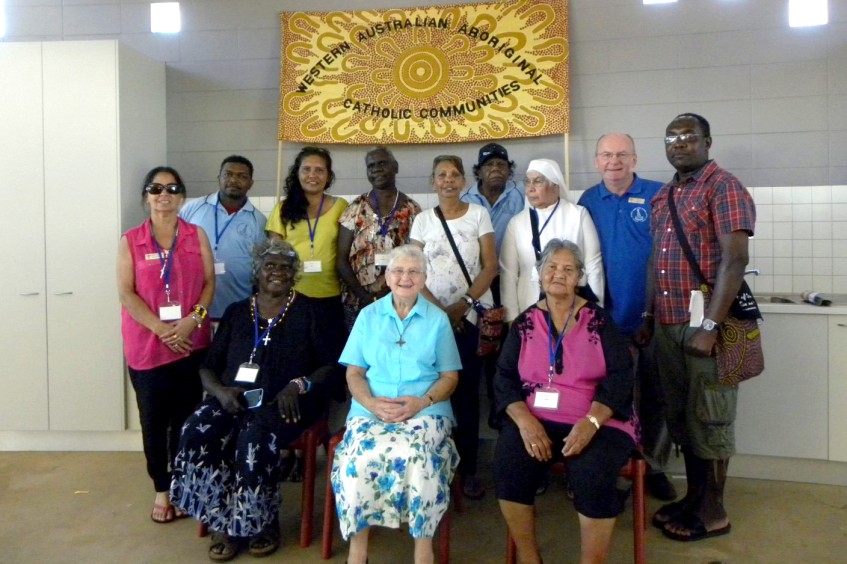 Sr Frances Wilson together with members of the Perth Aboriginal Catholic Ministry Team and Council attending the Assembly at the Kormilda College in Darwin, held in July 2015, at the NATSICC National Assembly. Photo: Supplied.
Instrumental in the set-up on the new mission at Gibb River, Sr Frances' main role was to teach the school curriculum as well as religious education and the sacramental programs, all while learning to understand the local culture and way of life.
"We had about 25 to 30 children in the school and taught English as the second language and the elders came in to teach the children about their culture.
"One of the challenges in Gibb River was to know how best to work with the people and be at one with them.
"We didn't go there with the idea that we were going to change them, we went there to let them know that we accepted them for who they are, their culture and traditions and in a way became part of their community as well.
"That is the mission to which we are called, that we become at one with the people and that's very important," she said.
One of the greatest achievements, she explained, was the designing and planning of a new school that was built in Perth and transported via five trucks to Gibb River, and took five days to get there.
After four years, the CEO of Catholic Education Office in Perth also had a new teachers' house built in Perth and transported to replace the caravans.
In the year 2000, with many of the boys of Gibb River ready for secondary education and with the help of Mazenod College, Sr Frances managed to have them accepted as boarding students.
She was later requested by then Principal Fr Peter Daly OMI to become the Aboriginal Liaison Officer.
On arriving in Perth in early 2001, Sr Frances found herself just as busy as before, while also assisting Aboriginal girls to settle into St Brigid's College.
In 2013, she was approached by then Director for ACM, Fr Emil Ciecierega SDS, to help with the Sacramental program for Aboriginal families.
Taking on a full time role in 2015, Sr Frances work involved visiting hospitals, coordinating the sacramental program and as a mentor to students at Clontarf College.
Quick to respond that she will not be retiring but merely going back to New Zealand, Sr Frances said that she is leaving her home of 27 years in Australia and her official role within the Aboriginal ministry.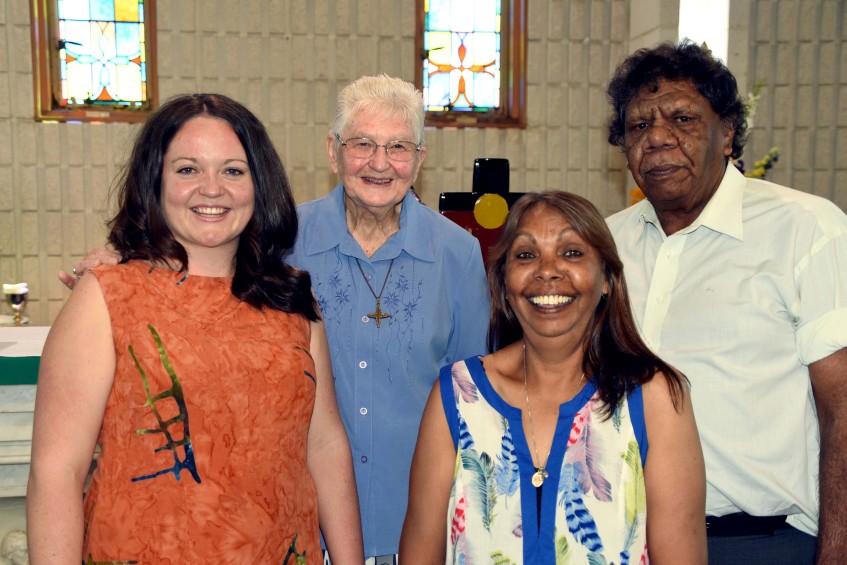 Sr Frances Wilson together with ACM Director Vicky Burrows and Aboriginal chaplains Donna Ryder and Reg Carnamah at the farewell Mass held on 15 October at Embleton Parish. Photos: Supplied.
"I am going back to New Zealand, and although I have enough energy to continue what I am doing here for another 10 years, it's time I went home while I am still strong and able to move into another ministry. So I am only retiring from my ministries here in Perth.
"In January I will be celebrating the Diamond Jubilee of my religious profession and of teaching and I will go wherever there is a role for me and where I am needed most in our New Zealand province."
Not someone to keep idle or do nothing, Sr Frances concluded by saying, "If I can drive a Toyota truck on the toughest and roughest roads, I can drive anywhere where life takes me."