100th Apparition of Our Lady of Fatima celebrated at Cloverdale Parish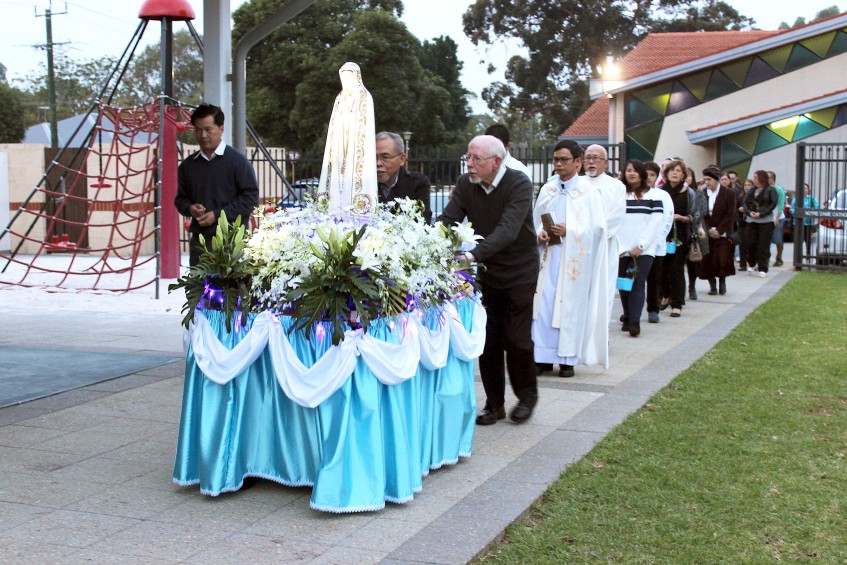 Paying special homage to the Centenary of Our Lady of Fatima, Cloverdale Parish celebrated the day with a procession and Mass that saw many parishioners attend on Saturday 13 May. Photo Supplied.
By Natashya Fernandez
Paying special homage to Our Lady of Fatima, Cloverdale Parish last weekend Saturday 13 May celebrated the feast day and centenary of the apparitions, with a procession and Mass.
Celebrated by Parish Priest Father Michael Quynh Do and assisted by Deacon Albert Atkinson, parishioners were presented with rosaries and prayer cards at the conclusion of Mass.
An inspiring tribute to Our Lady of Fatima was given by Deacon Atkinson, who told the story of the three young shepherd children, Jacinta, Francisco and Lucia who first saw the apparition of a beautiful lady dressed in white, made of light and holding a rosary in her hand on 13 May 1917.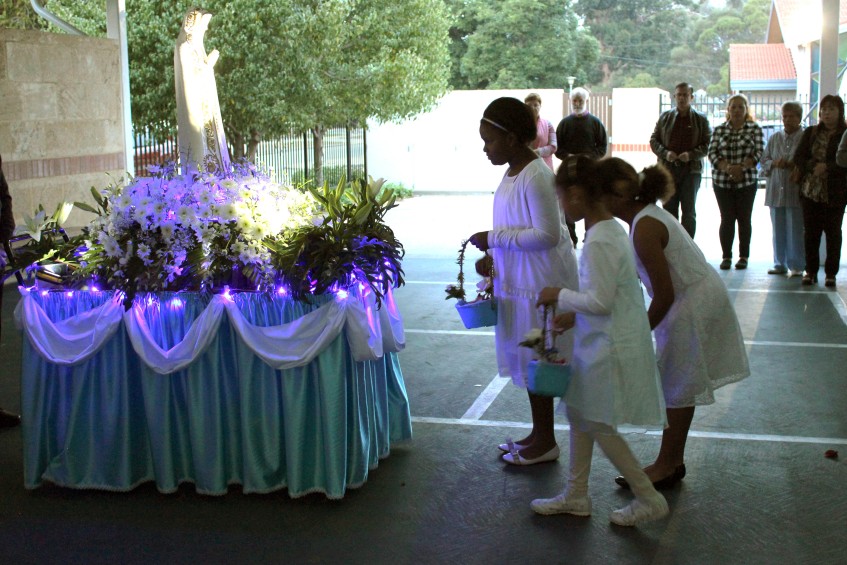 Cloverdale Parish children paying homage to Our Lady of Fatima on Saturday, 13 May. Photo Supplied.
Deacon Atkinson went on to reiterate the Virgin Mary's message to the children in praying the rosary daily, in order to bring peace and an end to the Great War which was raging in Europe at the time.
"100 years later on 23 March, Pope Francis recognised a miracle attributed to the intercession of Jacinta and Francisco. The approval of the miracle was the final step needed before the siblings could be made saints. By signing the decree, the Pope has paved the way for their canonisation," he said.
Particularly thrilled to celebrate the feast day, Deacon Atkinson said that the weekend also held special significance as it was Mother's Day.
"One hundred years after the first apparition, we celebrate a day dedicated to all mothers. We remember our mothers who carried us in their wombs, fed us, clothed us, protected us, taught us, and nurtured us through all forms of difficulties.
"What a great day to call on Mother Mary, the mother of all mothers, the Lady of Fatima to pray for our mothers," he said.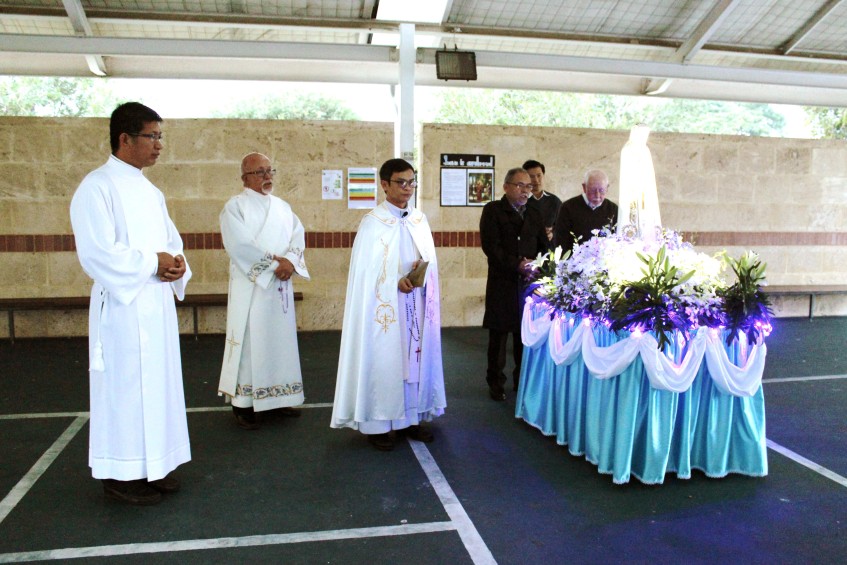 The procession and Mass was celebrated by Parish Priest Father Michael Quynh Do together with Deacon Albert Atkinson and saw many parishioners attend this special feast. Photo: Supplied.
Deacon Atkinson went on to speak about the scripture readings and Gospel and its gentle urgency that said – 'do not let your hearts be troubled. Believe in God, believe also in me'.
"This is a rallying cry to faithfulness as Jesus draws near to His passion and death through which He will return to His Father's house.
"It is a rallying cry to all His disciples who will also go into death, but with confidence that is born out of Jesus' resurrection from the dead.
"Jesus gives teaching on how to come to eternal life, how to find redemption, deep peace and spiritual stability in our life but He also leads us there.
"One way we can do that is by living with the church; trusting our church. We can turn to Mary and ask her to show us how to do that. We can ask for Mother Mary's intercession," he explained.
"When we journey along a well-travelled road, we trust the road because we know it has been made and used by others who have been there before us, putting in bridges, median strips, detours where necessary.
"Others have travelled this way safely. When both the way and the Traveller who has gone before us is Jesus, we should journey with the greatest confidence.
"We have only one life to live. Wouldn't it be tragic to live it fearfully, aimlessly, moving from one place to another, lost in the city, going in circles? But many do. To all of this too, Jesus says, 'I am the Way, the Truth and the Life'.
"We have a purpose here on earth and a destination in eternity with a leader to help us see both. In Jesus Christ, we have the Way, and the Truth and the Life.
In Him we have a guide, a map, and a destination. If we try to follow the Lord every day, as He gives us the light, He will guide us to where we ought to be," Deacon Atkinson concluded.