Archbishop Costelloe blesses new Early Learning Centre at Ursula Frayne Catholic College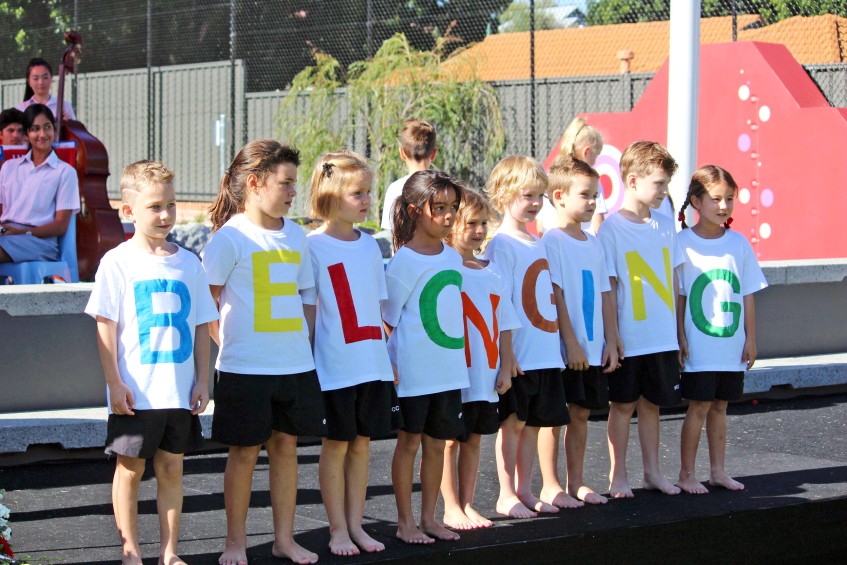 Year one students spelling out the word Belonging from the Early Years Learning Framework to accentuate children's lives by the three B's – Belonging, Being, Becoming. Photo: Supplied
By Natashya Fernandez
It was a momentous day for everyone involved with the opening of the Early Learning Centre on the Balmoral Campus at Ursula Frayne Catholic College last month.
Blessed and opened by Archbishop Timothy Costelloe SDB, the official opening was attended by staff, students, representatives and special guests including Catholic Education Western Australia Executive Director, Dr Tim McDonald, Member for Victoria Park, the Hon Mr Ben Wyatt MLA, Town of Victoria Park Mayor, Mr Trevor Vaughan and Ursula Frayne Catholic College Board Chair, Mrs Tania Baharom.
The special occasion marked another chapter in the history of Catholic education and served as a reminder for the school that has been shaped and formed over its 118-year history into a unique institution that is described as a learning and faith sharing community, "Centred in Christ'.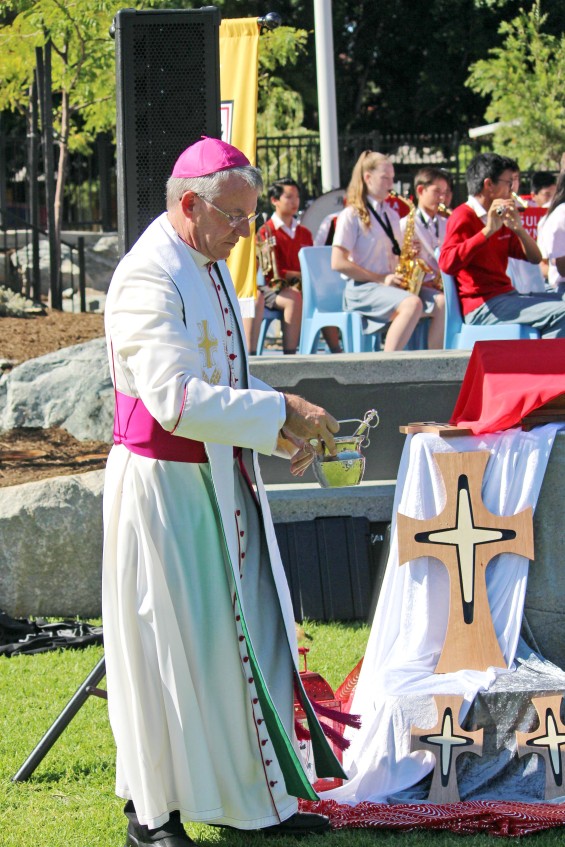 Archbishop Timothy Costelloe blessing the Mercy crosses that will be displayed in the new classrooms. Photo: Supplied
A re-enactment of the scripture reading from the Gospel of Matthew (19:13-15) commenced the liturgical part of the ceremony before Archbishop Costelloe blessed the premises and asked for God's blessings on the new Early Learning Centre, asking that it be a place of community, faith sharing, learning and teaching.
"We ask that those entrusted with the education and care of the students of Ursula Frayne Catholic College teach them well so that they will be able learn together and gain an appreciation for the wonder and joy of the educational adventure that they begin here at Frayne," Archbishop Costelloe prayed.
"God of Grace and Love, you have created each of us in your image. We are privileged to see your face each day as we work with and learn from the precious children in our care.
"Today, we commit ourselves to spreading the good news of Jesus to the children within our school, always remembering that it is to these that the Kingdom of God belongs.
"O God, it is by your favour that today we bless and open this work, dedicated to education. Grant that those who will come here as students or as staff may always pursue the truth and learn to know you, the source of all truth," he prayed.
Special significance was given to the Mercy crosses that will be displayed in the new classrooms, where he prayed over the crosses and then moved through the Early Learning Centre to bless the new buildings before unveiling the plaque and declaring the facility officially opened.
Archbishop Timothy Costelloe blessing the Early Learning Centre with the Principal, Ursula Frayne Catholic College, Mr Geoff Mills, and Director of Catholic Education WA, Dr Timothy McDonald. Photo Supplied
Head of Preparatory School, Ms Sabrina D'Cruze, emphasised that the design and implementation of the centre was driven by a strong desire to continue to enable and support evidence-based best practice in relation to early childhood learning and teaching.
"Early childhood is a vital period in a child's learning and development. The Preparatory School, as the gateway to our College provides for our students a safe and stimulating environment in which they begin their formal educational journey," Ms D'Cruze said.
"We embrace the role of parents in many ways and in doing so; build a home-school partnership that ultimately benefits the children in our care.
"We draw from Early Years Learning Framework to accentuate children's lives by the three B's – Belonging, Being, Becoming.
"Children's connectedness to the world around them is nurtured through interactive play with others and with nature. Their appreciation of the natural environment and interdependence of living things is fostered through their innate curiosity as they witness growth and change in all that God created," she stated.
Primarily accommodating Kindergarten and Pre-Primary year levels, Ms D'Cruze said that the centre incorporates flexible learning spaces.
"Albert Einstein's insightful claim that, 'Logic will get you from A to B. Imagination will take you everywhere' has been visioned with the intentional creation of nooks and the indoor-outdoor connect.
"Likewise, the colours, shapes and textures of our diverse and magnificent Western Australian landscape are captured on the walls, floor coverings and in the furnishings within our Early Learning Centre," she added.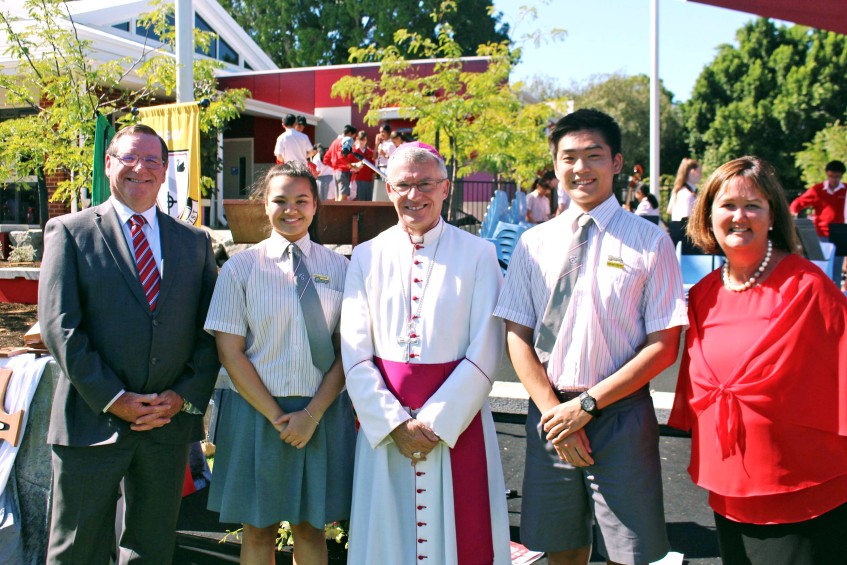 Archbishop Timothy Costelloe (centre) with Mr Geoff Mills (Principal), Mishkaah Sallie (Head Girl), Raymond Yong (Head Boy), and Mrs Veronica Parker (Vice Principal). Photo: Supplied
With an aim for children to learn not only through classroom instructions but also through experiences with nature and purposeful play, Ms D'Cruze said that the external space allows for the teaching of road safety with authentic road signage on the bike track.
"It also encourages experimental and imaginative play in the sandpit, in the boat, with the water pumps as well as and on the river bank. The students can continue to explore and discover in the sensory garden and use the kitchen facilities to cook the vegetables and herbs they have grown.
"Such opportunities for engagement enrich and integrate curriculum content. In trying to encapsulate the aims of our Early Learning Centre, I conclude by quoting one of Benjamin Franklin's statements about learning, 'Tell me and I forget. Teach me and I remember. Involve me and I learn'."