OBITUARY: Deacon Ivan Joseph Sands remembered for fairness and unwavering faith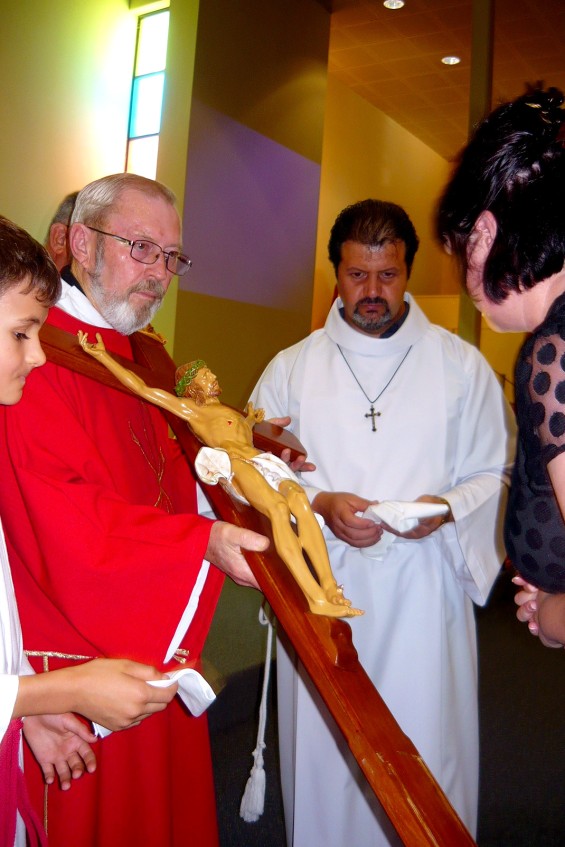 Deacon Sands ministering once more for the Easter Triduum on Holy Thursday, Good Friday and Easter Sunday at his beloved Bassendean Parish. Photo: Supplied.
By Natashya Fernandez and Deacon Bruce Talbot
It was a fitting tribute for Deacon Ivan Joseph Sands who passed away on 23 April this year, just shy of his 75th birthday at his beloved Bassendean home.
His funeral Mass was held on 4 May to a packed Church.
The Mass was celebrated by Emeritus Archbishop Barry Hickey, (who ordained Deacon Sands 11 years ago) and concelebrated by Bassendean Parish Priest Father Kim Son Nguyen and assisted by Deacons Trevor Lyra and Bruce Talbot.
The second born and only boy to Harold and Monica Sands on 12 June 1942, in Mount Magnet, WA, his was a happy childhood with many a moment spent at his family home in Bassendean.
Deacon Sands attended primary school at St Joseph's and went to high school at the newly established De La Salle College in Midland, where he became House Captain and excelled in athletics and Aussie Rules.
His spirited nature and camaraderie led him to have an on-again off-again relationship with the De La Salle Brothers which often had him pulling up weeds in the school oval.
In 2014, Deacon Sands was acknowledged alongside many of his classmates at the 60th anniversary of the now La Salle College – a college that many of his descendants attended and still do today.
Gaining at apprenticeship at the young age of 15, Deacon Sands commenced working as a printer and by 19 years of age, he became the youngest foreman. It was at this age that he met Marion and on 22 May 1965 Deacon Sands and Marion married and were blessed with their first child, Colleen Ann in 1966.
Deacon Sands' career and life took off soon after with the family building their home and him taking up a role with the union – a defining moment in his career and the one move that influenced his future from this point onwards.
Within a short period of time, Deacon Sands began to play a more active role, demonstrating commitment and skill that saw him moving up and joining the Federated Clerks Union.
In the midst of it all, they were building their family with the addition of three more children; Stephen, Jenny and Donna.
In 1974, Deacon Sands unsuccessfully ran for the seat of Mundaring in the WA State elections, with his photo still on file at the WA State Library.
By 1978 and with his career at its peak, Deacon Sands was offered a position in Karratha, as a transfer from the Federated Clerks Union to a local agency representing four Perth based Unions. Recognised for his strong beliefs and negotiating skills, this was a significant career opportunity providing a new direction for the family.
Having told the family the news, they moved to Karratha within three weeks and lived there for his three-year contract. It turned out to be a real adventure for the family.
A highlight of his time in Karratha was when then WA Premier Ray O'Connor knocked on his door wanting his advice and opinion on the status of the current industrial situation.
Over the years, Deacon Sands worked for a variety of unions till a small union, representing teachers working in independent schools, run by an elderly gentleman got his attention.
Having found his passion, from 1986 to 1999 when he retired, Deacon Sands worked determinedly towards the building of the Independent school teachers union. Currently, the boardroom of the Independent Education Union is named in his honour.
Having always instilled in his children and grandchildren the values of fairness, right and wrong, it was these strong morals that let him to assist workers to be better organised during the apartheid era when he visited South Africa.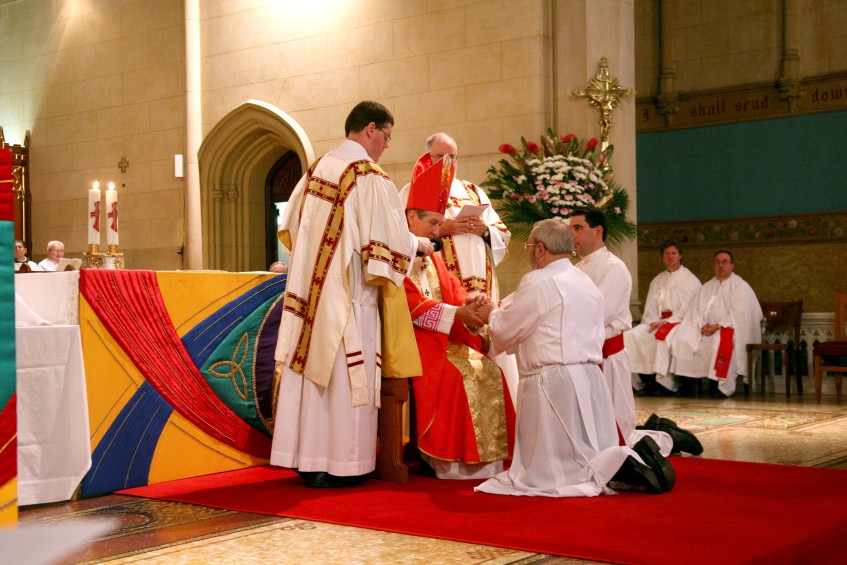 Deacon Ivan Joseph Sands was ordained on the feast of St Peter and Paul on 29 June, 2006 at St Mary's Cathedral, Perth along with 13 others. Photo: Jamie O'Brien.
Always a man of faith, never wavering in his beliefs, Deacon Sands served on many parish boards and councils as the chairman. This ultimately led him to accept the vocation of the Diaconate.
He was ordained on the feast day of St Peter and Paul on 29 June 2006 at St Mary's Cathedral, Perth along with 13 others; the largest ordination of permanent deacons in the Archdiocese of Perth, many of whom attended his funeral.
While the last year of his life became extremely challenging, Deacon Sands wished he could return to the altar and was thrilled to be able to minister once more for the Easter Triduum.
Deacon Sands proclaimed the Gospel on Holy Thursday, Good Friday and Easter Sunday at his beloved Bassendean Parish.
He could not have returned to the Lord in any better way as he passed away the following Sunday morning peacefully in bed, having been the ever faithful servant, his life complete.
Vale Deacon Ivan Joseph Sands.