Helpfulness had no boundaries: Father Michael John Brown OFM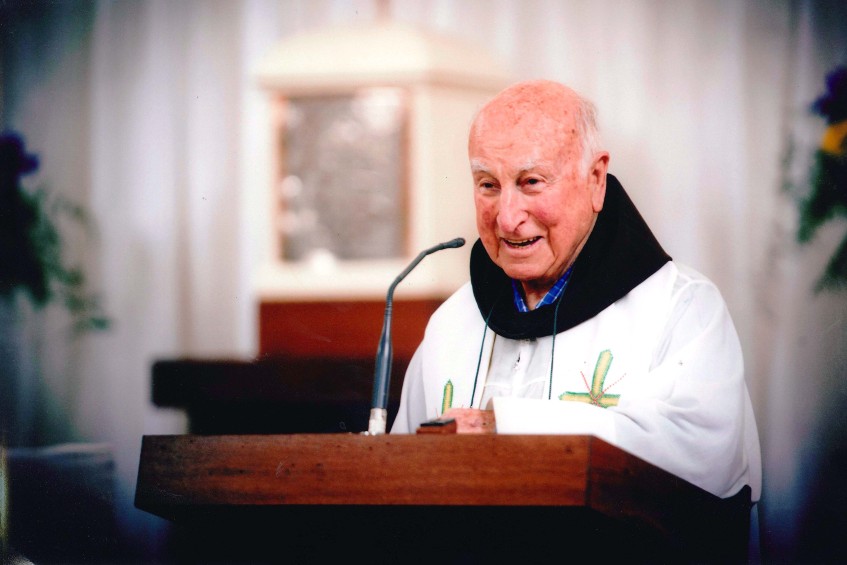 Father Michael John Brown OFM passed away on 31 December, 2016 at the age of 94, in the 67th year of his religious profession and the 61st year of his priestly ordination. Photo: Supplied
By Rachel Curry
A gentle and joyful man whose helpfulness knew no bounds, Father Michael John Brown OFM passed away on 31 December, 2016 at the age of 94.
In the 67th year of his religious profession and the 61st year of his priestly ordination, Fr Brown ministered across Australia as a Parish Priest and Spiritual Director to many in the Archdiocese of Perth.
Below, Neil Brown shares treasured memories of his older brother with The eRecord journalist Rachel Curry. This article also includes excerpts of the eulogy from fellow Franciscan Friar and friend, Fr Bob Matthews OFM.
Michael John Brown was born on 12 July, 1922 in the wheatbelt town of Wyalkatchem, about 200km north-east of Perth, to James and Mary Anne Brown.
One of seven children, Fr Brown moved to Perth with his family as a boy and gained his education at St Mary's Convent School in Maylands and Christian Brothers High School in Highgate.
His younger brother Neil recalled that Fr Brown felt called to be a priest at an early age.
"It was always in his mind from when he was at school. Mum encouraged it, because she was a fairly religious person, but none of the other children wanted to be religious," Neil said.
When he was in his teens, Fr Brown spent a year with the Redemptorists in Galong, New South Wales, but was sent away with advice to seek another career.
Luckily for the countless people he would go on to help as a priest, Fr Brown did not give up hopes of a religious vocation.
However, he would first spend five years in the Royal Australian Air Force during World War II, before returning to his education to gain his Leaving Certificate.
It was while studying at CBC Leederville that Fr Brown met a Franciscan Friar – who was visiting the college on a recruitment drive – and was invited to become a novice in Box Hill, Victoria, which he did in 1948.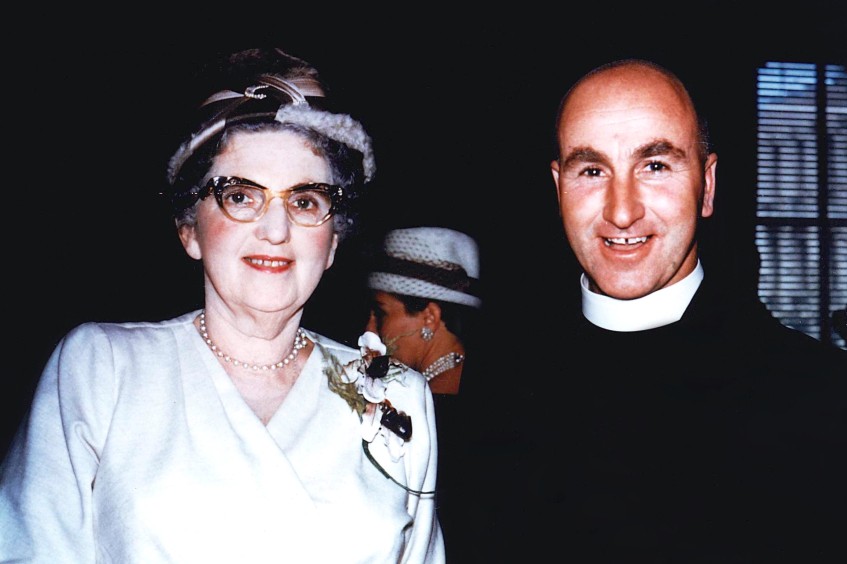 Pictured as a young priest in 1961 with one of his cousins, Father Michael Brown is remembered as a gentle and joyful man whose helpfulness knew no bounds. Photo: Supplied
"People have said it was a late vocation, but it was really a deferred vocation," Neil explained.
"He was refused at Galong and then interrupted by the war. He always said it was what he wanted to do; he never had any regrets."
Fellow Franciscan and friend, Fr Bob Matthews, said in his eulogy that Fr Brown took to the task of his religious studies seriously, though he was not a brilliant academic.
Sport, however, was a different matter.
"He was a good batsman on the cricket field, not easy for a bowler to remove from the crease; he was also a reasonably good footballer," Fr Matthews said.
"Michael was proud of being a Western Australian; he spoke of it with feeling, even as he acknowledged its drawback in remoteness.
"He used to regale us with names of some towns where he grew up – Bencubbin, Muckinbudin, Kunnanoppin and others."
Fr Brown returned to his home state following his ordination on 6 August, 1955, serving as a Parish Assistant in Midland and Collie.
However, he would be called back to Victoria in 1963 to become Assistant Superintendent of Morning Star Boys' Home, before being appointed as Superintendent the following year.
In 1971, Fr Brown became Parish Priest and Guardian to the Franciscan community at Midland.
He held similar roles in various places throughout WA and Queensland over the next 40 years, spreading the message of God's love and kindness through both word and action.
"One memorable aspect of Michael's life was his adherence to the Charismatic Renewal," Fr Matthews recalled.
"He joined in the movement with zeal for himself and for many other people to whom he revealed the source of joy, of faith and a real enjoyment of living an intimate life with Jesus His Lord."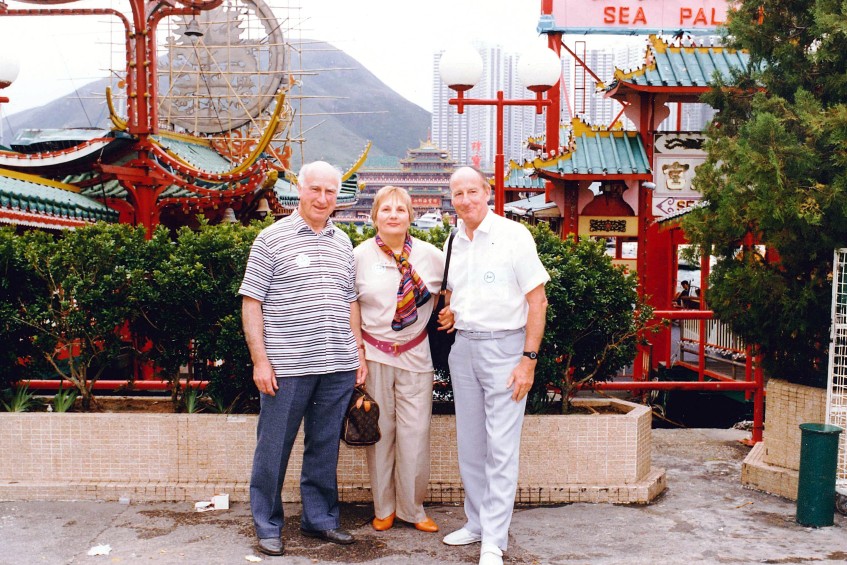 Father Michael Brown (right) was close to his family, including his six siblings. He is pictured with his brother Neil Brown and sister-in-law Margaret Brown in Hong Kong in 1987. Photo: Supplied
Fr Brown expanded his horizons through travel, studying at Steubenville University in Ohio from 1981 to 1982 and spending time in the Holy Land for the Jubilee Year in 2000.
He is fondly remembered by all he met; the Franciscan Friars in Jerusalem even arranged for Mass to be said in his memory at the Church of the Holy Sepulchre after he passed.
However, it is in his home state that Fr Brown will be most keenly missed. Alongside the appointments already mentioned, he had a long association with the Secular Franciscan Order in WA and was a Spiritual Director to many in the Archdiocese.
Neil said his brother was extremely helpful and caring, often spending hours on the phone talking to people.
"Michael was a softly spoken priest, a philosopher more than a bible thumper," he said.
"A lot of people felt like they could tell him anything. He'd try and help you through difficulties rather than going crook at you."
After retiring in 2012, Fr Brown spent his final years in Waverley, NSW, accepting illness and disability with great patience and prayerfulness.
Fr Matthews said he would remember him as a wonderful and faithful friend, who was devoted to his Lord and Mother Mary.
"I remember him as a jovial person, loved a laugh but not at the expense of anyone else. I remember him as gentle, yet firm and strong in principle and conviction," he said.