Hamilton Hill Parish honours priests and community at Golden Jubilee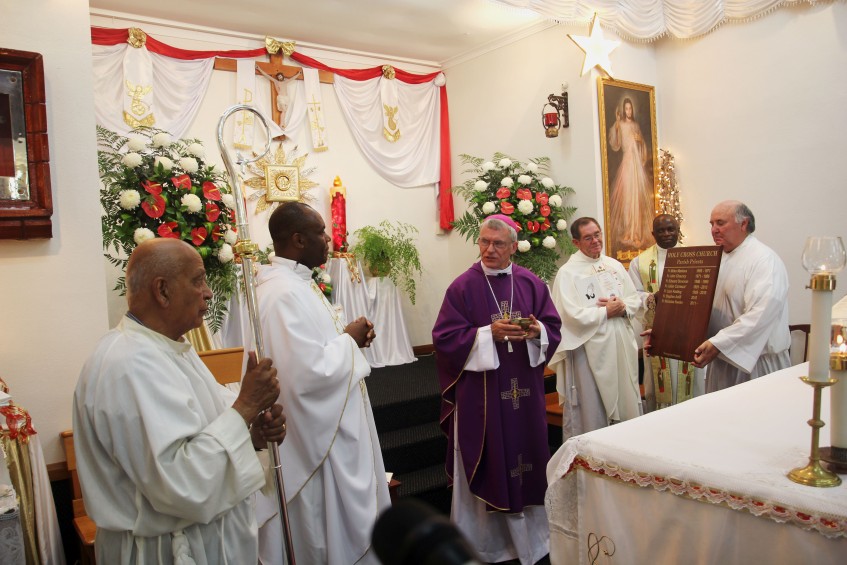 Hamilton Hill's Holy Cross Parish recently celebrated its 50 year anniversary with a morning Mass and the arrival of a new tabernacle and honour board, recognising the many priests who have served there over the years. Photo: Supplied
By Caroline Smith
Hamilton Hill's Holy Cross Parish recently celebrated its 50 year anniversary with a morning Mass and the arrival of a new tabernacle and honour board, recognising the many priests who have served there over the years.
The Mass – which was held on 4 December, 2016 – was celebrated by Archbishop Timothy Costelloe SDB and co-celebrated by Parish Priest Father Nicholas Nweke, Fr Emmanuel-tv Dimobi and Fr Greg Donovan, supported by acolytes John Williams and Des Cox.
The Archbishop blessed the tabernacle and honour board before a congregation of more than 150 people, including parishioners past and present.
Later, parishioners and their families gathered at the West Australian Portuguese Club in Beaconsfield for a ticketed lunch to celebrate the occasion.
Holy Cross Church Hamilton Hill Parish was dedicated as a church in 1966, but had been previously known as Holy Cross Hall, built 10 years earlier by Fr Mirko Maslovar, who served as Parish Priest in Spearwood from 1957 to 1965.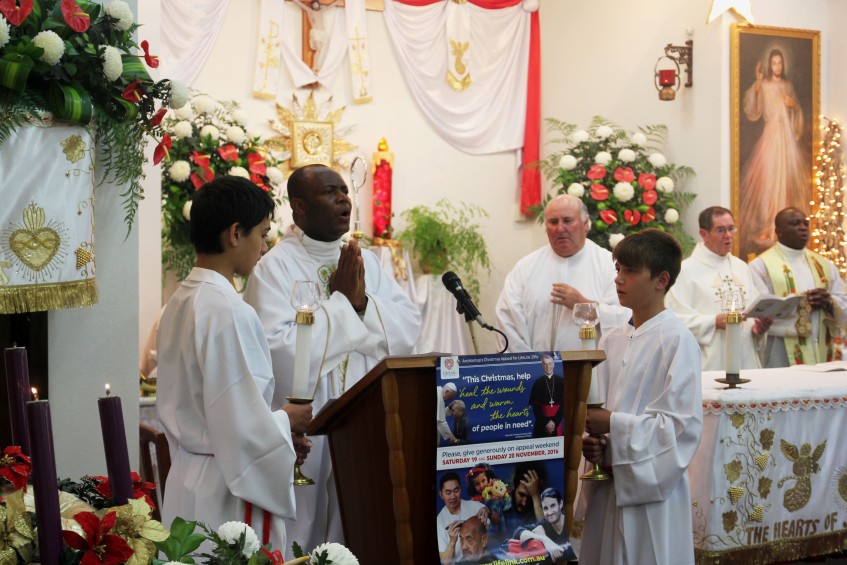 Archbishop Timothy Costelloe celebrated Mass at Holy Cross Church in Hamilton Hill, in honour of its 50 year anniversary, helped by Parish Priest Father Nicholas Nweke. Photo: Supplied
The following year, Holy Cross Hall was converted into a church, dedicated by Bishop Miles McKeon and opened with Fr Maslovar as Parish Priest.
Parish Council Treasurer Bernadette Pinto said the anniversary had been a great opportunity to bring together members of the parish community and to honour those who had been associated with it in the past.
"The Church service was a great opportunity to have Archbishop Costelloe officiate at a Mass," she said.
"And the honour board, which lists all the parish priests who have served at Holy Cross Church Hamilton Hill Parish since 1966, was an important step in recognising them."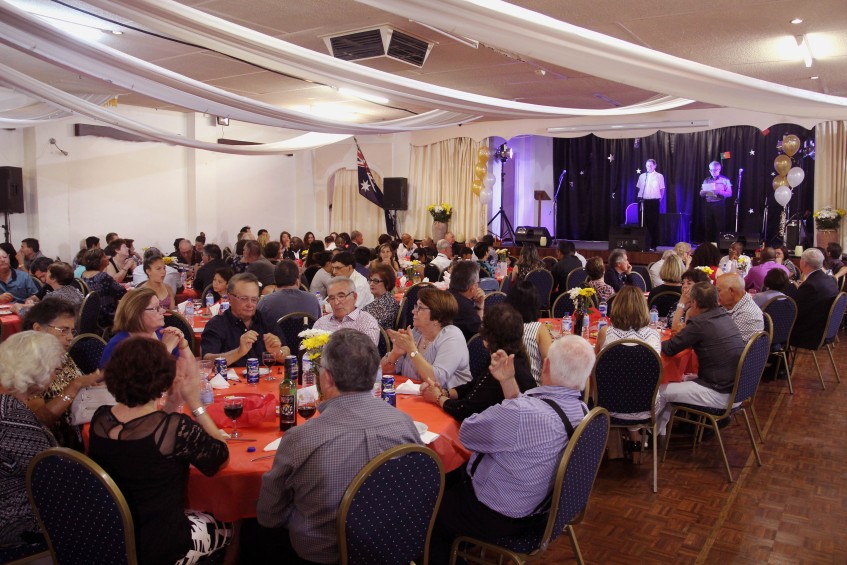 Following the Mass at Holy Cross Church, attendees enjoyed lunch at the WA Portuguese Club to celebrate the anniversary. Photo: Supplied
Congregants at the Mass received a special Mass booklet which outlined the parish history and included photos of its celebrations and feast days.
As a memorial of the event, those who attended also received a prayer card with a picture of the relic of the True Cross which is enshrined in the church. Reflecting on the celebrations and feast days, Ms Pinto said the parish had long been a centre for Portuguese culture and religious celebrations, including Pentecost.
"Holy Cross Church Hamilton Hill Parish has always had a strong connection to the Portuguese community and parishioners of that background have their own feast days throughout the year," she said.
The parish also had a Portuguese chaplain, Fr Julian Carasco, now deceased, who served at Holy Cross Church from 1991 to 2013.
The Parish Council did some fundraising by approaching state and federal members of Fremantle as well as the Fremantle Dockers and local businesses.
The tabernacle was donated by a Portuguese Association from the Hamilton Hill Parish.
Hampers were provided by Portuguese associations within the parish and Fr Nweke donated a framed 'Divine Mercy' picture.