Jacinta adds another string to her bow with national musical appointment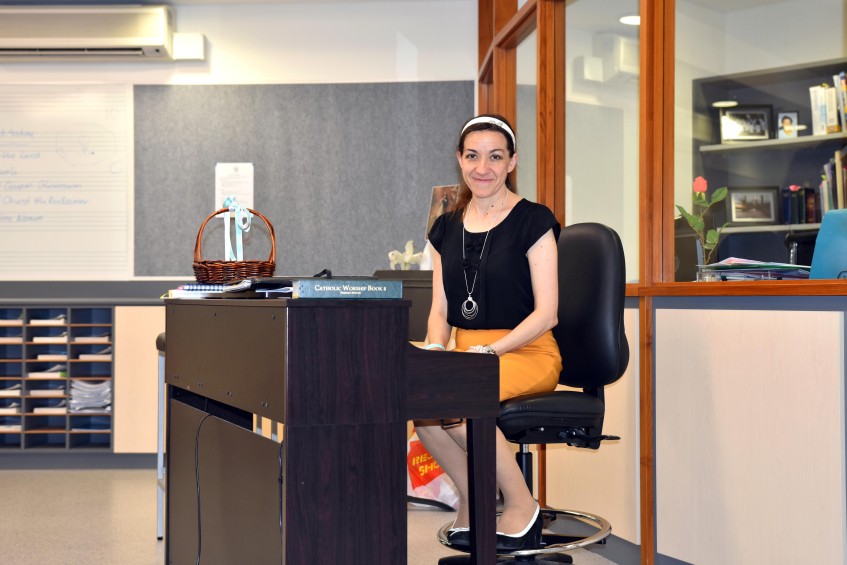 Eight years after becoming Director of Cathedral Music at St Mary's Cathedral in Perth, Jacinta Jakovcevic has been honoured with another role: being named a member of the National Liturgical Music Board. Photo: Caroline Smith
By Caroline Smith
Eight years after becoming Director of Cathedral Music at St Mary's Cathedral in Perth, Jacinta Jakovcevic has been honoured with another role: being named a member of the National Liturgical Music Board.
The board – which includes nine people appointed for three year terms – was established by the Australian Catholic Bishops to advise the Bishops Commission for Liturgy and the National Liturgical Council on matters relating to music in Catholic liturgical worship.
Miss Jakovcevic said the appointment was exciting but entailed a lot of responsibility, and would bring her into contact with the role of music in parishes across Australia.
"It's a wonderful way of contributing both to our local Church here but also to the national Catholic community," she said.
"But it's not just contributing, it's learning, because I come into contact with my colleagues in the eastern states, and learn both what they do and also what their communities do.
"It's a wonderful way of finding out what happens in other parts of Australia, bringing those ideas here, and enriching each other in that respect."
Following her selection earlier this year, Miss Jakovcevic said she had already met up with other board members, and would continue to do so with scheduled meetings in Melbourne and Sydney.
"Our meetings are face-to-face from time to time, and most of the other board members are on the east coast," she said.
"We also communicate via teleconference and video conference – it means that we can discuss things without having to meet face-to-face all the time."
She added that her role at St Mary's Cathedral – which she still holds – had allowed her to focus on specific areas in musical development within the Church, and she hoped to bring these to her new position on the board.
"One of the things I really love is the training and education of young people and how they relate and engage with the Church – how they're immersed in our liturgies, calendar and traditions, and how they're carrying it forward," Miss Jakovcevic said.
"So we're not just immersed in the past but looking to the future, on a continuum."
However, she also maintained that there would be specific tasks that the board would be responsible for, including the promotion and use of the Catholic Worship Book II, which was launched by the previous board.
"We're looking for everyone to be able to use it, so that was one of the first topics that has come through in the past few months," she said.
"It's a wonderful resource because it doesn't just stick to one style. It has lots of different music for different times, and it combines old and new.
"So for example, it has chants in Latin, but with the English translation, so if you haven't studied Latin, you can sing along. It's set out so that if you like, you can sing it in English."