Originally crafted art piece donated to South Perth Parish at Christmas

An authentically made piece of artwork by renowned Irish leadlight artist Richard King was recently donated to South Perth Parish of St Columba's by Monsignor Brian O'Loughlin. The original cartouche (drawing in scroll form) of one of the existing sanctuary leadlight windows arrived at the parish, framed and conserved, on the Fourth Sunday of Advent to complement the one currently on display. Photo: Gary Peters
By Josh Low
An authentic piece of artwork by renowned Irish leadlight artist Richard King was recently donated to South Perth Parish of St Columba's by Monsignor Brian O'Loughlin.
The original cartouche (drawing in scroll form) of one of the existing sanctuary leadlight windows arrived at the parish, framed and conserved, on the Fourth Sunday of Advent to complement the one currently on display.
The piece of artwork, which depicts the Holy Family, was put up for auction in Dublin on the Solemnity of the Immaculate Conception (8 December) in 2015.
When Mgr O'Loughlin learned of the auction, a bid was submitted after consultation with the parish, the Mgr hoping and praying for the intercession of the Virgin Mary.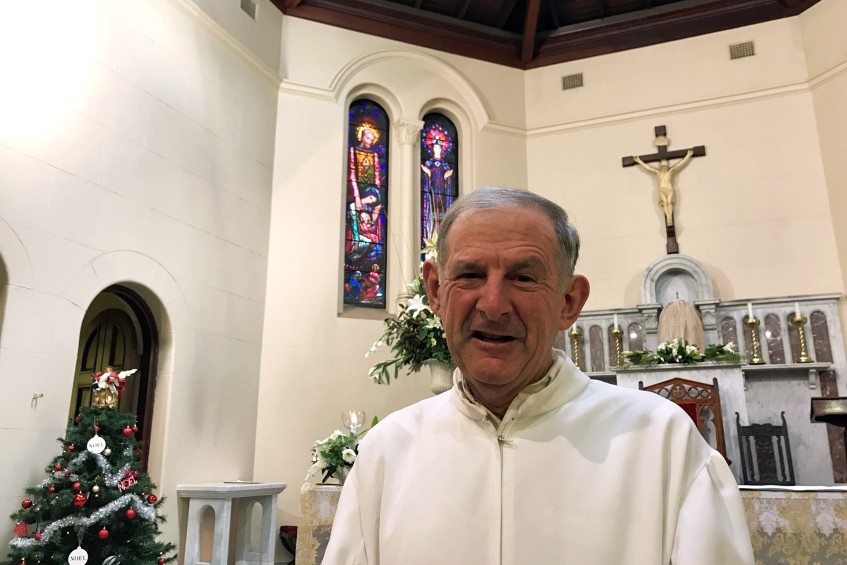 Monsignor Brian O'Loughlin stands in front of leadlight windows at the parish of St Columba's in South Perth. Photo: Supplied
The bid turned out to be successful with the cost then donated as a gift to the parish by Mgr O'Loughlin in memory of his deceased parents, Gerard Patrick, Mary Margaret and his late brothers, Frank, Gerard, Gregory and Mark.
A parishioner, who was visiting Ireland, brought the rolled cartouche back with her for inspection and restoration in Perth.
Upon its arrival earlier in 2016, the 65 year old cartouche was described as stunning by both the auctioneer in Ireland and a local art expert.
Work was then done by local preservationist Paul Malone to restore the piece, with the help of donations by parishioners.
"[It was conserved] by washing and alkalising, backing with Japanese tissue, mounting, matting and framing with UV protective acrylic glazing to a museum standard," Mr Malone said.
The beautifully restored cartouche was blessed at the commencement of Christmas Eve Mass, with an additional blessing for all families present.