Scholarship encourages recipients to dig deeper into biblical texts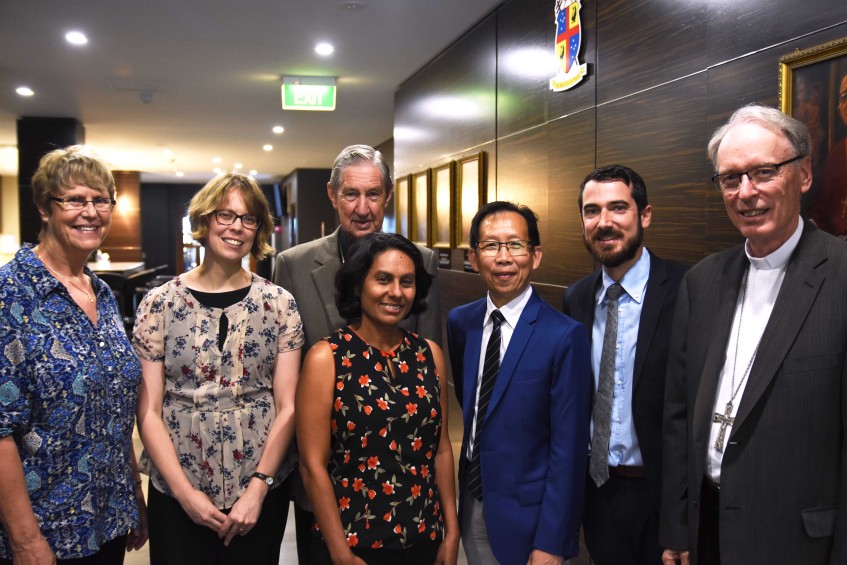 Foundation scholarship committee member, Michele Purcell; Former Director of the CFE, Dr Michelle Jones; Emeritus Archbishop Barry Hickey, scholarship winners Dr Marissa Wettasinghe and Dr Lawrence Pang; CFE Director Dr Marco Ceccarelli and Auxiliary Bishop Donald Sproxton. Photo: Josh Low
By Caroline Smith
Two members of the Perth Archdiocese are looking forward to extending their knowledge of biblical scripture and applying them to their community and other work through a scholarship from the BJ Hickey Biblical Foundation.
Dr Lawrence Pang and Dr Marissa Wettasinghe were awarded the prizes at a recent ceremony at the Catholic Archdiocese of Perth Administration Centre, Griver House.
Held on Friday 17 February, the event was attended by scholarship founder Emeritus Archbishop Barry Hickey, Auxiliary Bishop Donald Sproxton and representatives from the adult faith formation agency of the Archdiocese, the Centre for Faith Enrichment – which judges and awards the scholarships.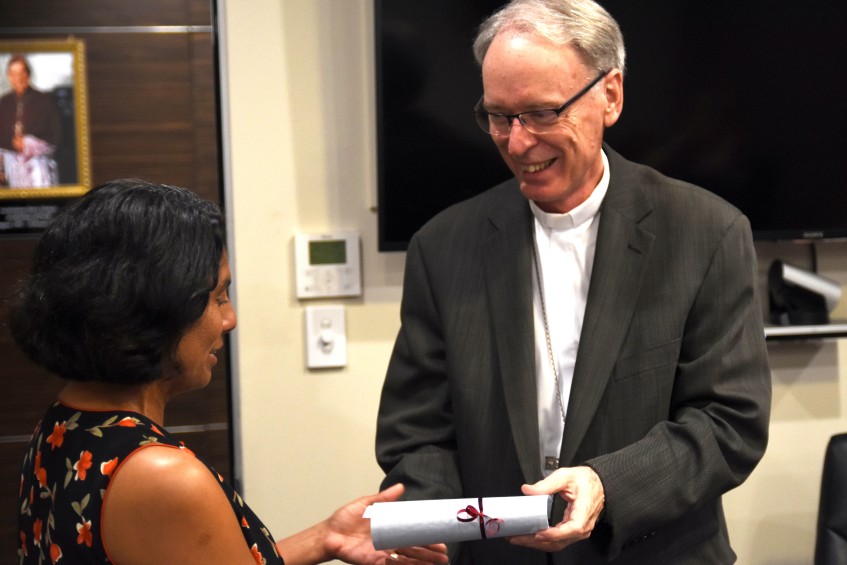 2016 Biblical Foundation scholarship recipient, Dr Marissa Wettasinghe, will undertake six months of intensive online study through the Australian Institute of Theological Education. Photo: Supplied
Now in its fifth year, the Foundation awards scholarships to lay people as well as Religious Sisters and Brothers, who wish to pursue biblical studies of any length and at any level, locally or overseas.
Recipients can undertake in-depth biblical studies through online courses or in-person study – to apply, they must explain how this will be relevant to their current studies or role, and how they will use the knowledge to contribute to the Archdiocese.
Emeritus Archbishop Hickey said his own faith journey had been boosted by undertaking biblical studies in Israel.
"I had a personal conversion, as it were, to the importance of a biblical foundation for our lives," he said.
"I always had a theological foundation, prayerful foundation and philosophical foundation, but I think my knowledge of scripture wasn't sufficiently well-grounded for a number of years because of my studies in Rome, where it was all in Latin.
"But something happened to me in the Holy Land, and this (scholarship) is one of the outcomes: the desire to popularise scripture among the lay people, to offer opportunities for lay people to have some access to the breadth and depth of scripture studies."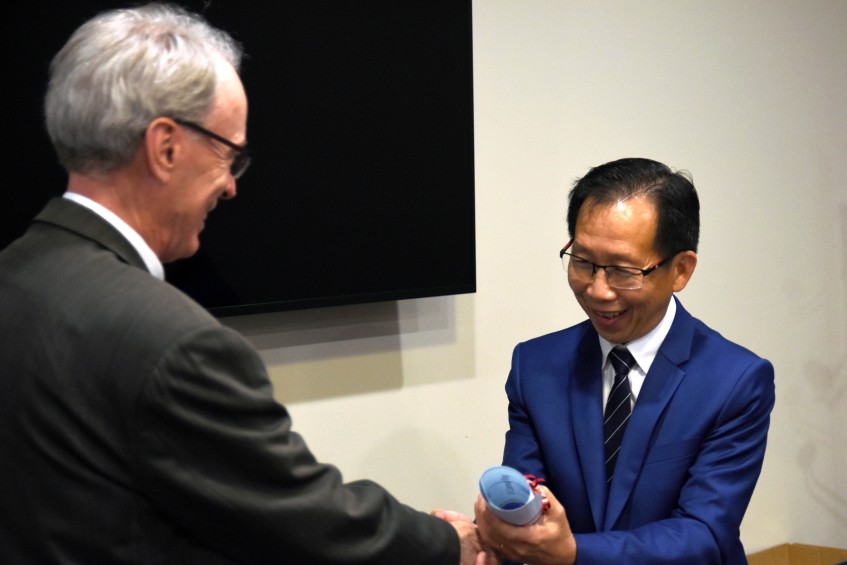 2016 Biblical Foundation scholarship recipient Dr Lawrence Pang will undertake further study at Tantur Ecumenical Institute in Jerusalem. Photo: Supplied
Dr Pang – who teaches theology at the University of Notre Dame Australia in Fremantle – said he was looking forward to spending a month at the Tantur Ecumenical Institute in Jerusalem to further his knowledge of biblical texts.
"Context is an important aspect of my teaching – it's for this reason that I learned Hebrew a few years ago," he said.
"So it will be great to be able to go to Israel and soak in the country's culture and history on the ground, and look at what religion is really like there.
"I'm really looking forward to getting a feel of the Holy Land and hearing local Jewish scholars talk about scripture and about what's going on in the country. It will be a great opportunity to gain that information from a Jewish perspective."
He added that he hopes to pass on the knowledge received to his students at the university, especially seminarians.
For Dr Wettasinghe, whose career has been in education, the knowledge she hopes to gain from biblical studies will be used for a different purpose – helping to strengthen a mother's prayer group she has started.
"I was baptised and brought up Catholic, but my faith deepened in recent years after I became a mother," she said.
"As I was on this spiritual journey, I was looking for like-minded mothers to connect with, and through this I decided to set up a mothers' prayer group. But I found that I was lacking in my biblical knowledge, so I wanted to develop that."
Dr Wettasinghe will study three online courses through the Australian Institute of Theological Education (also known as the Broken Bay Institute, or BBI) over a six month period, and will have the opportunity to attend a conference in Brisbane or Sydney as well.