Personal Advocacy Service volunteers recognised at Missioning Celebration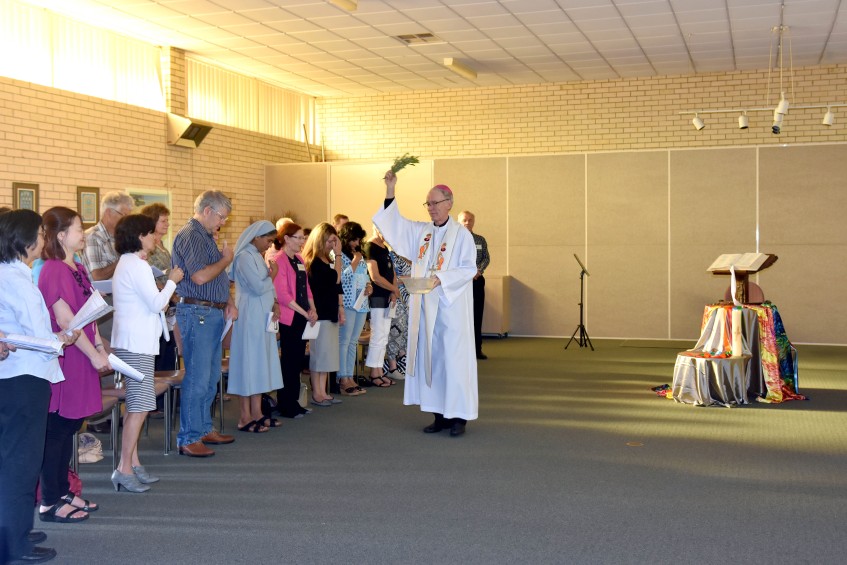 Perth Auxiliary Bishop Donald Sproxton blesses congregants at this year's Missioning Celebration for Personal Advocacy Service. Photo: Caroline Smith
By Caroline Smith
The Holy Spirit gives us strength to do important works in the world, such as helping others, Auxiliary Bishop Donald Sproxton told Personal Advocacy Service volunteers, at their annual Missioning Celebration.
The celebration was held on Sunday 12 February at the Personal Advocacy Service WA (PAS) centre in Morley, with 14 people receiving the Archdiocesan Award for Outstanding Service in recognition of their ministry over 10,15,20 and 25 years.
A total of 73 volunteers were 'missioned' and blessed in recognition of their support for people with intellectual disabilities.
In his homily, Bishop Sproxton recounted how Jesus was able to fulfil the Law of Moses perfectly through His words and actions, and how His spirit can give us the inspiration to put our faith into action.
"The good news from Matthew's Gospel is that it is possible for us to choose to be the best, because with the death and resurrection of Jesus, we are given His Spirit, and it is with this Spirit that we are able to do wonderful things, to be extraordinary people in our world today, to be great witnesses of our faith, and to live that faith as well as we can and be the best that we can be in our faith," he said.
"Only with that Spirit of Jesus is it possible for us to do. And when you look at what you do and what so many wonderful people in the Church do, you might say, if I get involved in these things and am able to do these wonderful works, it's because the Spirit of Jesus is in me too."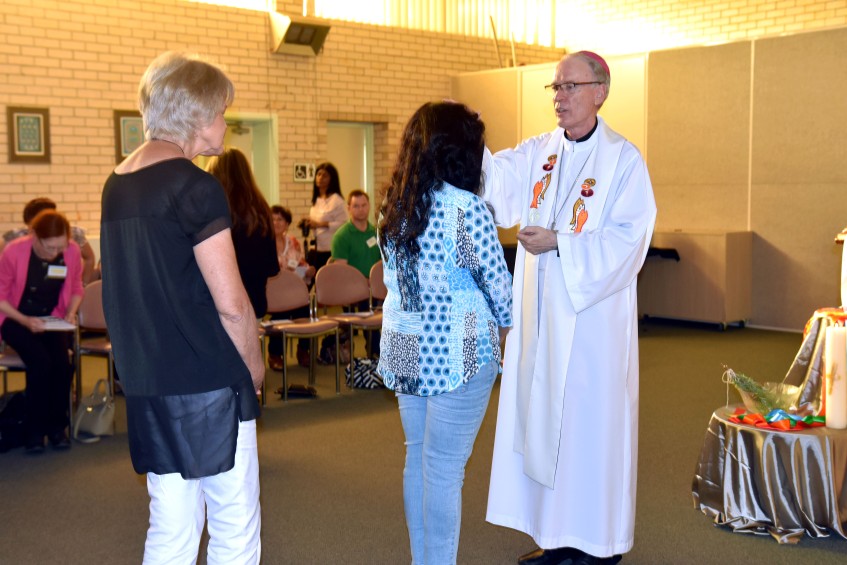 Personal Advocacy Service volunteers are missioned and blessed by Bishop Sproxton during the event in Morley. Photo: Caroline Smith
He added that during tough times, volunteers could look back on the work they had done, and see the inspiration of the Holy Spirit, knowing that it could give them strength again.
"The fact that you have been able to do this work for such a long time, so faithfully, with great commitment, great energy, despite all the misgivings, is a sign to me that the Holy Spirit is in you and working in you," Bishop Sproxton said.
"You might remember that, when you're having a bad day, or when it's not going the way that you want it to. Remember the times when it did work.
"Sometimes we need those memories of the sense of success that the Spirit working with me has been able to achieve."
PAS was set up in 1989 by Sister Eileen Casey rsm following calls from parents of people with disabilities who wanted their children to be included in the life of the Church, and able to access the sacraments.
The agency was established to fulfil this need, through one-to-one friendships and spiritual development.
List of recipients for the Archdiocesan Award for Outstanding Service:
10 years: Dora Carbone, Harold Baldsing, Ian Digney, Robyn Hoffman, Germaine Matison, Eugen Mattes, Trevor Reid and Jillian Ryan.
15 years: Maria Guagliardo, Greg D'Souza and Jean Rodrigues.
20 years: Colleen Van Haeften.
25 years: Nada Clastres and Tom Tranter.
For more information or to become a volunteer with PAS, visit www.paswa.org.au or contact (08) 9275 5388.