Notre Dame confers Honorary Doctorate to Neville Owen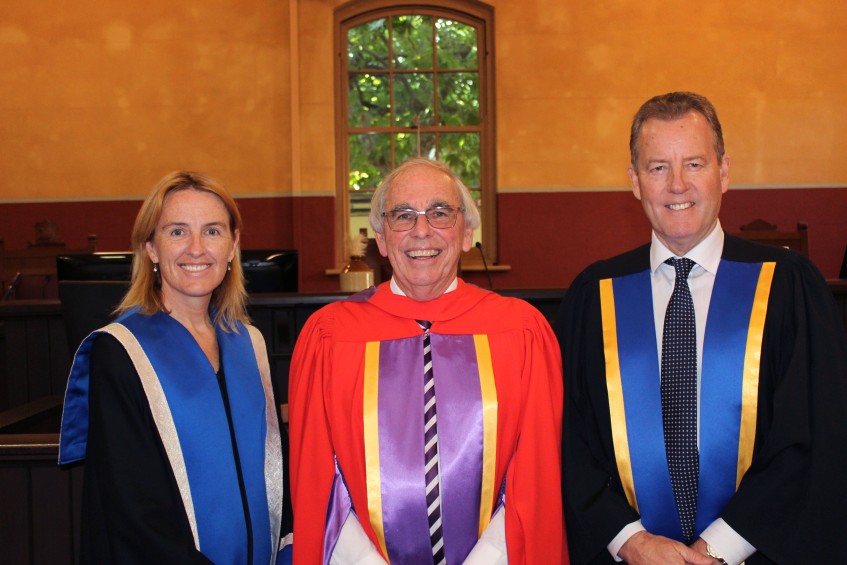 Notre Dame conferred a Doctor of Laws to the Hon Neville Owen for his tireless and faithful commitment to the legal profession, most notably as the Senior Judge of the Court of Appeal of the WA Supreme Court, at its Graduation Ceremony on Wednesday 14 December 2016. Photo: Supplied
The University of Notre Dame has conferred a Doctor of Laws to the Honourable Neville Owen for his tireless and faithful commitment to the legal profession, most notably as the Senior Judge of the Court of Appeal of the WA Supreme Court, at its Graduation Ceremony at the end of 2016.
The Hon Owen is a former Chancellor of the University and has been an active contributor to the University community since 1997 when he was a founding member of the School of Law Advisory Board.
He was appointed as a Governor of The University of Notre Dame Australia in 1997, and a Trustee and Director of the institution in 2005.
In 2011, Notre Dame named its newly restored courthouse on the Fremantle Campus in his honour.
The Justice Owen Moot Court aims to inspire future lawyers to approach their professional life in the same ethical light that the Hon Owen did throughout his career.
With a special interest in corporate governance, commercial litigation, corporate insolvency and business ethics, the Hon Owen's legal career was wide and varied.
Most notably, he oversaw the Bell Group litigation, which commenced in 2003, and was one of Australia's longest running and most expensive civil actions.
After 400 sitting days and the tender of more than 85,000 documents, the Hon Owen delivered his final judgement in 2008.
"The Hon Owen is a man of the highest integrity and ethical standards. He is a man of decency, intelligence, wisdom and humility. He is someone who fulfils duty and obligation, and he does so with goodness and humanity.
"He is a man of character and he is a man of faith, who has used his considerable gifts and talents in the service of others and for the betterment of society," Professor Celia Hammond, Notre Dame's Vice Chancellor, said in her citation.
"On countless occasions, he has given freely of his time and his wisdom to members of the Notre Dame community. He has taught our students, he has offered professional development to staff, and he has given sage words of advice and counsel to Vice Chancellors, executive staff, and other governance members."
During his speech, the Hon Owen explored two sets of learned experiences that would assist a graduate's decision-making process in their employment – the ideals of 'profession' and a university education.
"The decision-making process can be challenging and there will be many occasions on which you will agonise about how to reconcile the competing interests and factors with which you are confronted," the Hon Owen said to his fellow graduates.
"The ideals of profession and your university education can be faithful companions leading you towards a process of decision-making that will more often than not lead to a right result."
The Hon Owen also congratulated each graduate on their achievements and encouraged them to be proud of their Notre Dame degree as they entered the professional world.
The strange journey to the land we do not know is the path on which your professional life will take, along with many surprises on the way. It will be an exciting time," the Hon Owen said.
"I congratulate each and every one of you on reaching this milestone in your life's journey. It is one of many that you will encounter in a way of life that has endless possibilities and promises of great things."