2017 CEWA COMMISSIONING MASS: New teachers and principals called to focus on kindness, knowledge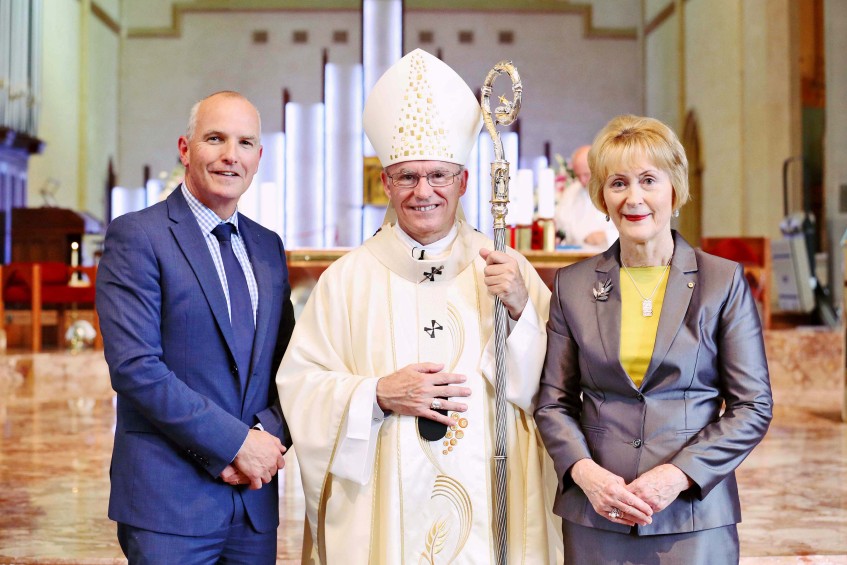 Executive Director of Catholic Education WA (CEWA) Dr Tim McDonald with Perth Archbishop Timothy Costelloe and Honourable Governor of Western Australia Kerry Sanderson at the recent commissioning Mass for new staff. Photo: Supplied
By Caroline Smith
Archbishop Timothy Costelloe has last week encouraged teachers from across the Archdiocese to focus on providing both kindness and knowledge to the students in their care.

The Archbishop was speaking at the 2017 Catholic Education Commissioning Mass held at St Mary's Cathedral on Tuesday 31 January where some 60 new teachers and principals were commissioned to serve in local Catholic schools.

The Archbishop went on to say that St John Bosco – whose feast day was celebrated on that date – could be used as an inspiring model for people involved in education.

The celebration brought together more than 800 people connected with Catholic Education WA (CEWA), and was con-celebrated by Auxiliary Bishop Donald Sproxton, Vicar General Father Peter Whitely, Monsignor Michael Keating, Fr Nino Vinciguerra, Fr Daniel Boyd and Fr Brennan Sia as MC.

During the Mass, new staff were invited to the front of the Cathedral, where they were commissioned and received a blessing from the Archbishop.

"It is particularly appropriate that we should be celebrating this Commissioning Mass on the feast of Don Bosco, because his whole life was dedicated to the care of young people, and especially those who were poor, disadvantaged or pushed to the margins," Archbishop Costelloe said.

"Don Bosco was committed to providing the young with the best education possible…as we look for inspiration to the great figures in our Catholic tradition to keep us grounded in our work for the young, Don Bosco is certainly one of those people who have something valuable to teach us."

The Archbishop continued by saying that for Don Bosco, the key to an effective education, which might also be the key to effective parenting, is to know each young person so well that you develop an instinct about what you need to say or do to help each young person individually feel loved, respected, valued and honoured.

"This is the way Jesus loved, as a careful reading of the Gospel will quickly reveal, and it is Don Bosco's gift to the Church that he clarified, by his life, what this means in relation to young people."

CEWA Executive Director, Dr Tim McDonald, emphasised the importance of helping young people grow in their faith and reach their potential.

"As staff in the school communities we serve, we are called to work together, to create extraordinary learning environments; to actively support the wellbeing of students and staff and to provide inclusive Catholic education for all who seek it," he said.

"It requires that we use our personal gifts and collective resources responsibly and generously. And above all, that we grow as Jesus' disciples and help others to know His Good News."

Community leaders and local government representatives were also present at the service, including the Honourable Governor of Western Australia Kerry Sanderson, Shadow Minister for Education Hon Sue Ellery and Executive Officer of the Parents and Friends Association of Western Australia Siobhan Allen.