Leaders in faith: Meet the Archdiocese of Perth's three new directors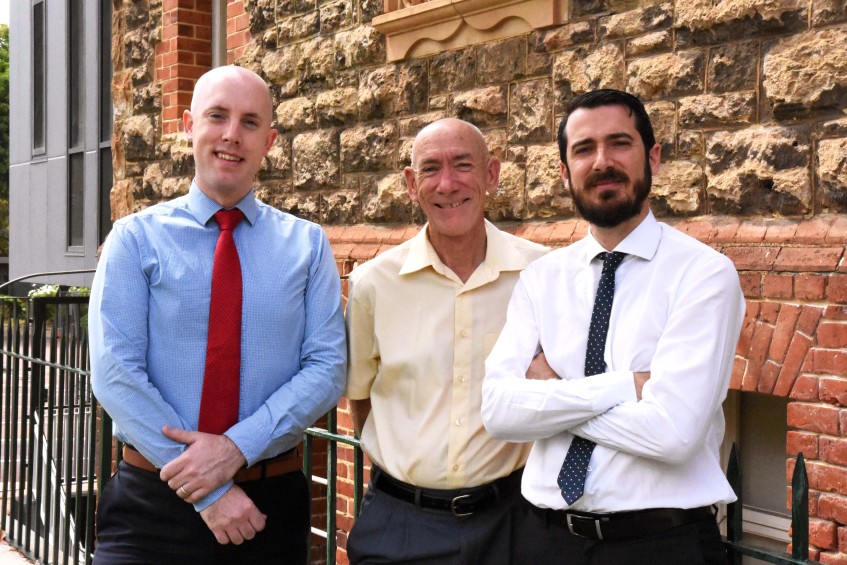 Left to right: Recently appointed Director of the Archdiocesan Archives Office, Mr Odhran O'Brien, Director of The Shopfront, Mr Damian Walsh and Director of the Centre for Faith Enrichment, Dr Marco Ceccarelli. Photo: Daniele Foti-Cuzzola
By Jamie O'Brien and Rachel Curry
It has been an exciting start to the year for the Archdiocese of Perth, with three new directors bringing a mix of innovation and experience to their roles.
Director of Archives, Odhran O'Brien; Director of the Centre for Faith Enrichment (CFE), Marco Ceccarelli and Director of The Shopfront, Damian Walsh were all recently appointed to their positions, but they are far from strangers to the Archdiocese.
Mr O'Brien will start at the Archives in mid-February, after previously working as Manager of Heritage for the Archdiocese of Perth and Heritage Advisor for the Town of Claremont. He is also completing a PhD in History at the University of Western Australia.
Originally from County Galway in Ireland, Mr O'Brien has spent most of his life in Perth.
He told The eRecord that he was passionate about preserving the history of the Catholic Church in WA.
"The Catholic Archives contains the records of the past archbishops and bishops; it also holds many other documents which tell the story of the faith in WA and those who worked diligently to cement it here," he said.
"I am honoured to help conserve that story for future generations."
Mr O'Brien, who is soon to become a father for the first time, said there were many things he hoped to achieve in his new role at the Archives.
"Foremost I hope to boost its research profile and begin a major digitisation program for its most fragile documents, many of which are 19th century," he said.
"There is a very rich collection in the Archdiocesan Archives, which links into New Norcia, the State Records Office and many other important collections.
"We need to ensure that the collection's potential to tell the story of local Catholic history, as well as that of WA, is maximised."
The new Director of CFE, Dr Ceccarelli, will also be familiar to many in the Archdiocese.
A former sessional lecturer and PhD graduate in History and European Studies at the University of WA, Dr Ceccarelli has spent the past two years working as a Journalist at the Archdiocese Communications Office.
He believes these experiences will hold him in good stead in his new role.
"I bring more than a decade of experience teaching in higher education, developing, promoting and coordinating courses for adults, combined with a passion for adult faith and knowledge of our Archdiocese," he said.
"I also believe that having worked two years in the Archdiocese as a journalist will go a long way in helping me effectively communicate with the community and attract people to see the richness of the CFE's courses."
Dr Ceccarelli hails from Rome, but moved to Perth with his parents and five siblings at the age of 10.
A member of Mirrabooka Parish, he said his faith had been at the front and centre of some of the biggest decisions in his life, including his choice of studies, career and family.
"It continues to shape me and helps me to break out of a narrow vision of life and seek to know God more and more," he said.
"While there have been times, particularly in my teenage years, in which I questioned my faith and could feel that it wasn't playing a dominant role in my life, I have felt that God has always come to search for me to bring me back into the Christian community."
The new Director of The Shopfront, Mr Walsh, also places faith at the centre of his life as a member of East Victoria Park Parish.
"Being human, we are all searching for meaning in life. My faith is a practical outlet for where I find life," he said.
"My faith is a personal choice (although I'm a cradle Catholic), as I find strength in knowing that my God is accepting of difference and loves us, despite when we get things wrong."
Having spent more than 20 years working with people on the margins, Mr Walsh is well suited to his new role at The Shopfront.
Originally from Melbourne, he came to Perth in 1998 to become Director of The Living Centre, an Archdiocesan drop-in and pastoral care centre for people living with HIV/AIDS and their families.
For the past two years he has been working within the Mission Directorate of the Christian Brothers Oceania Province. He is also Chair of the Committee of Management for the Archdiocese's Justice, Ecology and Development Office.
Mr Walsh said that patience, a willingness to accept people and experience working with volunteers were valuable qualities he hoped to bring to The Shopfront.
"People are people and because they are human, deserve acceptance, respect and care – regardless of race, colour, creed or life situation. The Shopfront is a tangible expression of this," he said.
Mr Walsh added that his first task at the agency would be ensuring that its policies and procedures were aligned with the new Archdiocesan Plan.
He also plans to increase engagement with parishes and review The Shopfront's services to ensure they were meeting community needs.