Archbishop Costelloe blesses and opens new Identitywa offices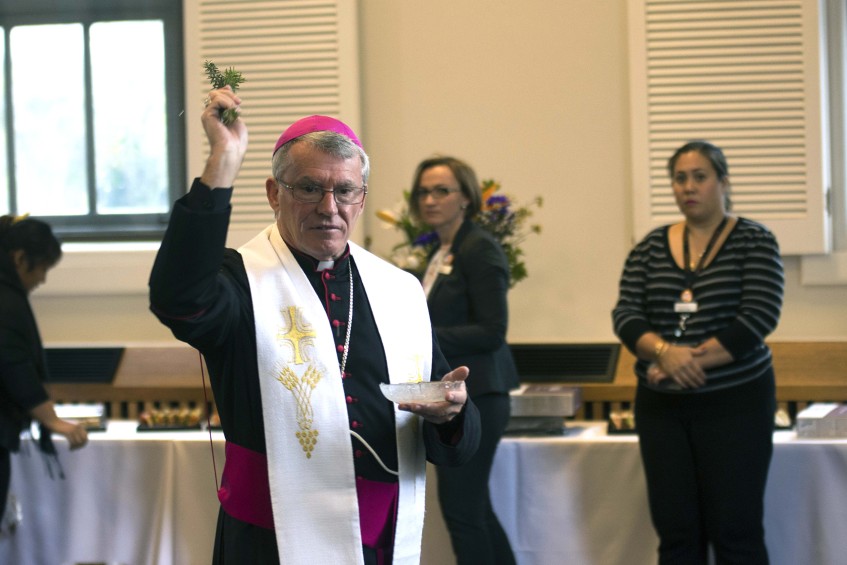 Archbishop Timothy Costelloe blesses the new Identitywa offices on Thursday 3 August. Photo: Josh Low.
Archbishop Timothy Costelloe SDB has last week blessed and opened the new offices of Identitywa.
Present for the occasion were Western Australian Minister for Disability Services, the Hon Stephen Dawson MLC, together with representatives from across the Archdiocese, as well as the Sisters of Mercy, partner organisations and other WA disability agencies.
The new offices are located at the former St Brigid's Northbridge on Fitzgerald Street, which were also offices for the (now former) Archdiocese Finance Office until mid-2016.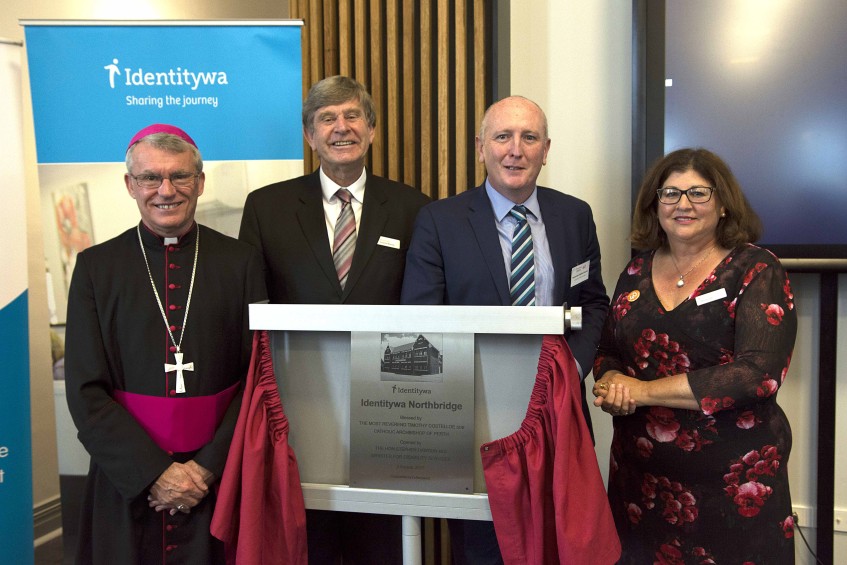 Perth Archbishop Timothy Costelloe with Identitywa Board Chair, Graeme Mander, WA Minister for Disability Services, the Hon Stephen Dawson MLC and Identitywa CEO, Marina Re at the official opening and blessing of the new Identitywa offices. Photo: Josh Low.
Identitywa Board Chair Graeme Mander welcomed guests, acknowledging the significant history of Identitywa and its role in providing services to people with disability and their families.
A Welcome to Country was then conducted by Whadjuk/Balardong Noongar Professor Len Collard, who spoke of the importance of the now Australian tradition.
"It is a diplomatic tool which signifies respect and engagement," he explained.
Prof Collard took the opportunity to extend his thanks to Identitywa for the service it gave to the community and presented CEO, Marina Re with a 'Kylie' (Nyungar word for boomerang) as a token of thanks.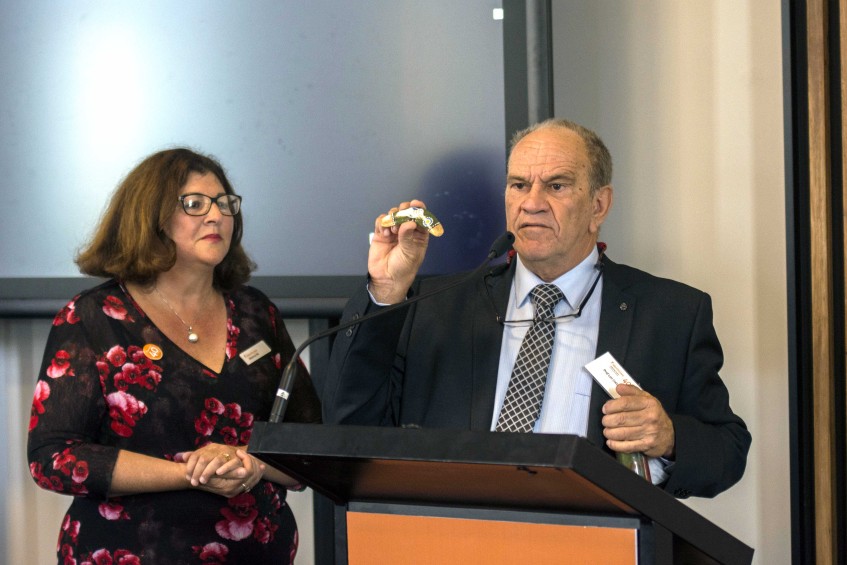 Identiitywa CEO Marina Re with Prof Len Collard who conducted the Welcome to Country during the opening and blessing of the new offices for Identitywa. Photo: Josh Low.
Minister for Disability Services, the Hon Stephen Dawson MLC congratulated Identitywa on its 40th anniversary this year.
"The move to such a beautiful, custom designed location, is the beginning of a new and exciting era for Identitywa," Minster Dawson said.
"I congratulate you for realising your dreams and potential," he said.
Archbishop Costelloe reflected on the "blessed opportunity" Identitywa has as an outreach of the Archdiocese.
"I am reminded of Pope Francis's words, "Warmer of people's hearts…healer of people's wounds," Archbishop Costelloe said.
"May Identitywa continue to provide this important service – may it continue to be a blessing to all," he said.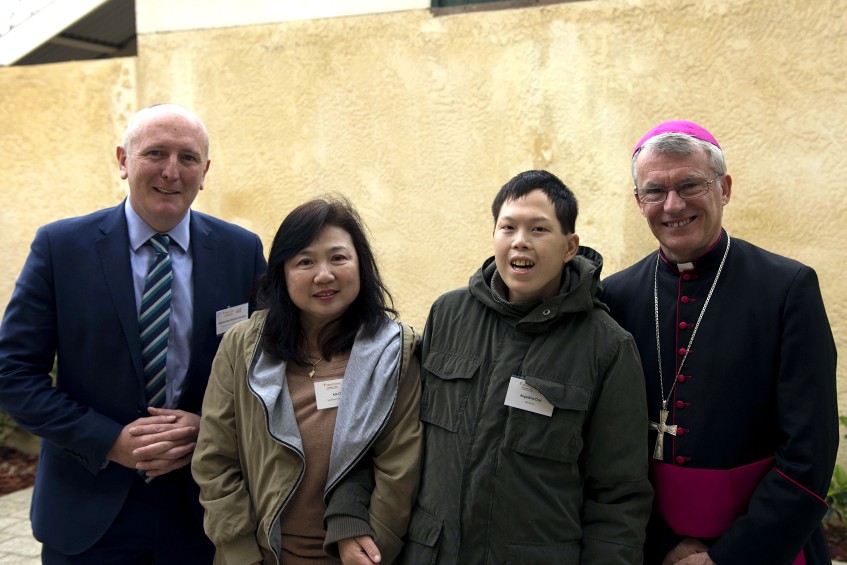 WA Minister for Disability Services, the Hon Stephen Dawson MLC with Archbishop Costelloe and people whom Identitywa support. Photo: Josh Low.
Identitywa CEO Marina Re concluded the event by acknowledging the founders of the organisation.
"We are here today because of the vision of others who have come before us," Mrs Re said.
"We are humbled by the foresight and strength of the founding families who demanded a better world for their sons and daughters.
"Their aspiration is our daily inspiration and it has remained at the forefront of Identitywa and continues to drive us to raise the bar and strive for a good life for all.
"I like to think that these historic buildings retain some of the passion and spirit of the past occupants, those blessed with a sense of service to others and a lifetime dedication to bringing the best out in those to whom they ministered.
"It is a wonderful legacy and one which we will try hard to continue.
"As an agency of the Archdiocese of Perth, we are blessed with many supporters who believe in our mission and work with us in partnership to ensure the continued success of Identitywa," Mrs Re said.