Annual Marriage Day Mass to be celebration of love and faith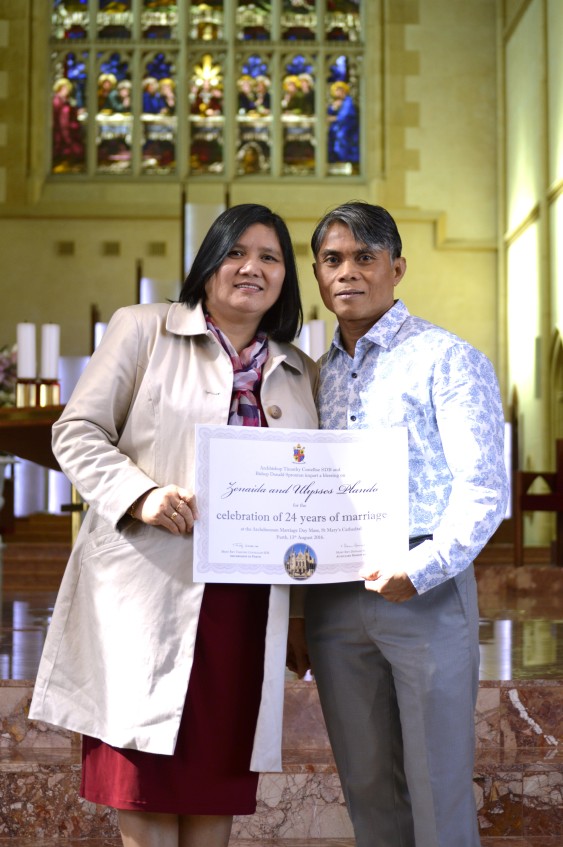 Zenaida and Ulysses Plando, one of the couples who received a certificate honouring their 24 years of marriage at last year's annual Marriage Day Mass at St Mary's Cathedral. Photo: Marco Ceccarelli.
By Caroline Smith
Pope Francis' Apostolic Exhortation Amoris Laetitia (The Joy of Love) can provide married couples with a great source of inspiration and practical advice, according to Catholic Marriage and Fertility Services Director, Derek Boylen.
Speaking to The eRecord in the lead up to the Archdiocese of Perth's Annual Marriage Day Mass, Mr Boylen said the Apostolic Exhortation is both a reflection on the joy of marriage and a helpful support to those looking for answers and guidance.
"Amoris Laetitia is fantastic: I would recommend that every couple should read it, as it gives so much practical and pragmatic advice," he said.
Key to its message was the connection made by Pope Francis between the love of God evident in the Old and New Testaments, and the love expressed between a couple through a sacramental marriage, he added.
"Pope Francis makes a great analogy for this, saying that every sacramental marriage with its concern, caring and dedication, mirrors the love that God has for us, and the Church and its people are witnesses to this," Mr Boylen said.
Amoris Laetitia was released in April 2016 following the Synods of the Family held in the previous two years.
Mr Boylen said the celebration of the Marriage Day Mass, which will be held at 10am on Saturday 12 August at St Mary's Cathedral, indicates the importance of marriage within the Catholic community.
"Marriage is the most ancient sacrament in the Church, as Pope John Paul II tells us, and married couples make such a significant contributions to the life of the Church itself," he said.
The Mass will be celebrated by Archbishop Timothy Costelloe SDB, who will offer a blessing to all married couples in attendance. Commemorative certificates will also be offered to people celebrating 25, 30, 40, 50, 60 or even 70 years of marriage.
For more information on the Mass, please contact Catholic Marriage and Fertility Services on 08 9241 5000.