2017 Child Protection Week Breakfast to launch Protecting God's Children Handbook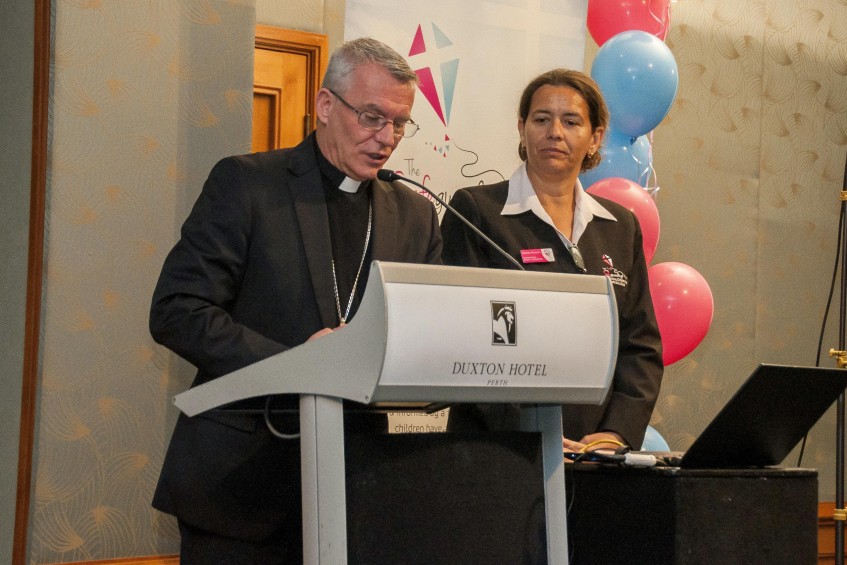 Archbishop Timothy Costelloe speaking at last year's Child Protection Breakfast held at the Duxton Hotel, with Safeguarding Office Director Andrea Musulin. Photo: Marco Ceccarelli.
Following the success of its inauguration last year, the 2017 Child Protection Week Breakfast will take place this year on Tuesday 5 September at the Duxton Hotel.
Hosted by the Archdiocese of Perth, the event will see many dignitaries, schools and lay people come together to highlight the importance of safeguarding children from abuse.
Coinciding with National Child Protection Week from 3 to 9 September, the theme this year is "Primary Prevention" and "Stronger Communities, Safer Children" as set out by the National Association for the Prevention of Child Abuse and Neglect.
The highlight of the breakfast among many other activities will be the launch of the new resource for parents titled - Protecting Gods Children – A Catholic Parents Guide to Keeping their Children Safe.
There will also be performances from primary and secondary students from Catholic Schools as well as a poster competition, in addition to the WA NAPCAN Play Your Part Awards, which will be presented by the Office of the Children's Commissioner at the breakfast event.
Archdiocesan Safeguarding Office Director Andrea Musulin said that while there are still challenges faced in this area, "we have to empower children to talk about abuse when it happens and for the wider society to embrace the voice of the child and to value children."
She also added that the Safeguarding Project that has been in place for the last two years has developed into one of the finest examples of how churches and institutions can play their part in protecting children.
"This takes change and persistence but when you get a group of 225 committed Catholics playing their part, plus an Archbishop and clergy who support them, that is when real change happens and this is what we are seeing in the Perth Catholic Archdiocese; 225 motivated committed Safeguarding Officers working on the self-level to bring about real change and outcomes for children and families.
"This work has also become part of the Churches Mission which is great as it highlights the importance of child protection and what can be achieved when we all work towards a common goal," Ms Musulin said.
Parishes across Australia are also being encouraged to celebrate Child Protection Sunday on 10 September, focussed on the theme – See Me, Hear Me where each child attending the Mass, will receive a Helping Hand poster to work with their parents in identifying five people they trust, Ms Musulin added.
"We will also host a series of Protective Behaviours Parent Workshops in which all parents will be provided with a free copy of the Parent Resource," she said.
More information on celebrating a Child Protection Week Mass in your parish will be available next week via The eRecord.
To know more about National Child Protection Week including the workshops, visit www.napcan.org.au/ncpw/
To register to attend the Child Protection Breakfast, contact safeguarding@perthcatholic.org.auor call 08 9221 7763