2016 SOCIAL JUSTICE STATEMENT: Perth launch heralds personal story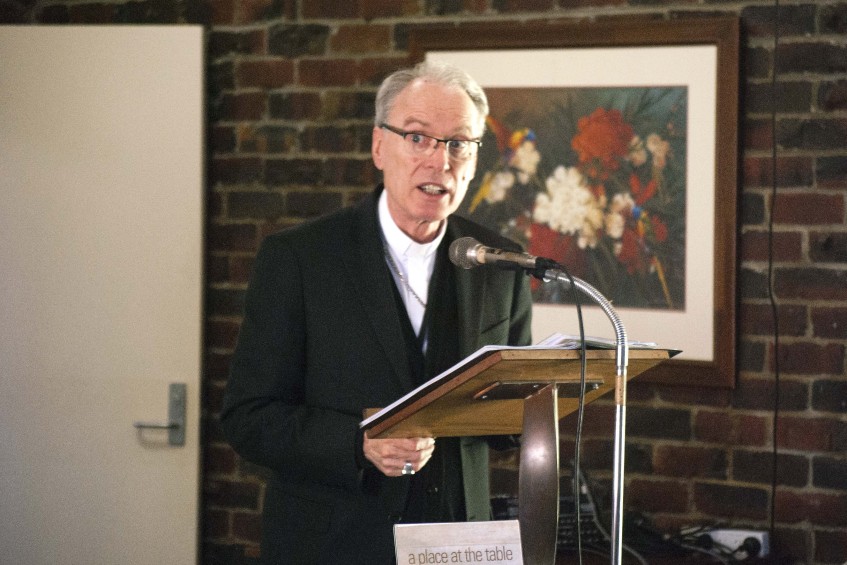 Auxiliary Bishop Don Sproxton addresses the audience at the Perth Launch of the 2016-2017 Social Justice Statement on Tuesday, 20 September. Photo: Rachel Curry

By Rachel Curry
Described as a text that will touch the heart of every person in our society, the Australian Catholic Bishops' 2016-2017 Social Justice Statement has been launched locally in Perth by Auxiliary Bishop Don Sproxton.
A Place at the Table: Social Justice in an Ageing Society was launched on Tuesday, 20 September in front of an audience of both young and older faces at the Redemptorist Monastery in North Perth, following the national launch earlier this month.
The statement highlights the ageing of our population – rightly described as 'the great success story of human development' – and the need to support and value older people in Australian life, while fighting the 'throw-away' culture that threatens their sanctity and dignity.
During his speech for the occasion, Bishop Sproxton shared a personal story, recalling how he moved back in with his father for the last three years that he was able to live independently.
As a veteran, his father was entitled to phone care and nursing services, Bishop Sproxton said. He also had regular visits from friends and was able to put his knowledge of military operations during World War II to good use by contributing to a book.
"You see, there was a place at the table for Dad," Bishop Sproxton said.
"His experiences and engagement with life were vital to him, to his family but also to his comrades. By and large, you would say that he had a fortunate life, right through to the end."
Bishop Sproxton explained that he was very grateful for the support his father received, which maintained his sense of worth and dignity.
However, the 2016-2017 Social Justice Statement gave him pause, because this was clearly not the case for all elderly people.
"Many of the supports that my dad enjoyed are not available for so many other elderly citizens," he said.
"Homelessness, unemployment, limited retirement savings, especially for women, and the overrepresentation of Aboriginal and Torres Strait Islander people on practically every indicator of social and economic disadvantage are but some of the grave problems that have to be addressed by our society.
"We add to these as well, problems of loneliness, of feeling irrelevant, of being a burden on society and now, elder abuse, we then begin to understand the depth of the problems our elderly have."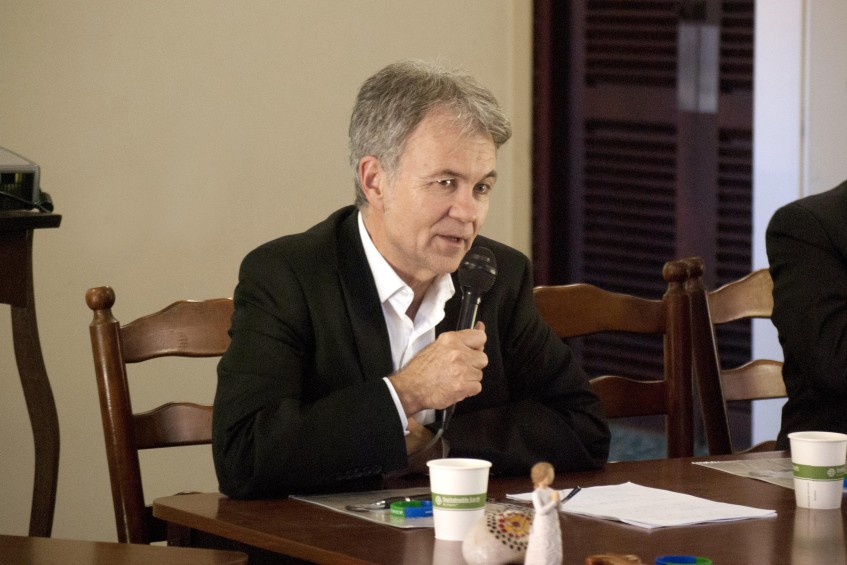 Advocare CEO, Greg Mahney, speaks about the issue of elder abuse during the panel discussion at the Perth Launch of the 2016-2017 Social Justice Statement. Photo: Rachel Curry
Bishop Sproxton's address was followed by a panel discussion facilitated by MercyCare Executive Director for Mission and Culture, Sheryl Carmody, and featuring Advocare CEO, Greg Mahney, and MercyCare Executive Director for Aged Care Services, Carlo Calogero.
Mrs Carmody opened the discussion by noting that this was the first Social Justice Statement she read that is difficult not to personally engage with.
Almost everyone in our society has been affected by ageing, whether through their own experiences or those of their parents or grandparents, she said.
"I imagine that it's a statement that will be very easy to engage people with at a parish level and in the various groups around our community," she added.
For Mr Calogero, the statement was impressive in the breadth of issues it addressed, as well as its nature as a "call to action".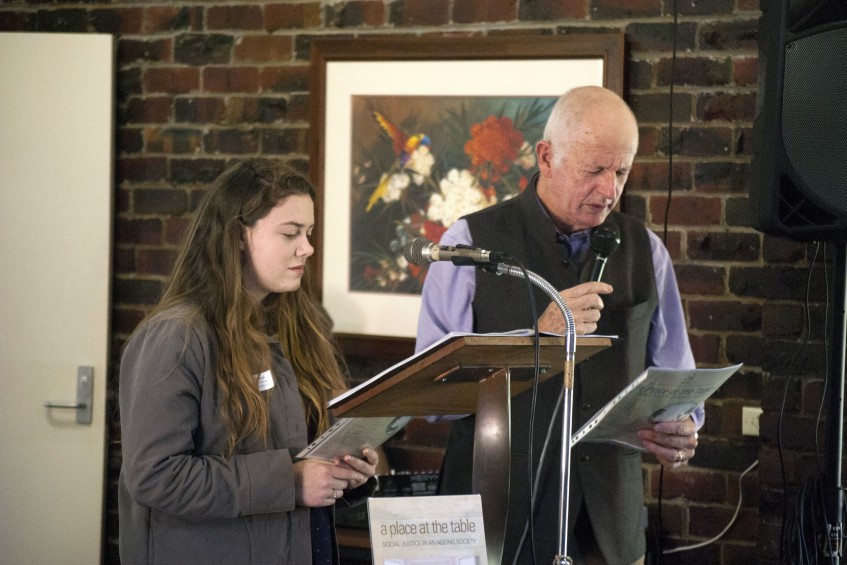 Annie Purbick from the Australian Young Christian Students and Jim Smith, former Executive Officer of the Catholic Social Justice Council, lead the 2016-2017 Social Justice Prayer, titled A Prayer for All Ages. Photo: Rachel Curry
"And it wasn't just a call to action, but a call to action that provided some really practical solutions that I think each one of us can reach out and think about in our own lives," he said.
Mr Mahney told the audience that he was glad the bishops had chosen to highlight the serious challenges associated with an ageing population, particularly the problem of elder abuse.
"The statement provides an opportunity and a bit of a challenge for Catholic-based nursing homes to become exemplars of protecting people's rights and being at the forefront of fighting the issue of elder abuse," he said.
The event was organised by the Archdiocese's Justice, Ecology and Development Office.
The 2016-2017 Social Justice Statement can be downloaded from the Australian Catholic Social Justice Council website, www.socialjustice.catholic.org.au.