South West school stuns at Angelico Exhibition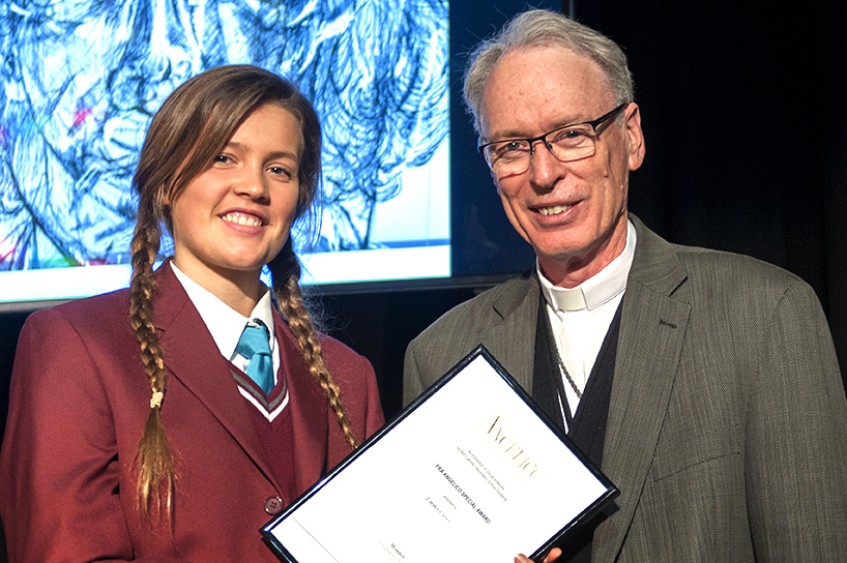 Year 12 student Emma Craig, from St Mary MacKillop College in Busselton, is presented with the Fra Angelico Award by Auxiliary Bishop of Perth, Don Sproxton. Emma's winning piece, Perspective, can be seen in the background. Photo: Supplied

By Rachel Curry
Busselton's St Mary MacKillop College has taken out the top award at the Angelico Exhibition for the second time in three years, as a diverse range of artworks from across Western Australia once again wowed the judges.
Held for the 23rd year running, the Angelico Exhibition is a prestigious annual event that provides a public forum for Catholic secondary students to showcase their artistic talents.
Some 24 schools and 132 entries were featured in this year's exhibition, which followed the theme 'Year of Mercy', and ran from 15 to 26 August at the Forrest Centre, St Georges Terrace, Perth.
Year 12 student Emma Craig, from St Mary MacKillop College in Busselton, won the highly regarded Fra Angelico Award for her piece Perspective.
Emma's award, which was judged by Fra Chris Ross, continues a strong artistic tradition for the South West school after it won the same prize two years ago.
The Fra Angelico Highly Commended Awards were presented to Year 9 student Jasmine Cassidy, from St Mary's College in Broome, for her piece Mercy is not for the Perfect and Year 10 student Georgia Clarke, from Mercedes College in Perth, for her piece Merciful Heart
Year 12 student Sarina Roose, from Seton Catholic College in Samson, won the Caritas Award, while Year 12 student Sachin North, from Corpus Christi College in Bateman, won the Parents and Friends Federation of WA Encouragement Award.
Other prize winners included Year 11 student Alyssa Continibali, from Servite College in Tuart Hill, who took away the Phil Somers Sculpture Award, and Year 10 student Chontae Hayden, from St Clare's School in Lathlain, who received the People's Choice Award.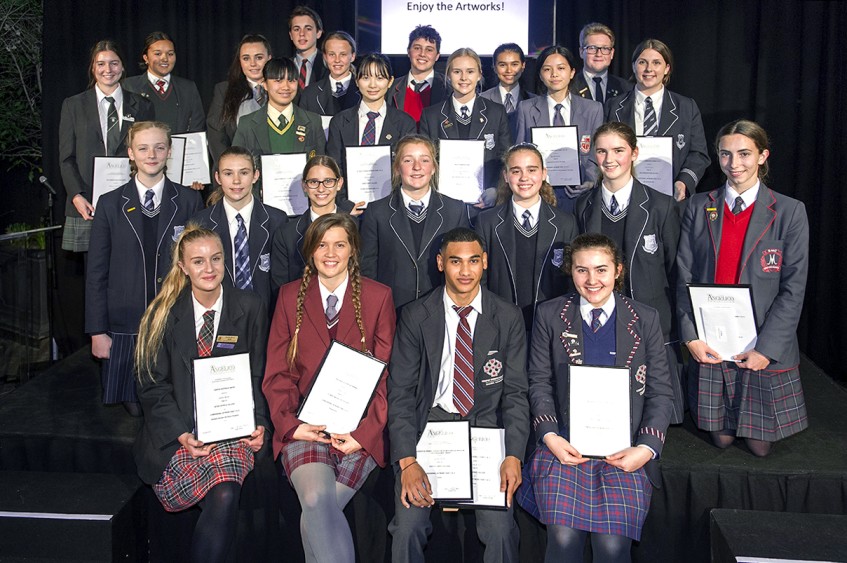 A total of 23 awards were presented to students who participated in the Angelico Exhibition, a prestigious annual event which provides a public forum for Catholic secondary students to showcase their artistic talents. Photo: Supplied
A total of 23 awards were presented by Auxiliary Bishop of Perth, Don Sproxton, and Executive Director of Catholic Education Western Australia, Tim McDonald, at the exhibition's Opening Night on 16 August.
Catholic Arts Angelico Exhibition Co-ordinator, Nikki Neville, said all of the students who participated in the exhibition should be congratulated.
"The standard of the artworks for this year's exhibition was exceptional and is testament to the wonderful talents of teachers and students within our Catholic schools," Ms Neville said.
"Due to the success of this and past years' Angelico Exhibition, the new owners of Forrest Centre have requested that schools continue to display their artworks in the lobby for tenants and general public to enjoy."
For more information, including a full list of prize winners, visit www.catholicarts.wa.edu.au/angelico.