Remaining steadfast in faith key to reaching 25 year marriage anniversary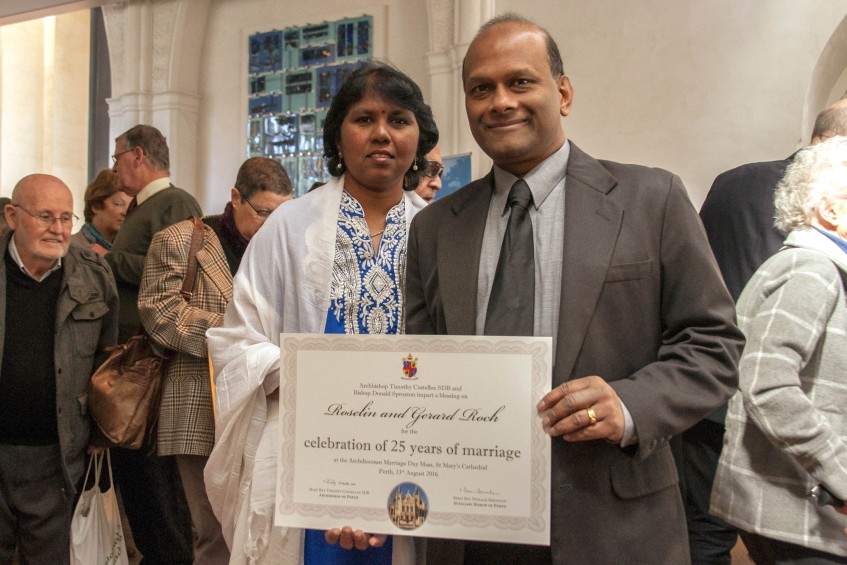 Gerard and Roselin Roch received a commemorative certificate at this year's Annual Marriage Day Mass bestowing a special blessing from Archbishop Timothy Costelloe and Bishop Don Sproxton. Photo: Marco Ceccarelli
By Marco Ceccarelli

"Why do you keep going to Church? It seems that God is not answering your prayers," was one of the questions Langford parishioner Roselin Roch received from an acquaintance during a difficult moment in her life.
While Mrs Roch was initially taken aback, it did not take long for her to provide a simple answer: "God has been so present in me and my husband's life so far; why should I think that He will not be present right now, even in this situation?"
Mrs Roch and her husband Gerard, who attend St Jude's Church in Langford, recently celebrated their 25th marriage anniversary within the most appropriate of environments: the Annual Marriage Day Mass at St Mary's Cathedral.
Celebrated by Auxiliary Bishop Donald Sproxton on Saturday, 13 August, the Mass underscored the importance of marriage as beneficial not only to the union of a man and a woman, but to the rest of society at large. Bishop Sproxton also framed the love of wife and husband in a true marriage as "an icon of the love of God Himself for humanity."
Those words struck a chord with Mr and Mrs Roch, leading them to rethink of the love and tenderness that God has had for them throughout their 25 years as a married couple.
Gerard and Roselin Roch were married in Singapore on 31 August 1991 and moved to Australia in 2005 with their two children. After taking time to adjust to a new country and different culture, they both managed to find employment in retail, support work or community services and slowly began build a new life for themselves in the place they had always dreamed about.
Despite these encouraging career prospects, not everything has been smooth sailing for the couple. Difficulties in adapting to a new society, a number of struggles with health problems and career changes have all had an impact on their marriage – at times bringing them to entertain the idea of whether continuing their marriage was worth the effort.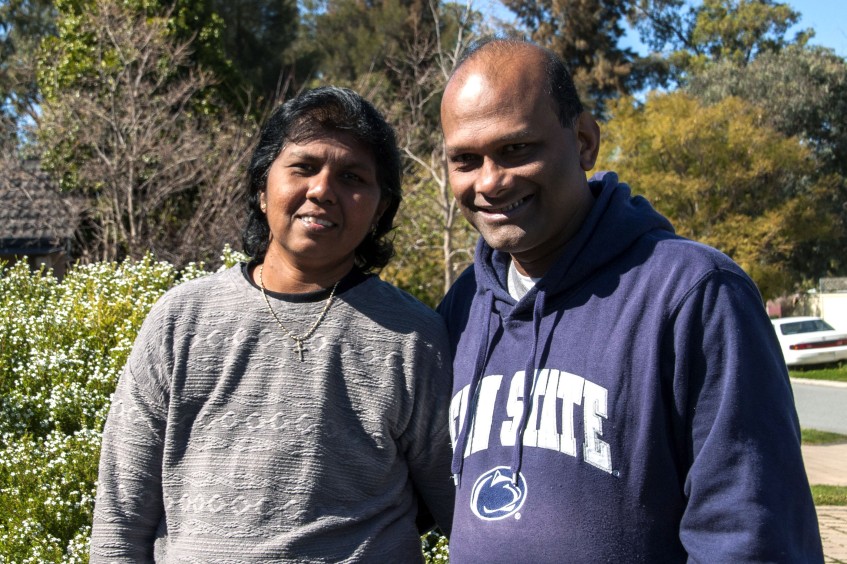 Pictured outside their home in Langford, Gerard and Roselin Roch recently celebrated their 25 year marriage anniversary by attending the Annual Marriage Day Mass at St Mary's Cathedral. Photo: Marco Ceccarelli
"In Singapore we were very involved with our Church and would attend Mass every day," Mr Roch said.
"However, when we moved to Australia, we drifted away from the Church and could feel the impact this was having our marriage. We would often argue and try to address the troubles we went through with our own human efforts. Only now do we realise that, had we not sought help from the solid foundation on which we had built our marriage, that is the Church, it would have been a very different story," he added.
Mr and Mrs Roch eventually rediscovered the value of their faith through Perth's Catholic Charismatic Renewal and The Legion of Mary – two groups that have played a significant role in their faith journey.
Reflecting on more of Bishop Sproxton's comments regarding Jesus' transformative power to make what may seem ordinary into something extraordinary, Mr and Mrs Roch said that they have experienced this through God's providence.
"We've come to moments of dryness of finances and have asked ourselves: is this why we came to Australia? Then the extraordinary happens. Someone will walk into the door and say, 'This is for you'. And there's one week of food. This is extraordinary because no matter how we felt about that situation, we still had faith that God would provide," they said.
Yet providence has not always come through material things, they explained. Both Mr and Mrs Roch have addressed several health issues over the years and emphasised how closely God has looked after them in these moments.
Mrs Roch was diagnosed with breast cancer in 2014 and undertook several chemotherapy treatments to beat the disease. Mr Roch, on the other hand, only recently avoided a heart attack by taking his wife to her GP for a check-up and coincidently informing the doctor about some chest pains he'd been experiencing. He was immediately rushed to hospital on suspicion of an imminent massive heart attack and was treated accordingly.
Summarising their life and faith journey thus far, Mr and Mrs Roch pointed to the way God has used certain events in their lives to help others around them.
"Seeing all the troubles we've gone through, we believe there is a reason behind each and every event. That reason is usually that the event is taking place so that someone else can be helped by seeing how we deal with the situation and perhaps have an encounter with God," they said.
Perhaps the person who questioned Mrs Roch received an answer that would have given her plenty of food for thought that day.